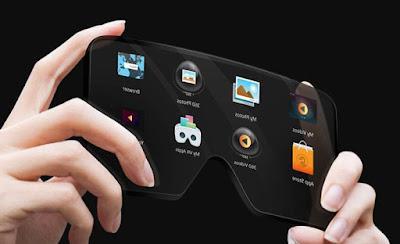 Virtual reality applications allow you to immerse yourself in completely 3D scenarios, incredible 360-degree images.
While to have a full experience it would be necessary to have a
3D viewer for PC like Oculus Rift or HTC Vive
, you can still enjoy a decent virtual experience using your smartphone and some great, highly engaging applications.
To use virtual reality on your smartphone
(both any Android phone and even an iPhone), you have to buy a device that works as a 3D viewer to be worn like a pair of glasses, inside which you can insert your smartphone.
The effect of VR applications
is to immerse yourself in a scenario as if you were in it and then see different things when you turn your head to the right, left, up or down.
There are different types of smartphone viewers, from the super cheap 10 Euro one to the more advanced 100 Euro one and there are of every brand. Among the best known
virtual reality headsets for smartphones
we can quote:
Google Cardboard
, the 10 Euro cardboard box I had already talked about in the past.
Google DayDream View
, the evolution of the Cardboard, which however costs 110 Euros.
Samsung Gear VR
, with different versions, compatible with Samsung Galaxy smartphones and the only one of this type of viewer that is also compatible with apps made for Oculuft Rift.
3D viewers for smartphones
generic, which cost from 10 Euros upwards, are great to support the apps listed in this article, to have a complete virtual reality experience.
These are the
best virtual reality apps for Android smartphones and iPhones
Google Cardboard, (for Android and iPhone) is the Google app to try out the Cardboard viewer, so you can set up the viewer and experience 360 ​​degree Google Earth or some virtual games and travel.
Google DayDream, (for Android) is Google's second official VR app, designed as a high-level replacement for the Cardboard experiment. To use this app you will need a Daydream compatible smartphone and a Daydream View. The Daydream app acts as a portal for other supported VR content such as VR video and other apps.
Google Arts and Culture, for Android and iPhone, allows you to immerse yourself in art and virtually visit museums around the world with virtual tours that really seem to be inside. The app can be used with Google's Cardboard or other VR devices to explore galleries around the world or to visit famous landmarks through the 360 ​​degree viewer.
Within VR (for Android and iPhone) is a 3D video app that allows you to watch music videos, concerts and documentaries shot in 360 degrees (so if you turn your head you can see different scenes) as if you were really in the place they have been turn around. Within VR can also be tried without a headset and on its website https://www.with.in so you can get an idea of ​​how this amazing free virtual reality movie app works.
YouTube VR is the official app (Android only) to watch YouTube videos in 3D with Cardboard, DayDream and any other supported viewer.
Netflix VR, for Android, allows subscribers to watch movies through VR headsets such as Oculus, Daydream, and Cardboard. There are two modes of viewing with this app, from the living room or inside the movie by moving the image to match the movement of the eyes.
FullDive VR is an app for Android and iPhone that includes many virtual reality applications and tools. You can then see Youtube videos in 3D, you can browse 360-degree photographs and even surf the internet from the 3D viewer.
View VR, for Android and iPhone is another application to view exclusive 360-degree videos with virtual reality viewers for smartphones.
L'app Google Street View per Android e iPhone it was updated not long ago to support VR content and 360 degree views of the various streets of the world as if you were really there.
VR GirlFriend is an experimental game where it is possible to heal the relationship with a virtual girlfriend. You can also play on the smartphone screen, even if the experience is much more engaging and true with a viewer.
City and VR, for Android and for iPhone is an app to explore various scenarios at 360 degrees, including space and some monuments from around the world.
Facebook 360 is the application that Mark Zuckerberg used during a conference to demonstrate the potential of Facebook as a virtual world. The application is only available for Oculus Rift and Samsung VR headsets, and allows users to explore 360-degree videos and photos.
Cinema AAA VR, for Android, is a VR video player and cinema application for Cardboard.
VR Video Player di VaR is a 3D video player that supports almost all popular formats.
Titans of Space for android is one of the best virtual reality apps with a solar system tour to explore planets in 3D virtual reality.
Virtual Speech for Android and for iPhone it allows you to simulate a speech in public, in front of an audience of people.
Coastality for Android and for iPhone it offers roller coaster recordings and other playground attractions that make you feel like you are really in the middle of the action.
Trinus VR for Android and for iPhone connect your Android phone to your PC to play your favorite games like GTA, Elite Dangerous and Minecraft in virtual reality.
InCell VR for Android and for iPhone is an educational game for children who want to learn about the human body. The player takes on the role of a fighter who has shrunk to enter the human body, travel inside and fight against the flu virus. You can also play without VR.
Minos Starfighter VR for Android is a visual show that turns us into space fighter pilots, fighting alien enemies in different space environments in virtual reality. The quality of the graphics and sound make it one of the best immersive VR Cardboard apps on the Play Store today.
VR Thrills: Roller Coaster 360 for Android and for iPhone they are the roller coaster, which seen in virtual reality with a viewer like the Cardboard, are as scary as in real reality. This is one of the most popular VR games in the Play Store, with over 10 million installs.
VR Crazy Swing for Android and for iPhone it's a scary first person view swing experience swinging hundreds of meters off the ground.
Orbulus for Android and for iPhone is an app to explore the planets of the solar system in 360 degrees, in virtual reality.
Cosmic Roller Coaster for Android is still a 3D roller coaster game, set in space.
Sisters for Android and iPhone is a 3D horror game, to be experienced firsthand in virtual reality.
Qantas VR for Android is an application to see parts of the world flown over by an airplane, as if you were inside.
Finally, you can still try many virtual reality applications for 3D viewers by searching for the word VR in the Google Play Store or the Apple store.
Best VR (Virtual Reality) apps for smartphone viewers (Android and iPhone)