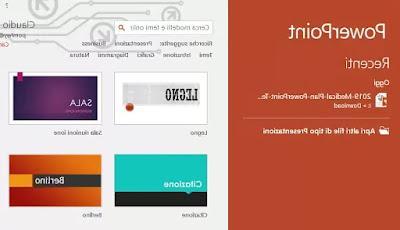 PowerPoint is still and always the number one program for creating graphic presentations, be it projects, course slides or images to present any event. The beauty of Powerpoint is that it makes it easy to create images with writings made of figures, graphics and colors, becoming the most professional and beautiful way to show content, ideas and work plans. The main problem with PowerPoint, however, is the difficulty of going beyond the standard options to create elegant presentations or with a more complex design.
Fortunately, you don't have to start from scratch to give your presentations a unique touch, because there are PowerPoint templates ready to be customized and edited, which are also free and suitable for practically any topic, idea or concept. In this article, we therefore see more than 10
websites where you can you can find the best PowerPoint templates that can be downloaded for free
instantly, often without any registration. Templates, which are files with
Pptx
, can then be used both in
Microsoft Office Powerpoint
, also in
LibreOffice Impress
(the open source Powerpoint version) or in
Google Slides
.
1)
Integrated PowerPoint templates
First of all, you can search for Powerpoint templates and templates in the program itself. Already opening it you will find the possibility to start from ready-made templates. From Powerpoint, you can press to create a new File and then use the search box above to find different categories of templates and find many free ones to start with, provided by Microsoft Office.
2)
Presentation Magazine
This site has thousands of free PowerPoint templates, divided into categories that you can browse or search by specific tags or colors. There is also a separate section for PowerPoint backgrounds only. Each template can be downloaded freely by pressing the Download PPTX button.
3)
Carnival slides
The templates on this site are very modern and completely free, to be downloaded on Powerpoint and can be used online with Google Slides.
4)
GraphicPanda
One of the best sites to download free PowerPoint templates, Keynote templates and Google presentation themes is Graphic Panda, with many easy-to-edit professional templates for businesses, financial traders, startups and schools.
5)
SmileTemplates
On this website you will find presentation templates designed as infographics, compatible with both Powerpoint and Google Slides. Keep in mind that, even if the writings are in English, they can be changed and translated without problems. The Download buttons are located on the right side.
6)
Powerpoint Styles
This website has several hundred simple templates that can be downloaded for free, with the limit that each template has 3 slides, which can be more than enough (using the three free ones you can create as many slides as you like).
7)
FPPT
On this site you can download more than 3000 Powerpoint templates for free, divided by tags, colors, categories and most voted. It is possible to download the files in ZIP format and no registration is required, just be careful not to be redirected to the associated SlideModel site which is, instead, for a fee.
8)
Hislide
In this site there are many free templates for Powerpoint, Google Slides and also for Apple's Keynote, of very high quality and suitable for companies and business projects. All elements and presentations of PowerPoint and KeyNote templates can be easily edited and adapted to your needs and preferences. Just be careful to press the right Download button (at the moment it is the green one at the top right).
9)
ALLPPT
You can download several high quality Powerpoint templates from this site, without registration and for free, each for a specific topic.
10 )
TemplatesWise
templateswise has a rich collection of templates made with photographs, abstract graphics and clip art, divided into categories such as Business, Finance, Nature and Travel. In addition to the templates, the site offers free graphics, diagrams, icons and background music. Basically, everything you need for a great PowerPoint presentation can be found here.
11 )
PoweredTemplates
This site has a category with around 250 free templates, not many, but of good quality. All other models on the site have a cost. If you want to download the model, you need to register or like on Facebook.
12 )
PresentationLoad
While there are only twenty or so templates available for free, these are very neat and professional, so it's worth checking out.
13 )
SlideHunter
Slide Hunter is a website where you can download 4000 free PowerPoint templates and templates, in pretty good quality and with a lot of variety.
Best sites with free Powerpoint Templates to download