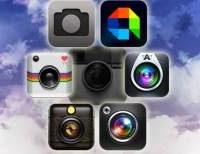 Instagram photo filters were a debated topic this week, first the rumor spread that there could be no privacy on the photos uploaded to the most famous photo social network owned by Facebook and then there was the official denial.
If the fact that Instagram is from Facebook (with the consequent invasion of privacy typical of the Zuckerberg social network), or if, simply, you want
find a better app to beautify or make photos special
taken
with your iPhone or Android mobile phone camera
, then you can keep reading and find out
the best free Instagram alternatives for Android and iOS
.
1)
PicsArt
for Android and for iPhone is a free application for Android and for iPhone that offers more advanced editing options than Instagram and most mobile photo apps. With PicsArt, users can edit images taken and saved in Facebook, Flickr, Picasa, Google or Dropbox, with clippings, captions, stickers and digital clipart, filters, corrections, frames, borders.
2)
Candy Camera
for Android and for iPhone it is used to take pictures by transforming the iOS mobile phone into a phenomenal camera, full of features. There are nearly 300 effects, filters and editing tools and each photo can be instantly shared on Facebook, Twitter, Instagram, YouTube or Flickr. Sharing of each photo can also be automatic, without the need for manual intervention.
3)
Snapseed per Android e iPhone
is a great application that I have already talked about, which allows you to edit photos with effect filters using your fingers in a really easy way that makes the images look like you are holding them. It is probably the most powerful of all even if its only limitation is the fact that photos can only be shared online on Google+.
4)
Fabby
for Android and for iPhone is a nice application to add filters on photos, color hair, apply makeup on the face, embellish faces and then also change the background to photos with nice images, add writings and much more.
5)
Pxlr-o-matic
(Android and iPhone) allows you to add filters, borders, color overlays, sepia tones to make photos look like 60s snapshots or polaroids. Pixlr-O-Matic is perhaps the best app when it comes to the wealth of filters and edits that can be automatically applied to photos.
The images can be shared on Facebook, DropBox, iTunes, Flickr or sent by email.
6)
Prisma
is the app to transform photos into works of art thanks to special and unique photo filters in the panorama.
7)
Photor
is a very powerful app to edit photos on Android and iPhone, now even better than Snapseed.
Finally, in other articles I remember other lists regarding Instagram and photographic effects:
Best android apps for photo editing, photo editing and camera effects
Free iPhone apps to edit photos
App to change or remove the background in photos
Best photo filter apps for Android and iOS