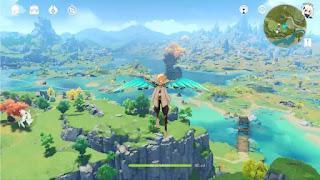 Open world games are really interesting, with a whole imaginary world to explore freely, where it is possible walking and running without following a set path or a predefined pattern, where the story can be done directly by the player and, usually, full of side missions and hidden objects or treasures to discover.
Games like Grand Theft Auto III revolutionized the genre by allowing extreme freedom of movement to the player and also one of the most popular games in the world, Minecraft, is a sandbox (construction game) where you can do whatever you want without a specific purpose. Open worlds can be shooters, RPGs, battle royale, puzzles, adventure games, or even other genres.
So let's see a list of best 10 open world or "open world" games that is possible play for free on Android smartphones and tablets, on iPhone and iPad.
1) Six Guns: Gangs Showdown, for Android and iPhone is a western game that feels like a movie with millions of players around the world. While it can't compare to the Red Dead Redemption series, it's still a fantastic game with many missions, challenges and cities to explore freely.
2) ARK: Survival Evolved, for Android and iPhone is a survival game in the world of dinosaurs, with an island where you can freely move, hunt, build and join tribes with other players. ARK is a very popular and successful game, with very detailed and high level graphics.
3) MadOut2 BigCityOnline, for Android and iPhone is a GTA-like game of the battle royale genre, with 100 players together who can move freely by driving cars, racing and fighting. During the game you will be able to improve your car, find new weapons, steal your car from others, collect weapons to increase your chances of survival and participate in fights.
4) Genshin impact, for Android and iPhone is a truly huge open world, where you can find mysteries to unravel and objects to discover. The artistic style of the game with very detailed graphics and the ability to join friends to fight other players, really keeps you glued to the screen.
5) Gangster Vegas: World of Crime, for Android and iPhone is one of the most popular open world games, inspired by Grand Theft Auto. The player lives in a city to explore and spin around at will by completing side missions and progressing through the story. There are many mini-games such as the casino, racing challenges, collectibles and other activities to keep busy.
6) Ocean Horn, for Android and iPhone is an adventure game similar to the Legend of Zelda series, with a series of islands to explore, each to be explored in open world mode. There are various puzzles, minigames and items to collect.
7) Old School RuneScape, for Android and iPhone is one of the most popular MMORPGs of all time, with many online players, where you can also play alone. There are many missions to perform, items to collect, equipment, skills to improve and a large world to explore.
Keep in mind that most MMORPGs are open world, so if you like the genre, it is worth looking at the list with the best MMORPG games for iPhone and Android.
8) Sky - Children of the Light, for Android and iPhone is a beautiful game with dreamy graphics, similar to Monument Valley, with an open world that you can explore alone or with friends, without fighting. The colors are serene, the graphics cheerful and many areas with mysteries to unravel.
9) GTA4 games (per Android e iPhone
The Grand Theft Auto or GTA series is one of the biggest game franchises in the world and even if they are not free, they are the best open world games ever, even on smartphones and tablets. In GTA you play as a criminal who can move freely, on foot or by car or even by bus and other means, in a huge city that has a life of its own, with many people around, with the police, ambulances, shops and many activities to be carried out that often have nothing to do with the main plot.
10 ) Pokemon Go is the game that takes place in the real world, where thanks to augmented reality it is possible to walk around with the phone in hand and see pokemon appearing on the screen at every street corner. Pokemon Go has opened the door to a whole new type of open world gaming experience and has received much acclaim and worldwide success (at least until the COVID 19 pandemic).
There are plenty of other open world games for Android and iPhone to be added to this list, but these are definitely the best to start with, both for gameplay and graphics. Obviously these are games that require many hours of play, which offer an immersive experience that can only be enjoyed if you have time and patience.
Best Open World games for Android and iPhone