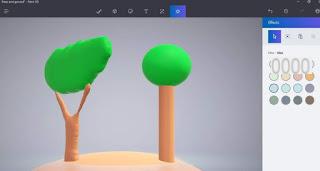 Microsoft's announcement that Paint will be removed from the next version of Windows 10 has angered fans of the historic program, so much so that Microsoft has made it clear that the classic Paint will still remain available, in the future, as a free download from the store. .
Suffice it to say that MS Paint has existed for more than 30 years, released with Windows 1.0 in 1985 and remained practically the same to this day as a program for drawing and manipulating images.
In the years of Windows 95 and XP, Paint was for many the first program that was opened to test the computer.
This news gives me the opportunity to discover the
best alternatives to Microsoft Paint
and, therefore, the most valid programs that can be installed
on Windows PC to draw and retouch photos
, which can be downloaded for free.
First of all, out of the ranking, it should be noted that the old
Microsoft Paint was released as a free web application
, usable via the internet on the site
jspaint.app
.
1)
Microsoft Paint 3D
The evolution of Microsoft Paint, its new version, is Paint 3D, which can be downloaded for free from the Windows 10 Store for some time, with a modern interface, easily identifiable tools and, above all, with the ability to render the drawing of three-dimensional shapes. Overall, Paint 3D is a very good program worth trying, although there are other better and more powerful alternatives.
2)
My Paint
MyPaint is a free and open source alternative to MS Paint that has been available for Windows PC, Mac and Linux for some time. The program focuses more on the aspect of painting rather than image manipulation and comes with many features packed into a simple user interface. There are, therefore, many drawing styles and pencil and brush strokes, simulated charcoal or ink, and the ability to create custom strokes and brushes. MyPaint supports all major file formats, has support for layer management, as well as an "unlimited canvas" offering the ability to draw in an infinite sheet.
MyPaint is basically a free and relatively more basic alternative to Corel Paint.
I had already talked about this application in the past describing MyPaint a program for hand drawing on PCc and painting with the mouse.
3)
IrfanView
Irfanview has always been my favorite program to open photos on Windows PC, also because it includes basic tools to edit images that are always useful.
Released in 1996 for Windows 95, IrfanView can function as a lightweight image editor for drawing, rotating images, shrinking them, converting formats, changing colors and other things.
4)
Paint.NET
Paint.NET is a very popular free photo editing software, with an interface very similar to that of Microsoft Paint, but which can be considered a small Photoshop, full of features for photo editing. Unlike MS Paint, Paint.NET has support for layers, blending, transparency and lots of special effects.
Online you can find many guides and tutorials to do anything with Paint.NET that I have reported in the past among the best free photo editor programs for photo editing and graphics.
5)
Pinta
Another good alternative to Paint is Pinta, an open source and free program for drawing, developed for Linux, but also available for download for Windows PCs. This drawing program is based on Paint.net, supports layers, provides unlimited whiteboard, includes special effects and easy-to-use drawing tools.
6)
Chalk
If you are looking for a professional level program, Krita is undoubtedly the one to try because it allows both to create simple drawings and to draw real works of art thanks to the numerous tools available. Krita is certainly one of the best programs for drawing on the PC and digital painting, aimed at artists, illustrators and designers, but also usable as a powerful alternative to Microsoft Paint.
7)
Fotor, Pixlr and photo editing web applications to make changes to photos
they are excellent substitutes for traditional programs, which can be used on a PC without the need to install anything, directly by opening the relevant websites.
Finally, as regards photo editing and graphic processing, I refer to the article with i
Best alternative graphics programs to Photoshop
.
Best Microsoft Paint alternatives for drawing and photo editing on PC