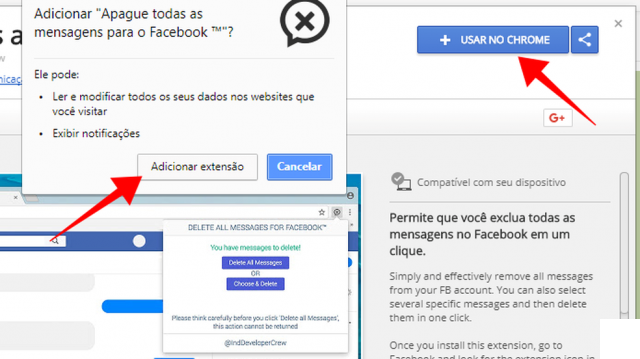 ---
Index
Delete Facebook messages from your computer

Delete the messages
Archive messages

Delete Facebook messages from smartphones and tablets

Delete the messages
Archive messages
Delete Facebook messages from your computer
If you have used Facebook since computer, surely you will want to know how to delete messages sent via Messenger. Let me explain it to you in detail.
Delete the messages
Archive messages
Delete Facebook messages from smartphones and tablets
If you prefer to act from smartphone e tablet, as you usually log into Messenger from your mobile devices, know that delete messages on Facebook it's not complicated at all. Follow the instructions below and you will see that you will succeed without problems.
Delete the messages
for Android / iOS, log into your account (if necessary), locate the conversation you want to delete and hold your finger on it. Next, tap on the symbol of dustbin that appears on the right and selects the item Delete chat to delete the entire conversation.
To delete individual messages from a chat, on the other hand, open the one you want to act on, keep your finger pressed on the message you want to delete, select the item Remove from the menu that opens (bottom right) and tap on the item Remove for you if you want to delete the message only from your chat or on Remove for all (if the message was sent less than 10 minutes ago). In both cases, confirm the operation by tapping on the item Remove from the warning that appears on the screen.
Archive messages