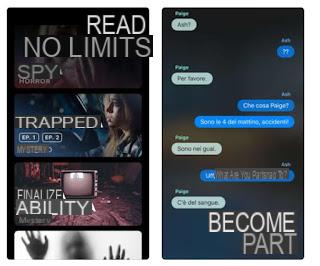 In recent years a new literary genre seems to have been born that is conquering many readers all over the world, especially fans of horror or thriller stories.
It is about
chat stories
, which are then told through one
exchange of messages between two people, to be read one after the other
.
The particular way in which the reader can read the story, that is by discovering the history of messages in sequence one by one (tap by tap), makes this type of story very similar to that of a serial show, where it is difficult to resist and not to move on.
Moreover, being told through a chat, it is a very familiar and easy to read type of reading especially for the youngest, used to exchanging dozens of messages every day.
The chat stories
they are therefore perfect
to be read on the smartphone screen (Android and iPhone)
, generally not suitable for reading books, but which becomes ideal for the particular narrative style made up of Whatsapp-style messages.
Let's see then the
best apps with chat stories
.
With the success they are achieving, there are more and more applications available in which to find chat stories, although there are two flaws that need to be considered.
In general, in fact, this type of applications start the story for free and it cannot be read all together until the end without paying. If you want to read for free, you will have to have the patience to read a little from time to time, waiting a few hours to reload the available "taps".
1)
Hooked
, for Android and for iPhone, it is the best, for me, of the apps with chat stories, with plots worthy of the best thriller movies capable of keeping the tension high from beginning to end that increases the desire to find out what happens to each message read. Hooked has been very successful last year by entering the charts of the most downloaded apps on the Apple Store and on Google Play, with a free reading model that requires you to wait a few hours to read each new chapter of a story. If you pay for a subscription, you can read the full stories right away, without having to wait. In Hooked there are also many stories in your language
2)
Tap on Wattpad
, for Android is a story application similar to Hooked, with many chats in your language and the possibility of reading them in pieces even for free. The chat stories are composed of text messages and also images, sounds and videos, alternative endings and a very large catalog to choose from, also based on the mood of the moment as well as for interest. While some stories are the same as featured on Hooked, others are exclusive to this application and there are new ones every week. The contents and stories are available in several languages, including language.
3)
Creepypasta
, for Android and iPhone, is another application with lots of chat stories from different genres, ranging from horror to comedy, adventure and drama. Unfortunately in this case it is all stories written in English. In this regard, however, it is interesting to note that being a chat, reading is really simple without the need to be a native English speaker.
4)
Mustread scary chat storie‪s‬
, for Android and for iPhone, is another quite popular application of scary stories made in chat, in which there is the possibility to vary the story according to the choice you make and the answers you choose to give during the story, with alternative endings depending on the path taken. Unfortunately, even this application is, for now, only in English.
5)
READIT - Chat Stories
(for Android and for iPhone) is an app with stories also in English, in episodes, with many chats to discover and read until the end. Unfortunately, to finish the stories it is necessary to pay a subscription that starts at 2 Euros.
5) More chat story apps
Other applications with many stories to read in English are:
-
seen
, an interactive multi-choice story (for Android)
-
Scary chat stories - Addicted
with scary stories for Android and iPhone.
Best apps with chat stories to read on smartphone (Android and iPhone)