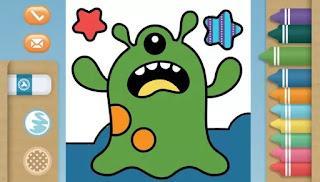 If we run out of markers and sheets of paper or if we are out and about and don't want to entertain children with the usual videos, then it is possible to entertain them with drawing games and coloring apps by touching the screen. Even if looking for this type of app in the Android and iPhone stores there are countless applications and games of all kinds, the difficult thing was to find apps with coloring pages that do not have subscriptions to pay or very invasive advertisements and also find those with drawings of good quality and an editor that is easy to use or in any case intelligent and stimulating for the imagination. Trying, therefore, to list only the free apps or that at least can be enjoyed without too many limits even if you do not pay the subscription, we see here the
best coloring apps dedicated to children, for Android smartphones and tablets and for iPhone and iPad
.
1)
Colorfy
(Android and iPhone) would be considered the number one of the apps for coloring by touching the screen, like a book full of drawings to choose from, of high quality, almost more suitable for adults rather than for children. The possibility of taking a photo of real drawings on paper to be able to color them on the smartphone screen. Colorfy, however, even if you can download it for free, requires a subscription to be used, offers a free 7-day trial and, if you want to use it for free, you can only color the Basic type drawings.
2)
Recolor
(Android and iPhone) is another great app for smartphones and tablets that allows you to color quality drawings, but with a subscription to pay. The free version only has one category of designs and requires you to unlock them by viewing advertising videos. As for the app, there are flat and 3D images and a very fun and unique coloring system in this category, suitable for adults and older children, with many colors and drawing tools.
3)
Sandbox Coloring
(Android and iPhone) adds some learning and difficulty to coloring: to color a drawing you have to touch the corresponding numbers on the sheet. The Sandbox app offers many coloring pages for free, unlike the "Coloring Book by Numbers" app which is similar but only paid for.
4)
Drawings for Kids!
(Android) is finally an application dedicated to children that does not require a subscription, with many drawings to color on the screen, for free. The only flaw in this type of app is the advertising that comes with videos with each new drawing to start, which can be very disturbing and can be a problem if the app is used by a small child who does not know how to close it and which is brought to touch the video.
5)
Color and learn
(Android) is another completely free app that young children can use to draw and color on their phone or tablet. Ads are annoying enough, but you can pay a few Euros to remove them permanently, which is better than an expensive subscription.
6)
Kids games coloring children
(Android and iPhone) is a free app for young children who can have fun coloring and drawing simple drawings, like those you do in kindergarten.
7)
Toonia colorbook
(iPhone) is a truly adorable app for toddlers, who can color characters in a way that is perfect for the small and inexperienced hands of a child aged 2 and up. Toonia supports multi-touch and allows multiple children to draw together if they have a large iPad or iPhone. This app is extremely engaging and educational, with a selection of designs that can be expanded by purchasing packages, without obnoxious subscriptions.
8)
Voxly
(Android and iPhone) brings coloring to a 3D level, with the possibility of coloring three-dimensional images by touching the various numbers of the squares that compose them. Voxly 3D is a relaxing and very engaging coloring application for children and adults, where you can choose to paint animals, landscapes, princesses, unicorns, rainbows and images of nature.
9)
Disney Color and Play
(Android and iPhone) brings your favorite Disney characters to life and allows you to color them on your phone or tablet screen, in 3D. You can also explore Disney cartoon scenarios like Mickey's house, Princess Sophia's bedroom and more in a fully interactive way. Among the coloring pages there are characters from the movies Cars 3, Frozen, Finding Dory, Elena of Avalor, Inside Out, Doctor Plush and various Disney princesses!
10 )
Coloring book for Me
(Android and iPhone) is a drawing coloring app for adults and children, partially free with paid content. There are drawings organized into categories and it is also possible to turn photos into coloring pages.
11 )
Coloring pages
(iPhone) is a simple app that works like a coloring book for young children, with lots of drawings and a simplified editor just for the hands of the little ones.
Best coloring apps on smartphone or tablet