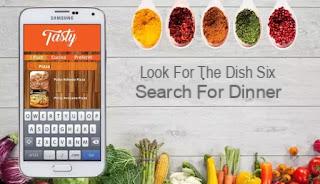 Do you want to know new cooking recipes and learn all the steps to prepare an exotic dish? Do you have everything you need in the kitchen but you lack a recipe book to delight family or guests at the table?
Nowadays to find recipes it is much more convenient a smartphone or better still a tablet placed next to the stove on a stable support (much lighter than any book) in order to prepare the tastiest dishes using the
best cooking apps available for android and iphone
. There are recipes for all tastes: from the best dishes, the most exotic first courses and the tastiest second courses up to desserts, foods for those suffering from intolerances or who do not eat a particular type of dishes (such as dishes
for celiacs without gluten or vegan dishes
), and also the recipes
for Thermomix
.
The app are all free with lots of recipes to use on Samsung Galaxy, Huawei, Android phones and tablets, iPhone and iPad
1)
Cookmate
is the first app to be installed on Android or iPhone by those looking for recipes, probably the best app to consult cookbooks on mobile devices. You can create custom recipes from scratch, complete with instructions and a list of ingredients, or you can import recipes from any website to keep them organized. The user interface is clean and easy to use, plus there's cloud backup, even in the free version.
2)
GialloZafferano: the Recipes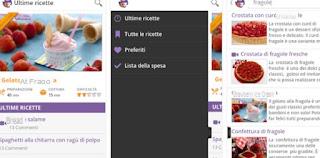 GialloZafferano is one of the largest sites to enjoy any type of recipe, whether it is useful for preparing a regional recipe or an exotic recipe. Each recipe is explained in detail, with the doses of the ingredients, the steps to be carried out, the cooking tips and on many recipes even an explanatory video where you are shown how to prepare the dish. The app is free but some features are only available by paying for the Premium version, such as synchronizing your favorite recipes across multiple devices.
The app is free and can be downloaded ->
GialloZafferano for Android
e
GialloZafferano for iPhone / iPad
.
3)
Small Recipes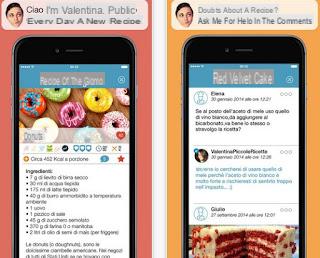 Small Recipes is a free app for mobile devices that offers a new recipe every day; the app will take care to notify you of the arrival of the new recipe via a notification on your phone. The app offers over 2000 recipes of all types and there are also numerous recipes for intolerances or for those who adopt (on the advice of a nutritionist) an alternative diet (gluten-free, lactose-free, vegetarian).
The community is very active and the recipes in the app are also available in case of no Internet connection.
Small Recipes is free
for Android
e
per iPhone/iPad
.
4)
Cookpad
for Android and iPhone, it is the best app to find recipes of all kinds by browsing among those published by other users of the site. It is a social application, where you can share recipes, make requests and find new ideas every day.
5)
Cookbook
is one of the most important cooking magazines and smartphone apps are smartphone versions of the cookbook.
The app is called Tasty recipes, you can download it both on
Android smartphones and tablets
that for
iPhone and iPad
.
6)
Empty fridge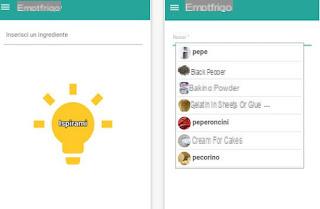 Not sure what to cook for lunch? Do you have ingredients in the fridge but you don't know how to use them? Svuotafrigo takes care of it! This app works as a sort of "reverse" recipe book: you have to indicate the ingredients you have and can use. Once you have entered the ingredients, the app will recommend the recipes that you can prepare with what you have available. Really brilliant for emptying a fridge full of unused or close to expiry ingredients.
Svuotafrigo is free on devices
Android
e
e iPhone/iPad
.
7)
Recipes for Thermomix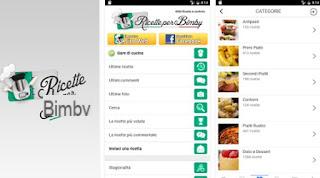 If you have a Thermomix you can prepare a lot of recipes quickly and quickly using the specific recipe book for this useful kitchen tool. Using this free app you can cook over 4000 recipes by cooking all the ingredients together
as per tradition when you operate a Thermomix, with particular attention to the options you can operate on the instrument and the cooking times (profoundly different from cooking on pots).
You can download the app for your mobile devices from the following links ->
Recipes for Bimby on Android
e
Recipes for Thermomix on iPhone / iPad
.
8)
Vegetarian and vegan recipes (Android only)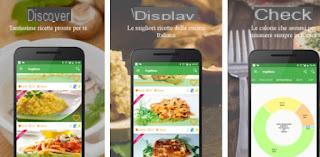 Do you no longer want to eat meat and animal products to keep the line or for an ethical choice? Then you can download the following free app to quickly find all vegetarian or vegan recipes together with a whole range of information for those who love to live the vegan style (such as substitutes for animal ingredients).
You can download the app on Android devices from here ->
Vegetarian and vegan recipes
. I couldn't find the corresponding Apple device app, but a quick search on the App Store will allow you to choose from several similar apps.
9)
Gluten Free Recipes for Celiacs (Android only)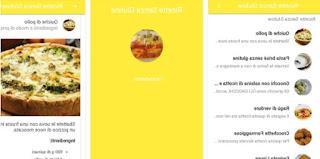 Do you suffer from celiac disease?
You already know that you must carefully avoid any food that contains gluten, your health is at stake! If you are looking for an app with all the recipes that you can prepare with gluten-free ingredients, you have just found it. Gluten Free Recipes allows you to prepare tasty dishes using gluten-free ingredients normally purchased in pharmacies or gluten-free specialized stores.
You can download the app on Android devices from here ->
Gluten Free Recipes
. I couldn't find the corresponding Apple device app, but a quick search on the App Store will allow you to choose from several similar apps.
10 )
The recipes of Cucina Fanpage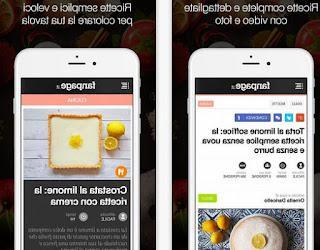 From the Fanpage site, the app dedicated to cooking collects the recipes published online
The app is available ->
on Android
e
e iPhone/iPad
.
11 )
Tasty di Buzzfeed
(for iPhone and Android) was awarded among the best apps of 2018 so, even if only in English, it still deserves to be tried for the amount of recipes it contains, the videos and above all step-by-step explanations for each recipe.
12 )
Whiskey
, free for Android and iPhone, finally, is a perfect app to create your own cookbook, to pin down ingredients and procedures so that you can find them sorted and classified. With Whisk you can extract recipes from any website or other cooking app, replace ingredients, adjust portions or rewrite them. The app is also a community of chefs who always share new recipes.
Best apps with recipes for cooking (Android and iPhone)