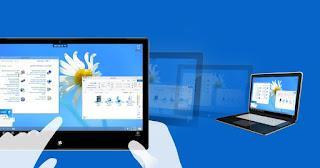 Screen Sharing,
o
screen sharing,
is the technology that allows
see or use a computer remotely, from another PC or from a mobile phone or smartphone
, through the Internet. Using these programs is simple, but for those who use a computer for the first time the difficulties can lead to a renunciation of this important functionality.
This is why we have collected all of them in this guide
the best programs and apps that allow you to share your PC screen for free
, so you can use them in the home without limits.
If we have a commercial activity and / or want to remotely control company computers, completely free programs are quite rare, since a paid license is required to continue using the most famous programs.
Programs and apps to share your PC screen
In this part of the guide we have collected what we believe to be the programs and apps to try absolutely to get the screen sharing of a computer, be it with a Windows operating system or a Mac.
TeamViewer
Currently one of the best services to be able to share the PC screen is definitely TeamViewer, which can be downloaded for free (for personal use) on all PCs with Windows and Mac.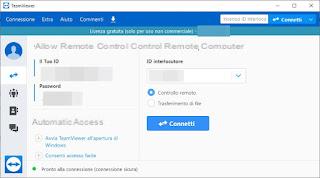 By installing the program on our computer we will get a simple numeric ID and a randomly generated password to be able to control the screen remotely from another computer or from a smartphone or tablet connected to the Internet. If we want to have more control, simply create a free account and register all our devices as the account created: in this way we will be able to control all our PCs without having to remember the assigned ID and password each time (unattended access) .
The transmission quality is very good (it can be easily adjusted during use), as is the delay in the execution of commands: if the lines of both devices allow, it will be difficult to notice slowdowns or delays in the execution of remote commands. . We remind you that this program is free only for non-professional (home) use: for use in a professional environment, a license for use is required (for a fee).
To install TeamViewer on Android and iOS, just use the links here -> TeamViewer for Android and TeamViewer for iOS. If we want to remotely control an Android mobile device (for example a TV Box), we can use the TeamViewer Host server.
To learn more about the use of this program we can read our guide on
How to use Teamviewer: PC control via internet, remote assistance and videoconferencing
.
Chrome Remote Desktop
Another very good service to be able to share your PC screen is Chrome Remote Desktop.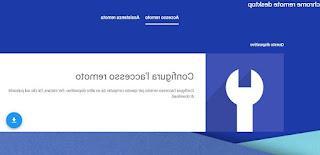 To proceed, download the dedicated app and generate the code for remote control of the device, also choosing an access PIN; from another PC, it will be sufficient to access the same site, enter the code and PIN to be able to take control of the entire computer. We can also add our devices to the Google account, so that we can control them without having to enter access codes and PINs each time. Compared to TeamViewer, there are no limits or licenses to be installed for non-professional use: we can install this program on all devices in our possession. The quality is very good, although the features are rather limited compared to TeamViewer.
Versions for Android and iOS can be downloaded from here -> Chrome Remote Desktop for Android and Chrome Remote Desktop for iOS.
To best learn how to use this service, we can read our guide for
Access your PC with Chrome Remote Desktop from your mobile
.
Skype
The most famous video calling and conference program in the world, Skype, has also introduced the feature for screen sharing, so that we can create guides or illustrate steps to our interlocutors.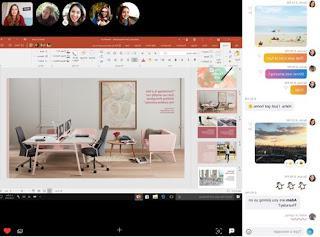 To use this function, simply open a video call or a conference with one or more interlocutors, click on the + symbol at the bottom and press on the item
Share screen
. From the app we can choose whether to share only a window or the entire desktop with our interlocutor, who will only be able to watch everything we do on the computer. While not strictly speaking a remote control feature, this feature allows you to share your PC screen with other users, so you can provide useful advice or show you how to do something on your computer without explaining all the steps.
The apps for Android and iOS can be downloaded from here -> Skype for Android and Skype for iOS.
Video conferencing app with screen sharing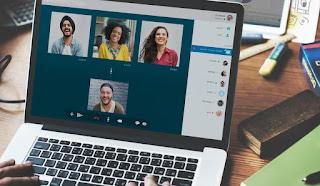 Many group video conferencing apps offer the ability to share your screen so you can show a schedule, chart, report, or procedure to everyone in the discussion. Below we have collected the best apps with this feature:
ZOOM: One of the most used apps for video conferencing and featuring quick sharing of the room creator's or administrator's screen. To learn more we can also read our guide How to use Zoom, the most used program for corporate videoconferencing.
Jitsi: the first real alternative to ZOOM is Jitsi, the open source and limitless videoconferencing platform. We talked about it in depth in the guide How to use Jitsi Meet, the free unlimited video conferencing platform.
Jami: another interesting alternative to ZOOM, with which we can start a video conference and share the screen for teaching or to show the company's monthly results.
Discord: even if this service was created to join online players in chat and videochat, it offers interesting features that can make it a reference point also for study groups and business meetings, complete with screen sharing.
Google Meet: directly from Google a valid online platform for making video conferences and sharing the screen.
Other similar apps and services can be found in our guide to
Best free video chat for PC and video conferencing programs
.
Other programs and apps to share your PC screen
So far we have shown you what for us are the best services and apps to share your PC screen and possibly control it remotely. But there are so many other services we can try to get the same thing! Below we can find a very exhaustive list of programs and apps to share the PC screen.
Windows 10 Remote Assistance, app integrated within the Microsoft operating system and useful for giving support to a friend or colleague who has the same version of Windows.
Join.me it allows remote control of a computer via the internet and is a service to which a specific post was dedicated which lists all its main features and how to use it. Join.me is free in the Basic version and is from Logmein, one of the specialized and popular companies for remote connections between computers. For each session, a link is provided that can be opened on the browser by another person. This link only works once, so there are no security issues even if you won't be able to share your desktop with multiple people. Everything that happens on the split screen, including mouse movements, will be visible in the browser window. It is also possible to share keyboard and mouse with the other person, allowing them to use the PC remotely. Screen sharing is done through peer-to-peer without going through an external server. As such, this setup may not work in the office.
AnyDesk is a valid alternative to TeamViewer with which to share the PC screen and remotely control our devices, according to the situation. It offers a very efficient free version and also allows you to share your screen without offering control over it, great for showing your screen to students or colleagues.
Screenleap is a free web application with which it is possible share your screen in a second, with a click, via the internet, without downloading anything. The only thing needed is Java which needs to be installed on the PC. You don't even need to register an account to use ScreenLeap, and with it, you can allow other people to view your PC desktop at once.Once the screen is visible, you'll get a link that you can send to as many people as you want, to show them what you are doing. Alternatively, you can give them the security code; from this service you can share the whole screen or just a selected area. This web application is useful when you want to show someone how to do something, or when you want to share a presentation with a colleague but does not allow you to use a PC remotely.
Mikogo is a program to download on pc to share the desktop and the screen. The tool can be used in a free version with limited functions and sharing only with another person.
CloudCare is a tool with a free trial version, to be downloaded and installed on your computer, which allows you to provide remote assistance to another system via an Internet connection and to carry out remote virus scans, so as to be able to block all network threats in advance. Very useful in business, it offers quality and security comparable to TeamViewer.
VNC it is one of the most used services in the business field to be able to share the screen and work on shared resources even remotely, as if we were all present in a single room. It allows you to remotely control any device or share your screen in viewing mode, so you can show your screen to others without them interacting.
TightVNC is the free implementation of VNC, which can be used in the home and business without the aid of any license. Configuration is obviously more difficult and will require advanced computer skills.
Radmin is another service that we can use to control one or more company PCs from a single computer, with the ability to control the screens of other computers and share the administration PC screen at any time.
These services are useful for replacing TeamViewer on a local network, so that you don't even have to share access to the Internet, resulting in greater speed and responsiveness. Some of the services offered also allow you to act on different network segments or extended VPN networks, as seen in our guide
How to connect PCs remotely and control them via VPN
.
Conclusions
The programs and services that we have reported to you will allow you to share our computer screen and then make it available to other people, so that we can offer assistance or view the same information that we see, especially if we are in videoconference.
If we are looking for a way to spy on a computer, we refer you to our guide on how
spy on a pc and see how the computer is being used by others
. In another similar guide we showed you how instead
record pc activities to monitor and spy on the use of a computer
.
Share Your PC Screen: Best Free Apps