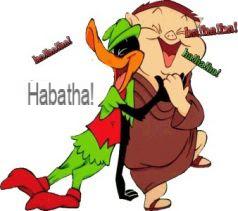 The Internet is so useful and in this blog I have always looked for resources, websites, applications and programs that, for free, offered a real service that actually served something.
A large slice of the web world, on the other hand, is totally shameless and is part of that pure entertainment to itself with totally useless pages to society except to make readers and visitors laugh and entertain with humor, irony and pure fun.
In fact, one does not want to swear but this time, there is everything, there are many of those sites full of bullshit that it is also worth seeing which are the biggest ones!

Now that I think about it, it's easier waste time surfing the internet with your pc than in any other daily activity.
When you don't know what to do, don't feel like working or studying, and don't have the slightest intention of engaging your mind in something that requires a minimum of brain matter, then you can click on the sites listed in this list and have fun.


The best fun sites that only waste time but from which it is difficult to stay away are:

1) Bastardi Dentro is a very famous site where, at least once you have heard of it, or because you have come across it or because you have received a funny email from a colleague, a bastardidentro ppt.
On the site there are very comical and sarcastic things to die for laughter: Videos with audio sometimes duplicated, photographs with photomontages and bastard comics, postcards, stories and tests, possibility of having bastard emails sent to be turned over to friends, jokes, powerpoint presentations and the annotated endings of idiotic movies.

2) Uncyclopedia is the crazy Wikipedia and it's really hilarious and written with humor and satire mastery. There are the biographies of famous people all "revisited" in an irreverent way, there is a Nodictionary, a Horroscope, really sarcastic instruction manuals and personality tests that would lead to suicide. Graphically it is really identical to Wikipedia, ordered, accompanied by images and real quotes that are always ducks and gaffes.

3) Ilaro.com is an excellent site where there are several sections, all funny and humorous: PC backgrounds, Powerpoint presentations, audio clips, videos, games, jokes, tests, sentences and so on.

4) besti.com is a very popular site where there are wallpapers, photos and funny images collected by type and updated continuously.

5) Fuoriditesta is a more consistent site where real but funny news are reported as if it were an online newspaper. The site is rich in content, there are real news and comments and in addition many videos, images, jokes, sms messages, jokes, horoscopes and texts all very funny.

6) La pecora sclera is a site with many useless things like jokes, stupid videos, urban legends, curiosities and ridiculous images.

7) Mondopps is a site that collects thousands of powerpoint pps files to download for all tastes.
There are also the more serious ones but never that have to do with work because they are above all funny things and slides to make wishes and to send messages of love, friendship and so on (hateful).

8) MagnaRomagna publishes funny material that can be found online on the web.
There are many curious and strange news but which should be true, legends and anti-whale reports and many videos and audio or pps files to download.
In addition, many strange and funny images, musical postcards, jokes, tests and quizzes on personality, intelligence, love and sex could not be missing.

9) Uffa.com is all a joke, there are all kinds and are cataloged by categories; there are also many funny cartoons and videos.

10) NardoNardo is another phenomenon of the useless with many files to download especially pps of powerpoint, videos and images.
There are many stories, collections of jokes, animated gif images, full, differences and riddles, bizarre news, neologisms, definitions, famous names and funny sms.
All the material is absolutely humorous and treated without any seriousness and without ever taking itself seriously.

11 ) Giphy is the site where you can find funny GIFs to share on Facebook or Whatsapp.

CONTINUE WITH: the top 30 most useless sites in the world weird, which are useless

For sure there are other beautiful and comical ones so if you want to feed the list and report them without problems even if we try to stay out of the vulgar too pushed ...

Best funny sites to laugh with jokes, pps, videos and pictures