What is an ebook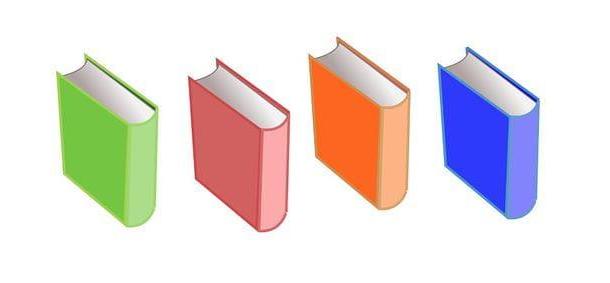 Before getting to the heart of this post and discovering, together, how ebooks work, let's try to understand what we are talking about.
Ebooks, short for electronic book, are files that contain books (including texts, images, tables and so on) that can be reproduced on various types of devices: computers, tablets, smartphones, etc. A separate chapter, then, deserve it ebook reader, devices dedicated exclusively to reading books in electronic format: we will deal with them better in a few minutes.
Another important thing to know is that ebooks can be distributed in a way free of charge and can be enclosed in files of various types, each with different characteristics and properties: to find out more, see the next paragraph of this article.
Ebook formats

As just mentioned, ebooks are not only distinguished by their content or their price, but also by the file format with which they are distributed. Each file format, in fact, has different characteristics and a different degree of compatibility with software and reading devices. Below I propose a list with the main ebook formats currently available and their characteristics.
ePub - this is the most popular ebook format ever. It is an open standard and makes flexibility one of its main characteristics. The e-books in ePub format, in fact, have a dynamic pagination and allow you to change "on the fly" the size of the text they contain, as well as their margins and their spacing. You can read e-books in ePub format with the vast majority of reading software and ebook readers, except Amazon's Kindles. To overcome this problem, however, just transform ePub into PDF or other formats supported by Amazon readers.
PDF - another very popular file format, in fact I don't think it needs much introduction. It is supported by the vast majority of reading software and ebook readers (including Amazon's Kindles) and differs from ePub for its fixed pagination: this means that it does not allow you to freely change parameters such as font size or margins. Being primarily intended for printing and not allowing dynamic changes to the information they contain, PDF files are primarily used for the distribution of books that contain tables, diagrams and other content that requires precise pagination.
Mobi - is an open standard acquired by Amazon. It is primarily meant for small screens and is quite flexible. It supports annotations, highlights and more. It is compatible with many reading software and ebook readers, primarily Amazon's Kindles.
AZW - it is a proprietary ebook format developed by Amazon. It is based on the Mobi, but provides better compression and encryption levels than the latter. It is only supported by Kindles and reading software related to the Amazon ecosystem.
TXT - all reading software and ebook readers are able to open files in TXT format, which are nothing more than simple text files (which can also contain entire books).
HTML - the HTML format is used not only for Web pages, but also for the distribution of some ebooks. Almost all reading software and ebook readers are capable of reading it.
DRM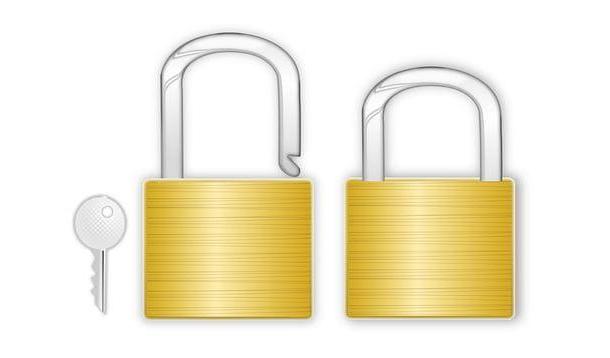 Another feature of ebooks that must be carefully considered is the possible presence of DRM. If you have never heard of them, DRMs (short for Digital Rights Management) are "digital locks" that are used by publishers to protect copyright and prevent - or at least limit - the unauthorized redistribution of ebooks. At the moment there are various types of DRM, each of which with different characteristics and degrees of compatibility.
Adobe DRM - it is the most widespread DRM system in the field of digital publications. The ebooks protected with this system are neither in ePub nor in PDF format, but in .acsm. To use them, you need to download Adobe Digital Editions software on your computer, create a Adobe ID (if you don't already have one) by going to the menu Help> Authorize Computer of the program and transfer the books to your ebook reader by connecting the latter to the PC and authorizing it through the appropriate function of Adobe Digital Editions. Once associated with an Adobe ID, ebooks must always be read on a device or software associated with the same ID and therefore cannot be freely redistributed or copied to other devices. The Adobe DRM system is supported by many reading software and many ebook readers, but not all. You can find a complete list of devices that support Adobe's DRM on this web page. For detailed information about how Adobe Digital Editions works, however, you can consult the support page set up on the Kobo website.
Kindle DRM - is the DRM that Amazon applies to most ebooks distributed through the Kindle Store. Books protected with this system are in AZW and can only be read on ebook readers and Kindle software associated with the same Amazon account as the person who purchased the work. Therefore, they cannot be freely transferred to other people's devices or read in software other than Amazon-branded ones.
Social DRM - ebooks with this form of DRM are not technically "padlocked" like those protected with Adobe DRM or Kindle DRM. They can be in ePub, PDF or in other formats e they can be read or copied without limitations on any device. Their only peculiarity is that they present, on their pages, detailed information on the authors and the publishing house of the work, in order to discourage unauthorized redistribution (or at least limit the damage done by the latter).
How to read ebooks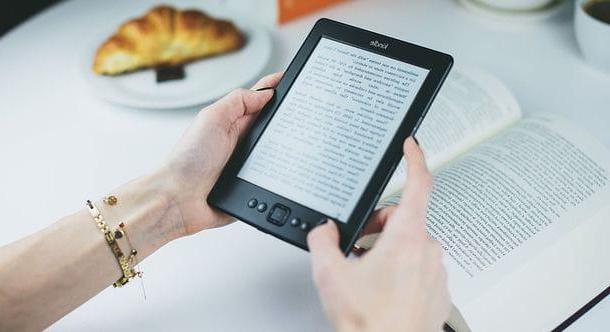 As widely said in the previous chapters of this article, ebooks can be read on a wide range of devices. The ebook reader they are the ones that ensure the best degree of comfort, but also smartphone, tablet e computer can ensure considerable reading comfort, the important thing is to use the right software.
For example, if you have a PC Windows or Mac, you can rely on Caliber: a free and open source program that allows you to read all the main ebook formats, convert them between them and synchronize them with ebook readers. I told you about it in great detail in many of my tutorials, such as those on how to open ePub and how to turn ePub into PDF. Alternatively, if you have ebook readers Kindle o Kobo, you can download the Kindle and Kobo programs for PC and find all your books synchronized on your computer (with the possibility of resuming reading where you left it on the ebook reader).
Su smartphone e tablet the choice is equally wide: you can rely on independent solutions, such as Universal Book Reader for Android or iBooks for iOS (included "standard" on all iPhones and iPads) or download the official apps of Kindle, Kobo and IBS (Tolino) for access the ebooks you have purchased on your ebook reader and synchronize your reading progress.
Almost useless to talk about ebook readers: they already include by default everything you need to read books in electronic format, add highlights, notes and so on. You don't need to install any apps on them.
How to download and buy ebooks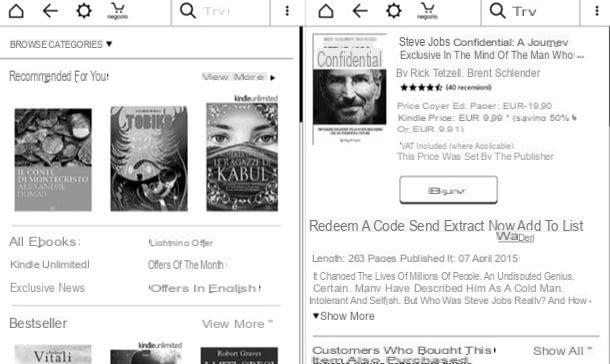 If you buy an ebook reader like i Kindle, the Kobo and Tolino, you can buy books and download free ones using the stores included "as standard" on these devices. The same goes if you have an iPhone, an iPad or a Mac and therefore you can count on the digital showcase of iBooks. Then there are independent stores, such as BookRepublic, Mondadori Store and Feltrinelli, which allow you to buy books in various formats and read them on devices of various brands.
If you do not want to spend money and / or do not want to go to the stores just mentioned, you can turn to sites like Project Gutenberg, which allow you to download free ebook in various formats, without DRM and without any kind of limitation. Too good to be true? You are very wrong! In reality there are many sites to download free ebooks and on them you can find works suitable for all tastes: from the great classics of world literature to the works of emerging authors in search of visibility. Check out my post on the topic to find out more.
The books downloaded from sites such as Project Gutenberg, as well as on PC, can be read on smartphones, tablets and ebook readers without any limit. To transfer them to the devices in question, just connect them to the computer and use them as common USB sticks (or manage the synchronization of books using software such as the aforementioned Caliber).
If you download books in a format not supported by your ebook reader (e.g. ePub for Kindles), you can convert them to other formats using Caliber or other suitable software: read my guides on how to transform ePub to PDF, how to convert AZW to PDF, how to convert AZW to ePub and how to convert PDF to ePub to learn more.
Another important thing you need to know is that many digital stores, such as those of Amazon, Kobo and IBS, allow you to lending ebooks e borrow ebooks from public libraries for a limited time. For more details on this, consult the official documentation of Kindle, Kobo and IBS.
How to choose an ebook reader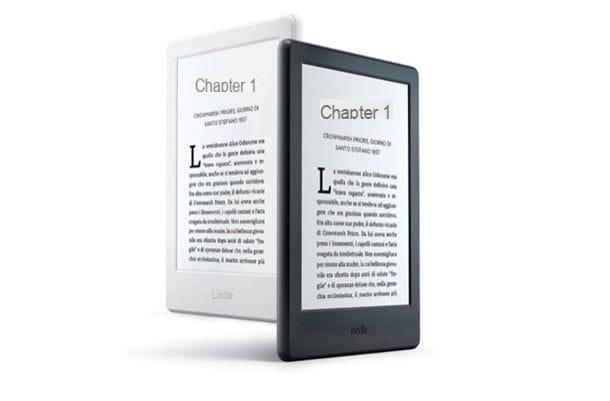 Now you should have a pretty clear idea of ​​what ebooks are and how to read them. You've probably also decided to buy a ebook reader to be able to read them better, and then let me give you some advice on this: let me tell you what are the characteristics you need to look at more carefully before buying an electronic book reader.
Display - ebook readers are distinguished from tablets, as well as for the software that drives them, for the type of screen they mount. Instead of classic backlit LCD panels, which can be annoying after prolonged reading, they use panels e-ink (electronic ink) that are not backlit and are as sharp as printed paper. The e-ink displays are divided in turn between E-Ink Pearl e E-Ink Carta, where the latter have a 50% higher contrast ratio than the former (15: 1 versus 10: 1) and therefore make the pages appear "whiter" and the writings sharper.
Touch screen - the displays of ebook readers can be of the traditional type or, as happens more and more often, of the touch type. Readers with touch displays are generally more comfortable to use as they allow you to highlight content by acting directly on the screen and to browse pages with a simple "tap" (although in the latter case they could be easier than physical keys).
Lighting - the mid-range ebook readers are almost all equipped with a screen lighting system that, without straining the eyes, allows you to read in the dark. Higher-end readers also support blue light reduction technologies that make the screen "warmer" at night (with shades of yellow and red instead of blue) so as not to negatively affect sleep.
Sizes - most ebook readers have a 6 "screen, a size that is an excellent compromise between portability and reading comfort for books. However, there are also larger readers, which are perfect for reading comics and magazines.
Supported formats - one of the parameters to which you must pay more attention when buying an ebook reader is the list of formats supported by the latter. I told you about it in detail in one of the opening chapters of this post.
Internet connection and integrated services - the most advanced ebook readers are equipped with Wi-Fi connectivity, which allows you to connect them to the Internet and buy / download books directly from the large network. Internet access also allows you to access dedicated stores and services, such as those offered by Amazon (Kindle), Kobo and IBS (Tolino), which allow you to easily buy books, synchronize them on multiple devices and store reading progress on the cloud.
Internal memory and expandability - ebook readers have an integrated memory that can be, in some cases, expanded by using microSD. If you plan to download a lot of books and / or comics, make sure you buy a reader with enough memory and / or support for external memory cards.
impermeability - if you intend to use your ebook reader at the sea, in the pool or simply in the bathtub, buy a waterproof one: in this way, even if it falls into the water, it will remain fully functional.
If you need even more detailed information on the technical characteristics of ebook readers and / or want advice on which reader to buy, consult my buying guide dedicated to the best ebook readers: there you will find all the information and suggestions you need.
Ebook: how it works