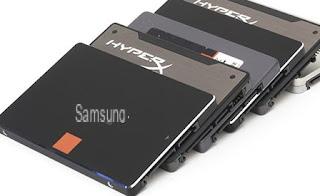 If our computer, even a new one, starts to slow down when opening programs and during startup, the problem is often due to the poor performance of the mechanical disk (or hard disk), a real "bottleneck" on all types of modern computers. In order to unlock the maximum speed on our computer (in particular on laptops where HDDs are even slower), we advise you to install an SSD instead of the mechanical disk, a new generation drive in which the mechanical parts are absent and where the data is stored on memory chips, just like on smartphones and tablets. In this guide we will show you then
all the advantages of betting on an SSD
for a computer e
the best SSDs to buy
to make your PC go as fast as you've never seen it before!
At the end of the guide we have also collected useful guides to move programs and operating system from the old mechanical disk to the SSD, so that you can immediately resume work.
Why choose an SSD?
The SSD disk is a drive with solid state memory, i.e. data is saved inside memory chips (as is already the case on smartphones and tablets). The lack of magnetic platters and magnetic head (indispensable components of the old mechanical disc) make it
extremely fast when reading and writing
, as well as very resistant to external stresses (such as light impacts).
The performance difference between an HDD and an SSD is huge and incredible
, with the computer becoming almost as fast as a smartphone in turning on, turning off and running programs. The performance becomes so high even on computers with more than 4 years on their shoulders, to the point of being able to unbalance and
advise everyone to install an SSD on their machine
, so you can see the differences.
In recent times, a new version of SSDs has also begun to spread, with a different appearance and superior performance: we are talking about the
M.2 SSD or NVMe
, shaped like a narrow and long card and with exposed chips; this card must be inserted in a special slot on the motherboard (so they do not connect with a simple SATA cable).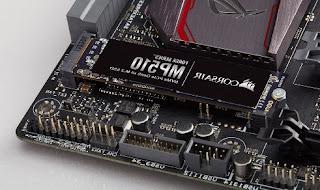 Obviously
we will need to have an M.2 compatible motherboard to take advantage of this new version of SSDs
: if you have this possibility, take advantage of it now, since the write and read speeds can more than double compared to SSDs with SATA cable.
In this regard we can deepen the discussion by reading our guide on
What M.2 SSDs are, how they mount and where to buy them
.
How to install an SSD
The classic SSD supports the same cables as a mechanical disk (SATA cable and SATA power cable), so even mounting it on a desktop PC is very simple: we only have to access the case (obviously after removing the power plug from the computer ), remove the cables holding the old hard drive and place our new SSD in its place.
On laptops we will have to identify (in the lower part) the access door to the disk, so as to be able to remove the HDD present and place the new SSD in the dedicated slot.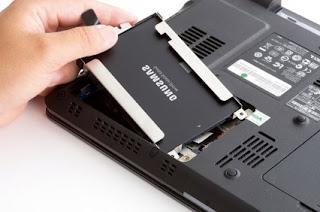 Alternatively, we can always keep the mechanical disk on the laptop and take advantage of the optical reader housing to obtain the necessary space for the SSD, as well described in our guide
SSD on the Laptop, instead of the hard drive or DVD player
.
The M.2 SSDs are really simple to install, since it is sufficient to place them in the appropriate dedicated slot (under the processor, next to the PCI-Express sockets or in a dedicated slot on the laptop) to be able to use them on our computer.
Best SSD drives to buy
After a brief overview of what SSDs are and how to install them, let's see the best ones together
SSD disks to buy
for our computer. We will show you both the best classic SSDs (with SATA cable) and the new M.2 SSDs, so you can choose the drive that best suits our motherboard and our needs. As capacity
we advise you not to go below 200GB
, as the prices have become really affordable for all budgets.
Best SATA SSDs
Below we have collected the best traditional SSD disks, which can be connected via SATA cable and powered by the specific power cable for the disks (present on all fixed and portable PCs on the market). They are cheap, fast and compatible: they are still today the ideal choice for those who want maximum speed without giving up anything!
Silicon Power SSD 256GB 3D NAND (30€)
SanDisk Plus SSD 240GB (34€)
Kingston A400 SSD 480GB (48€)
Crucial MX500 500GB (66€)
Samsung SSD 860 WHICH 1 TB (109 €)
From this list we advise you to immediately focus on the Samsung SSD or the Crucial, given the really excellent quality / price ratio; if we want to upgrade a cheap laptop or still spend as little as possible, we can focus on any of the SSDs on sale for less than 50 €.
Best M.2 SSDs
M.2 or NVMe SSDs are the next generation drives, sold as expansion cards to connect to the motherboard, without the need to use the SATA cable or power cable. They are very fast, practical to set up and are ideal for minimizing bulk.
Crucial P1 M.2 500GB (60€)
Western Digital Blue M.2 500GB (60€)
SP Silicon Power M.2 NVMe 512GB (77€)
Sabrent SSD M.2 512GB (84€)
Samsung 970 EVO Plus SSD M.2 1TB (179€)
In this case, all models are fine, the only precaution necessary before purchasing them is to check that our computer has one
slot PCIe NVMe M.2
.
Conclusions
Aiming for an SSD will allow you to
speed up program execution and computer startup
like no other type of update: that's why we advise you to do it as soon as possible, even before thinking about replacing the CPU or increasing the RAM (also useful but only if there is a fast SSD in the system). After buying a new SSD, we can
move windows to SSD without reinstalling everything
so you can benefit from the increased speed without having to reinstall the operating system and programs (without forgetting your personal files).
We can "recycle" old mechanical disks as external USB disks, where to save files and backups; in this regard, we invite you to read our guide on
How to connect drives to PC via USB: SATA adapters, cases and docking stations
. If, on the other hand, we are looking for maximum speed even on portable disks, we recommend that you read our article ai
Best portable external SSDs
, so that we can benefit from the performance of SSDs even when we use external USB disks as backup or to move large files.
Best SSD drives for PCs for faster loads