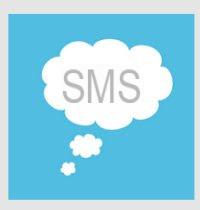 In Android KitKat Google has changed the main app for sending and reading SMS which is now called Hangouts which also includes the Google chat service, which is absolutely unnecessary.
In older Android versions the default SMS app is called Messages which works well but is very simple.
On other smartphones such as the Samsung Galaxy the SMS app is often simple, not very innovative and impractical, especially inferior to the alternatives described in this article.
Like everything in Android, if you want to change something, just download an alternative app and also for SMS messages there are several free alternative applications to the default one, with some more functions.
In this article,
the best apps to send, receive and read SMS on Android phones
, clearly
better than the system default
, whether in old Android versions or new ones, really leaves something to be desired.
1)
Textra SMS
is a really elegant app with a nice bright interface that makes it easy and pleasant to read SMS messages and browse the received ones. It includes a number of additional features including animated emojis, a pop-up for quick reading and replying, MMS, group messages and theme customization, from light to dark. Textra SMS was the app that I had initially chosen as the default on my Android smartphone, in my opinion the best ever. After the ad appeared, my preference went to the second on this list, Google Messenger.
2)
Messenger, the SMS app from Google
, which can be installed on all smartphones, very fast, light and fluid, with different options such as the one to block unwanted sms. Messenger displays received messages directly on the screen and allows you to reply on the fly or mark it as read.
3)
Facebook Messenger can send and receive SMS
as the default app.
4)
ChompSMS
is another very popular and long-used app to manage SMS on Android smartphones in a better way than Hangouts or the default Messaging app. This app, really handy and with a nice minimalist interface in gray, uses the profile photos of the contacts in the address book and places them in small circles in the left pane. Touching any circle opens the list of SMS sent and received by that contact. The application also makes it easier to send photos with MMS and each contact's window also gives options to call them or open their profile. Chomp SMS also allows you to customize sounds and notifications of receiving messages. This application is very light, minimal, which works well even on older phones or with low memory.
5)
GO SMS
it is the most popular alternative, also because it has existed for a long time, by the same authors of Go-Launcher. The application has a much more invasive and heavy interface, but it is also full of more features.
Among the many we mention the possibility of making an online backup of messages so as not to lose them and possibly bring them back to another phone, the possibility of canceling the sending of a sent SMS, blocking SMS from unwelcome numbers.
Unfortunately, there is also advertising that can only be removed by paying for the Pro version.
6)
QKSMS
is a free application for Android with options to customize the graphic theme, with the ability to make a quick reply, change the font thickness and size, hide or disable avatars and to change several other things.
7)
Handscent SMS
is another popular app that has been around for some time, widely used and very easy to use, with many configuration options to customize the appearance and reading of messages.
It supports Emoji, has a powerful search function and supports scheduled SMS sending
8)
EvolveSMS
has a very similar interface to Hangouts, with some customization options, themes and various extra options and functions that can only be unlocked by paying. La'app is very fluid, with the SMS displayed in the form of a conversation, with the photo of the profiles of the contacts. You can easily send pictures, GIFs, audios, videos, contact cards and your current location. You can backup your messages in Dropbox, create templates and protect your messages. EvolveSMS also comes with a widget to add on the home screen.
9)
Press SMS
is a really very beautiful SMS app, among the best, free, with updated and modern graphics.
10 )
MySMS
, very fluid app that I had already talked about, which allows you to backup messages online and which also works to send SMS from your PC or tablet
11 )
Simple SMS Messenger
is a minimal SMS messaging app designed for ease of use. The app is small in size, ad-free, free.
Best SMS App for Android and Samsung mobiles to send and receive messages