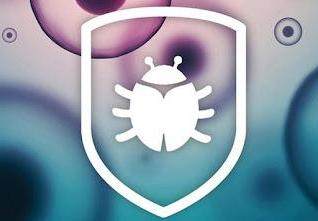 Considering the use we make of smartphones in everyday life, it was only a matter of time before the bad guys developed viruses capable of attacking our smartphones running Android, with the aim of stealing our personal data, sending infected SMS , to intercept chat messages and to show random advertising windows during use; the most dangerous can also permanently damage the operating system and steal money from the SIM card or by exploiting the passwords saved on the device.
Even if the level of infection is not in the least comparable to that of Windows, for many novice users or inexperienced users of the Internet network, installing an antivirus could save the device from the most common infections. If we are among the users at risk and do not know what to install, we will see in this guide
the best antivirus for Android that we can install for free or with a free trial period
, so as to obtain additional protection.
Antivirus per Android for free
Antiviruses for Android are in effect apps that will be placed in memory and will automatically start to check every file and every other app that will run on the device; this entails
inevitably a consumption of resources in terms of RAM and CPU
(the consumption of internal memory is negligible being a medium-sized app). In order to carry out their task we will therefore have to be willing to give up something in terms of performance, especially if our smartphone is more than 2-3 years old: with a recent smartphone, perhaps the antivirus is not even heard, but on a device Android with only 3 GB of RAM (or even less) the presence of the antivirus could severely limit the performance of the device.
Is it worth installing an antivirus on Android?
On most Android smartphones it is not necessary to install an antivirus, but we recommend installing one only under certain conditions:
Recent and modern smartphone: to be able to keep an antivirus always active in memory, make sure that the device has at least 4 GB of RAM and octa-core processor, otherwise we avoid any type of antivirus.
We install many APK apps from external sites: if we do not only use the Play Store to add apps but we use many APKs (perhaps of cracked paid apps), it is better to have an antivirus installed to avoid the most dangerous viruses and malware.
We ignore the dangers of the network: if we browse and click on any link we receive from social networks or via chat, it is better to immediately install a good antivirus to avoid nasty surprises;
We exchange a lot of files with other smartphones: if we exchange music, APKs or images all the time, it is better to protect yourself with a powerful antivirus.
We often use passwordless Wi-Fi networks: viruses and threats to our device can also arrive in public hotspots or from free Wi-Fi networks in the city, so it is better to be equipped with the right protection.
If none of the points mentioned above are part of our daily habits,
the antivirus is superfluous
. If we have an old smartphone and we also reflect one of the other points, it is better to consider the purchase of a new, more performing smartphone to also install the antivirus. If we have a recent smartphone and we reflect one or more of the points listed, it is better to quickly install one of the antivirus for Android that we will talk about below.
Antivirus built into Android: is it enough?
Many recent Android smartphone models (notably Xiaomi) have an app
Safety
in which an antivirus engine is often integrated, with scans that can be started manually (without any active checks in memory).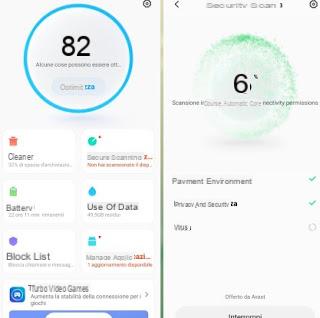 This antivirus is very powerful and allows you to intercept threats by running the
scanning of all major environments in which a mobile virus can lurk
(memory, payment environment and privacy). If we are particularly at risk of viruses, it is advisable to run this scan at least once every month, so as to be sure that you have not downloaded any viruses.
To this we add that now all Android smartphones have the Google Play Protect antivirus, which allows them to intercept both the threats transmitted through the Google Play Store (very rare) and the infected APKs present on the device; we talked about this integrated antivirus in our guide
Google Play Protect antivirus to protect Android on mobiles and tablets
.
The best antivirus for Android
If the integrated antiviruses are not enough for our purposes and we want more protection below we will find the best antivirus apps for Android that we can install on our device; obviously we will prefer antivirus that are light enough in memory, easy to use and with an excellent level of protection from all threats that can affect the Android environment.
One of the leaders in computer security for PCs also provides one of the best antivirus for Android; We are talking about
Kaspersky Mobile Antivirus
, available on the Google Play Store.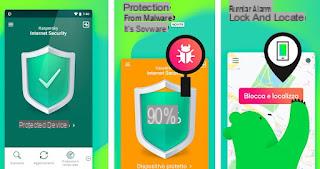 This antivirus offers effective protection thanks to the background check of every activity carried out on the device, with an effective scanning engine against any threat for Android and not only (if we accidentally download some executable for infected Windows, it blocks it before we can transfer it accidentally on Windows PC). The web link filtering system is also excellent (so as to block infections from unknown links received via SMS or chat in the bud), the call blocking system, the anti-theft system and the app blocking (Applock) so as to protect the our privacy in apps that we don't want to be spied on.
Another great antivirus from the world for PCs and effectively translated to Android is
Bitdefender Antivirus
, available on the Google Play Store.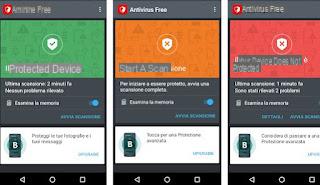 What makes BitDefender's antivirus an important and useful app is that it is free and lightweight. Almost all other antivirus apps for Android, in fact, weigh down the phone with the risk of making it slower if it does not have enough memory. Bitdefender's, on the other hand, should work fine and without slowdowns even on a cheap or old phone. Bitdefender for Android is one of the lightest antivirus we can install, with a very low RAM and CPU consumption that will adapt to any type of smartphone without excessively affecting the performance of the device. Really good scanning engine and real-time protection system, capable of blocking any type of virus and threat before it can do any damage.
Among the free antivirus could not miss
Avast Mobile Security
, available on the Google Play Store.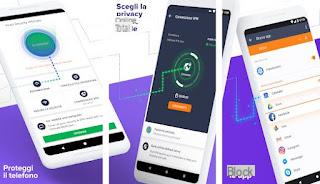 The app looks like one of the best from a graphic point of view with clear and easy-to-use menus and settings, without sacrificing protection (very good both in scanning and in real time). In addition to the antivirus, it offers a free cleaner for useless files on the smartphone and an app blocking system, so as to protect our privacy for chat apps or any other app that we do not want to be opened by strangers.
Another good antivirus imported from the PC world is
AVG Antivirus
, available on the Google Play Store.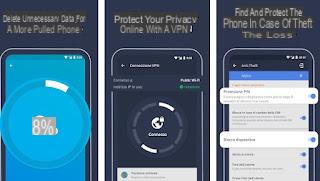 The app immediately scans every app added to the system, optimizes the execution speed of the apps already installed, protects the app and the device through a PIN system, cleans unnecessary files on the system and allows you to protect privacy via a free VPN that can be started at any time.
One of the best antivirus for PC (especially in the business field) is definitely ESET, which also offers a very effective app called on Android devices
ESET Mobile Security
, available on the Google Play Store.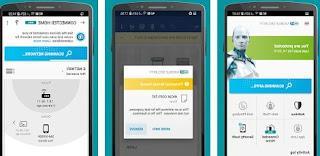 With this antivirus we will not have to fear any threats, thanks to the innovative proactive protection system capable of blocking even threats not yet recognized worldwide (0-day threats), so as to always have the smartphone free from any danger. The trial version is active on any Android smartphone for 30 days, after which you must purchase a Premium license to continue to benefit from the protection offered by the ESET solution.
Other antivirus for Android
We have tried to report all antivirus that reflect certain requirements in terms of performance, lightness and effectiveness in blocking any type of infection on Android; in reality there are dozens of antivirus apps in the Play Store that we can try, among them definitely stand out:
Safe Security
Norton Antivirus and Security
Comodo Mobile Security
Malwarebytes: Android Antivirus & Anti-Malware
McAfee Mobile Security
Panda Antiviru
Zoner AntiVirus Free
Sophos Free Antivirus and Protection
Even these antiviruses (some more or less) are effective against threats, but may have some other shortcomings such as not to make them comparable to the antivirus already treated, which undoubtedly remain the best we can try on Android devices.
Conclusions
As we have seen, an antivirus on Android may not even be necessary, especially if we pay attention to the apps we install, if we do not open any link offered to us and if we only browse safe and certified sites. If we are not careful or we often risk catching viruses, we can rely on both the antivirus integrated in smartphones and install one of the antiviruses seen in this guide, so as to protect our privacy, our money and our personal information.
Still on the subject of security for Android, we invite you to read our guide on
How to protect Android from malware
. If your smartphone is now full of viruses and does not work well, we recommend that you format it as soon as possible to get it back as it was just removed from the package; to do so we can read our guide
Format Android and reset the phone by deleting everything
.
Best free antivirus for Android