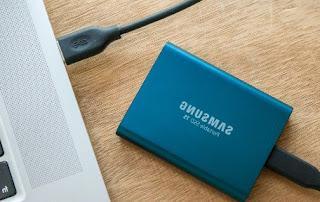 SSDs are now taking over as a data storage unit, given the speeds they can reach and the increasingly lower costs.
With an SSD we no longer have to worry about losing data or breaking the drive when we carry it around with us, as there are no mechanical parts sensitive to sudden acceleration or accidental bumps.
If we move a lot of files between one computer and another, it pays off
rely immediately on portable SSDs
, so you can benefit from maximum read and write performance.
In this guide we will show you the features that the best portable SSDs must have and, in the last chapter, we will also point out
the best portable SSD models
that you can buy online to save money.
1)
Portable SSD features
Portable SSDs offer very similar performance to the versions intended for use on a desktop or notebook PC, since they contain the same chips and even the same controllers. The first substantial difference that we can find
are the slightly more compact dimensions of portable SSDs
, this thanks to the great progress in the field of miniaturization of chips and internal components (this also explains the large price drop that has occurred in recent years).
In a nutshell, portable SSDs, not being designed to fit into 2,5-inch drive bays, contain very little "useless space" and the chips are compacted to fit into a much more compact enclosure than SSDs for use as disks. computer interiors.
In some cases the chips inside portable SSDs are so "small" that they are the size of a small portable charger, for maximum portability and lightness.
When we have to choose a portable SSD we will therefore have to check very few features:
-
Capacity
: make sure you choose the 200GB or larger models, so that you can store a large amount of files.
The 1 TB and larger models are still quite expensive (especially when compared to mechanical disks), but they will soon reach highly competitive prices to completely supplant the old technologies.
-
Connectivity
: Portable SSD connection needs to be done
via USB 3.0
, recognizable by the blue contacts inside the socket.
Only with this type of connection will we be able to make the most of the performance of these drives (which normally comply with the SATA 3 standard).
Some models also have eSATA connections, but they are quite rare so we can also neglect it as a technical feature.
When we connect an SSD disk via USB 3.0, make sure that the port of the laptop or desktop PC is also USB 3.0, otherwise the speed will be limited (we will use the one provided for the USB 2.0 standard, ten times slower).
The newest models
they can also be
equipped with USB 3.1 Type-C connectivity
, which allows you to achieve performance very similar to the SATA connection but a compatible USB 3.1 Type-C port is required on the PC or notebook.
-
Disc included or simple shell
: Currently we can buy both the beautiful and ready-to-use portable SSDs and the disk cases (empty inside), in which we can place any 2,5-inch computer SSD.
The former are more practical to use, but the latter can accommodate any model of SSD inside and it is also possible to replace it in the future in case of problems or capacity upgrades (we can go from 200 GB to 1 TB for example).
2)
Buying Guide
After having seen the (few) features to consider for external SSDs, we see in this part of the guide the best models that can be found online.
They are available with different colors, sizes and capacities, we will point out those with the most accessible prices at the moment.
-KEXIN Extreme SSD 120 GB (66€)
- KingDian 1 TB (99€)
- WD 512GB My Passport SSD (114€)
- Samsung T5 SSD Portatile da 500GB, USB 3.1 Type-C (90€)
- SanDisk Extreme Portable SSD 1 TB (€ 219)
- Western Digital WD My Passport Go 500 GB (56€)
If instead we wanted to focus on disk cases (also called HDD enclosure), we can view the following models and then choose which 2,5-inch SSD to insert inside.
- POSUGEAR External Case for 2.5 "Hard Drive, USB 3.0 (€ 8)
- Amazon Basics, External Hard Disk Case (11 €)
- ElecGear 2.5 inch SATA SSD and HDD Hard Drive Enclosure (12 €)
- UGREEN Case Hard Disk 2.5 '' USB 3.0 (13€)
- Hard Disk Box Esterno USB Type-C SSD (12€)
Do we have no SSD to use as an external drive? In this case, we refer you to reading our guide
best SSD drives to buy
, in leathers we can find the best solid state drives that can be inserted inside these cases (but also on a PC to be upgraded in case).
3)
How to use external SSDs
After having seen how to buy a portable SSD, let's see together how we can use them concretely.
We can use them as simple external disks: they connect to the USB port and use the internal space to copy and paste any type of file directly from File Explorer or Windows Explorer.
If we want
make automatic file backups
, we can use the backup tool included in Windows 10: we open the Start menu and type
Backup settings
.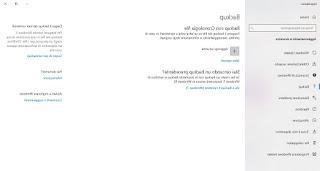 From here we can add the connected SSD as a backup unit and automatically save the most precious files every time we connect the external drive to the PC; to deepen the discussion we can read our guide on
all file backup and restore tools included with Windows
.
Alternatively we can use the
SSD as an emergency operating system
, bootable even when the PC is not working: in this case we will have to rely on a GNU / Linux distribution, as explained in our dedicated guide ->
Install a Linux ISO on USB
.
Best portable external SSDs