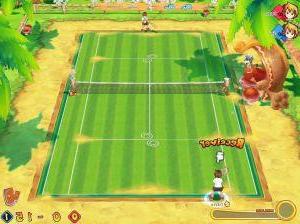 Let's finally return to sports games that are always among the most fun to play on the PC.
Now
let's play Tennis
reporting a really nice game,
multiplayer
, fast but above all
free
to download and play on your Windows PC.
For those who prefer to play tennis without installing anything, I've found the best ones too
flash tennis games
.
The most popular Tennis game for Windows PC is
Virtua Tennis
which can be played online via browser on the site
Arcade Spot
in its original version of the SEGA.
The best free online Tennis game
, and perhaps the only one in existence, which can be played from a PC on a browser or as an app for Android and iPhone is definitely
Tennis Mania
. After registering your account you can start with training so you can then challenge other players online in order to climb the leaderboard and advance your career. There are tournaments and it is also possible to improve the player by accumulating bonuses and coins.
For those who want a
online tennis to play right away
without registration, the best tennis
in flash
è
Real tennis
: simple but with 3D graphics and realistic movements.
Another online tennis playable from the web browser is
Tennis HTML5
, with cartoonish graphics but fast enough to keep you busy for half an hour of gameplay.
Finally, for those who like tennis but don't want to play games, there are
managerial games
where you train a team of tennis players: Rockin 'Rackets and Tennis Manager.
The article was originally about
Fantasy Tennis 2
which was an excellent tennis game, very fun and fast that combines the sporting dynamics of the component
mMORPG
that is the role-playing game.
Today it no longer exists.
In previous episodes we had seen: car racing, snowboarding, football, golf and billiards.
Best free online tennis games on PC