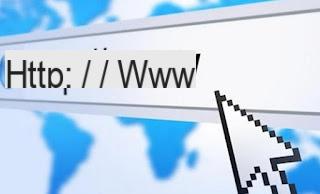 Before, creating a website was an activity for professionals in the sector, who created presentation sites for companies and shops by charging handsomely for the work carried out. After the blogs were born and everyone was able to open one, so as to have a personal site where we can pour everything we like. To the present day
it still makes sense to have a personal site
where to write what you want freely,
to create your own website or blog
and establish one's own indelible presence on the internet without remaining confined to the social network on duty. We will thus have the opportunity to have something personal and unique on the Web, to tell your thoughts, publish images and photos and advertise your professional or commercial activity.
Whatever the reason for wanting your own site, what is important to know is that
to create one you absolutely do not need to know codes
programming or learning complex software; you can create a beautiful site even graphically, starting from scratch and in a few minutes, using a completely automatic system.
In this post we see some of the
simpler methods to create
for free
a personal site
.
1)
Blogger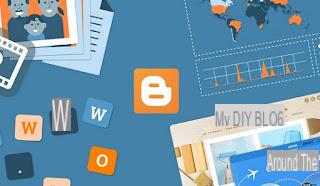 The simplest and most immediate way to have your own free personal site is to manage a blog on the site
Blogger
.
Just have a Google account (the one created with your smartphone or to receive emails on Gmail is fine too), choose the name, domain and graphic style and immediately start filling your blog with content. With experience we will be able to later add new graphics, new embellishments and even monetize our site using third-party banners or integrate Google Adsense; the latter is the most suitable because it is well integrated, being everything managed by Google it becomes easier to monetize and earn with your blog.
2)
WordPress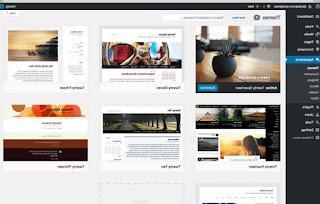 If you are a bit more experienced, you can start a website or blog on WordPress.com.
The platform is one of the best for writing on blogs and sites (even in other services, since it can be integrated anywhere) and also allows you to manage a real site, choosing a domain and choosing the graphics, layout and title , so you can get started right away.
Another feature of this platform is the presence of numerous plugins, which can be integrated on the chosen site to make it even more functional and to make it even more complete, without having to go crazy with codes and programming. For monetization it is possible to integrate any type of banner, even Google Adsense, so that you can also earn something from your works published on WordPress.
NOTE: Wordpress.com is not to be confused with Wordpress.org, the open source CMS to be installed on a webserver to create a website or blog on your own domain and hosting.
3)
Striking.ly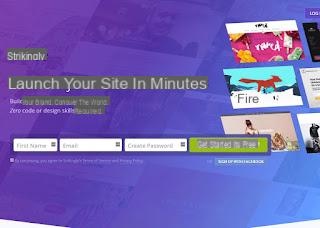 With
Striking.ly
it is possible to create more pages and various preconfigured graphic templates are made available, where you only need to change the text. The site is created immediately with free registration. The web page is all dynamic, with several links that refer to the different sections without ever reloading. The templates allow you to create a portfolio of images, a personal page with the resume (Resume), a company or store landing page.
To get the custom domain and other extra features, you can upgrade and pay $ 16 a month.
4)
Swite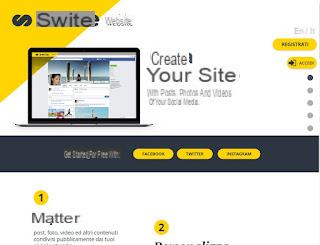 Everyone is now writing on Facebook or Twitter or posting videos on Youtube or photos on Instagram.
A nice and original idea to create a new personal site is to take all the public posts posted in these social networks and put them, all together, in a new blog managed on
Swite.
The mechanism will ensure that every new post written on Facebook and every new photo published will also be placed in this blog. What is created is not a copy but a kind of
personal web-magazine that includes all its activities on social networks
.
Applications like these are new but they already work in an excellent, simple and automatic way. Swite therefore allows you to automatically organize all the posts published on social media in its own personalized website and it works really well.
5)
Sidengo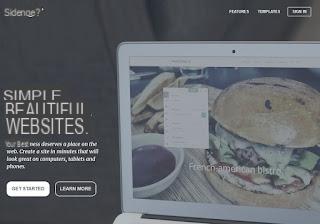 If you want to create a website with multiple pages
, a great and easy way is offered by the free platform
Sidengo
. In this case you can create a real site, where you can present products, events, commercial services, photos, videos or whatever you want. Getting started with Sidengo is super easy, just register for a free account, choose the address and name of the site. You can immediately start designing your own web page with an Editor divided into sections and tabs. Sidengo is an excellent solution for those who want and need a presentable site also for commercial purposes, but cannot or does not want to try too hard to do so.
6)
Wix.com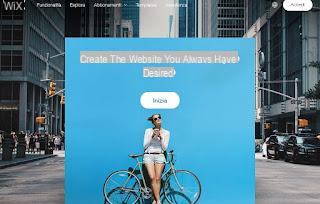 Wix.com
is one of the simplest ways to
create animated sites
in HTML5
for free, without having to learn to write programming code. You don't even need to have great design skills with Wix because there are several beautiful templates to choose from that can be made your own and modified with your own content. It is also all in your language so it is easy to understand and use.
On Wix I wrote a review some time ago describing this online service as
the best for creating free animated HTML5 websites
.
7)
Weebly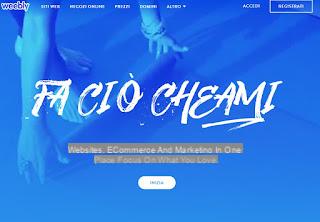 There are many other platforms, simple for making personal sites and, at the same time, powerful for professional and commercial use.
Among the best ones, the excellent deserves a special mention
Weebly
, to which I dedicated a guide article on purpose.
8)
Google Sites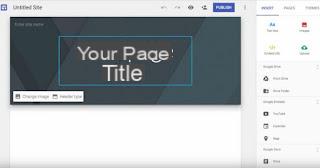 To create a personal or even a professional website
you can also use Google Sites, a slightly more elaborate but still simple and fast way.
For full details, see
guide to create a website with Google Sites
.
9)
SAUL
is a creator of different types of sites, which allows you to design the template using a simple interface and then export the HTML code to your website which can be on Wordpress or any other CMS.
10 )
Grapedrop
it is similar to SAUL, with a very intuitive interface for designing web pages and exporting code.
In this case it is also possible to publish the pages on a Grapedrop subdomain or even pay a subscription and get your own personal web address. For web page creation, it allows you to start from scratch or select the template to start from. At that point, just click on any element to change it, add different blocks on the web page and customize the corresponding settings, add maps, images, tables, videos, sliders, tabs, modules, checkboxes, buttons, sections, navigation bar , link blocking and more.
11 )
Simbla
it's a great website that to create your personal site using the drag-drop method. Just like some of the websites mentioned here, you just have to choose a template or start from a blank web page, add different components to the web page, and save the changes to the project. Eventually, the code can be extracted and exported for use in Wordpress or other CMS.
12 )
Overblog
is a platform where you can write personal blogs and publish them online for free and without difficulty. You can customize the blog as you want, you can publish all kinds of content that are indexed by the same platform and it is also possible to earn money with advertising.
10 easy ways to create a personal website for free