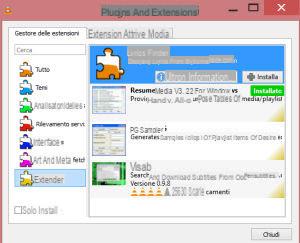 VLC Media Player is the most used program for watching videos on the PC, capable of opening any type of video and movie file without the need for any codec.
With the
latest version of VLC Media Player
program extensions or plugins have come, which allow you to add functions.
Install extensions and plugins in VLC
it can be done as with Chrome or Firefox.
The download of extensions for VLC
it can be done starting from this
official page
.
By opening the plugin page and you can then click on the download button to download the file
.lua
.
If instead of downloading the text file is opened, you have to copy the entire text and copy it to a new text file using the notepad.
The file must be saved with the .lua extension (see how to see file extensions, change and rename them).
Sometimes the download leads to a zip file that needs to be extracted to find the .lua file.
The .lua file must then be moved to the folder
C:UsersUserNameAppDataRoamingvlcLuaExtensions
Where "C" is the drive letter where the Windows operating system is installed and Username is the name of the user account.
If the Lua folder does not exist, you need to create it manually.
In the tab of each extension, it is always worth reading the instructions because in some cases the activation procedure of the plugin can change.
In the list of plugins for VLC there are some, which we could define as
best extensions for VLC
, which is worth installing, depending on how you use the media player.
NOTE:
VLC extensions and plugins can then be managed from the Tools menu
of VLC, in a separate settings section.
From this page it is also possible to search for extensions and themes to install them automatically, but there are not all of them so, for the others, the procedure described above remains valid.
1)
Moments Tracker
it is used to create bookmarks on one or more videos so that you can jump from one point to another as you would with chapters on a DVD, giving each bookmark a custom name.
2)
Cleaner Playlist
it is very useful when you want to automatically remove duplicate files from the VLC playlist.
Apart from this, it is also useful for finding and deleting media files moved from their original location or deleted from PC.
3)
Syncplay
it is used to play a video on different PCs in sync.
4)
Song Teacher
is a VLC-based music player that allows you to read the lyrics of any song.
5)
TuneIn Radio Plugin
allows you to listen to FM radio on VLC using the TuneIn service.
6)
Resume media
allows you to automatically play an audio or video file from its last location, doing more than is already possible in VLC 2.2.1.
7)
YouTube Playlist Plugin
allows you to import YouTube public playlists directly into the VLC player.
8)
VLSub
is an extension to find and synchronize subtitles automatically on any video and therefore allows you to open any film in a foreign language and immediately find the subtitles in English.
9)
Play Pause
is an extension to pause or resume playback with a click on the video.
10 )
Jump to Time
is used to jump from one point to another in a video.
Best extensions and plugins for VLC and how to install them