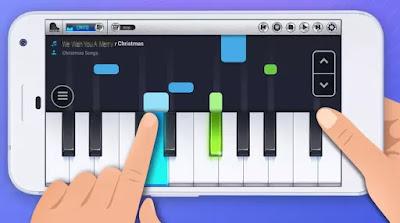 Learning a musical instrument means that you first buy it and then take lessons to be able to play it.
Playing the piano using a smartphone could, in general, seem like just a way to play and spend time with children, while in reality there are some really well thought out applications, which not only allow you to create melodies and play on the screen, but really allow to learn with guided instructions and interactive tutorials.
You will not be able to replace the lessons of a teacher with apps, but perhaps to start without too much effort they could really be ideal.
The good thing about learning piano notes on phones and tablets is that the flat surface can be doubled easily with a digital keyboard.
In addition, it is always possible to connect earphones to the smartphone to play without disturbing family or people around.
Below,
the best apps for playing piano and learning on Android and iPhone
1)
Simply Piano
(Android and iPhone) is one of the best known apps in the piano world and is perfect for beginners.
The app allows you to choose your piano skill level, to indicate whether you are starting from scratch or already have some experience.
After selecting the options, you can take learning courses starting from the basics, up to more advanced lessons that will be unlocked as you progress.
You can then learn to play some of the most famous songs and follow interactive video sessions.
Although the app is free, some of the content is paid and it takes a monthly subscription to unlock all courses.
Locked features include learning and playing music, learning sheet music, and custom piano exercises.
If you really want to learn how to play the piano on your own, this app should really work.
2)
Perfect Piano
(Android - iPhone) is a really great application, which works as a digital keyboard to play freely.
You can choose the type of piano to play and focus on a particular part of the keyboard in order to play the right notes.
If you have multiple smartphones, you can also place them side by side to have the complete keyboard of a piano.
Unlike Simply Piano, you can try the songs for free, moreover, depending on the level of your experience, the app allows you to choose between Easy, Medium and Hard level.
3)
Piano Chords and Scales
(Android - iPhone) is a beginner's app that helps you understand musical structures from scratch, learn notes and chords and practice them at the same time.
The only problem is that the keyboard is a bit too small for people with thick fingers.
4)
Yousician Guitar, Piano & Bass
(Android - iPhone) is an app that allows you to learn both to play the piano, guitar or other instruments.
As for the piano lessons, you can either start from the basic or go for an intermediate course.
Beginners can start by practicing playing with thumb and forefinger and learning the right keys to press on the keyboard aided by the keys that are differently colored.
Even though the app is among the best ever, it continually pushes you to update the paid version, giving you some interruptions.
5)
FlowKey
(Android - iPhone) is a very powerful application that allows you to start learning the piano or improve your skills with interactive lessons.
The app works as a guide to playing on a real piano or keyboard and using the phone's microphone can understand if you are playing correctly.
This application had already been reported in the past, among the best
sites with online, free and interactive piano lessons
6)
Gismart plan
(Android - iPhone) is a fun game, much celebrated and appreciated, which allows you to have fun and also learn to play.
The games are guided by lessons that in the end allow you to learn the reading of scores and notes and to press the right notes by making even complicated chords.
7)
Piano Yokee
(Android - iPhone) is another great application for learning to play, where you can follow the most famous classical music melodies by following the keys to play on the screen.
A little bit of a game and a little bit of a music teacher, this free application has everything you need to learn.
8)
Piano Academy
, iPhone only, is dedicated to interactive piano learning sessions, which gives immediate feedback on pianistat skills.
You can learn the theory of music and then also the chords, the reading of the scores and the memorization of the notes to be played.
9)
Pianist HD
(Android), unlike all other piano apps, it has no fixed instructions and you can play it by following the indicated notes and colored keys, without necessarily going fast, but also slowly.
This piano app has 128 MIDI musical instruments, over 12 sampled voices, 88-key piano keyboard, 12 different piano keyboards and other musical instruments, including organ, digital piano, harpsichord, accordion, electric guitar, harp, cello.
10 )
Magic Piano by Smule
(Android - iPhone), we mention it even if it is not an app to learn or even to play the piano on your smartphone, but a nice fast and fun game where you have to touch the right points on the screen following the rhythm of the songs you listen to.
Surely it is one of the most loved games by young people also because the songs are the first ones in the ranking of famous artists.
Best App to play the piano and learn the piano