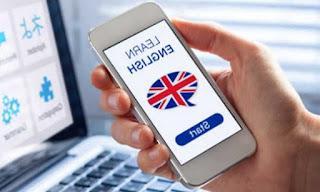 With a smartphone we can do many useful things, in addition to sharing messages on social networks or visiting Facebook! Thanks to the help of some apps we can also learn to read and speak a foreign language, with exercises aimed at rapid learning. If we want to learn the English language (by definition the most spoken language and that everyone should know) we can find a multitude of applications that, in a simple and free way, allow us to improve the basics we already know or allow us to learn new words from scratch and grammar (useful for those who have never studied this language).
In this guide we will show you then
the best apps to learn English (or other languages) in an interactive and fun way
, with a method certainly less boring than any book or lesson at specialized centers, so that you can learn the most known language in the world during your free time.
Best Apps for Learning English
The apps we are going to point out are basically free, but often offer advanced courses and paid interactive lessons. In any case, we can use all the free material without limits and thus learn the basics in a simple and effective way.
Duolingo
Duolingo
is one of the best apps for foreign language learning system and is available for Android and iOS.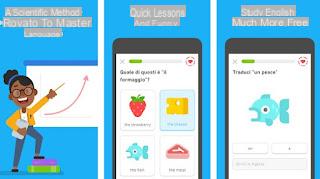 Duolingo is based on learning and testing levels where you earn skill points and compare your progress with other people. It is then possible to use your knowledge to translate real world content, and be evaluated by other users. It is currently one of the apps that we recommend trying now, because it really allows you to learn English right away while having fun.
We talked extensively about Duolingo in our article on how
learn languages ​​by playing on Android and iPhone
.
Speekoo
The app
Speeko
, completely free for Android and iPhone, is a novelty of 2020 awarded among the best of the year by Google, which allows you to learn a new language of your choice (between French, Spanish, English, German, Chinese and Japanese) very quickly , with a virtual journey made up of 20 levels, each with 12 lessons. Definitely to try.
ABA English
If we are looking for a professional course that can be followed for free from our smartphone, we can rely on
ABA English
, available for Android and iOS.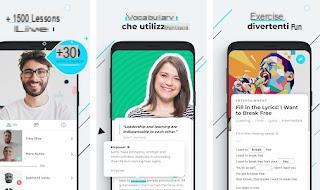 With this app we will be able to attend thousands of live lessons for all levels of English (up to C1, i.e. business English), learn with really fun exercises (such as filling the text of a famous song with the missing words) and learn pronunciation and new vocabulary with content posted every day.
Obviously, only the basic courses are offered for free: if we want to continue climbing to English levels we will have to pay a monthly or annual subscription.
Gymglish
One of the most innovative apps we tried to learn English is Gymglish, available for Android and iOS.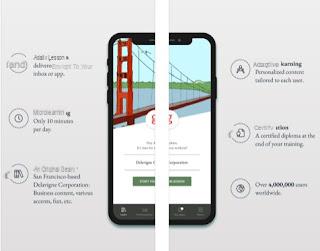 The main feature of this app is that it dynamically adapts to our mistakes: the more we make mistakes, the simpler the exercises become and focused on the mistakes made previously; if, on the other hand, we become very good, the level of lessons and exercises becomes more and more difficult, so as to be able to gradually guide us towards full command of the English language.
Drops
Drops
is among the most successful new apps in the learning app sector, quickly becoming one of the most downloaded on Android and iOS.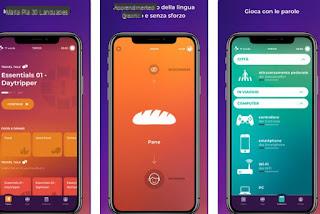 The app allows you to learn English and many other languages ​​with daily exercises and games that never get bored. Drops does not pretend to teach the grammar of languages, but only to memorize the main words that we can find on the street or by listening to what other people say, through micro games and minimalist images that become easy to remember. The app's approach makes it one of the best for people who don't want to waste too much time learning the language but still want to recognize and pronounce common word words.
Babbel
Another highly publicized app that has quickly become one of the best apps for learning English is
Babbel
, available for Android and iOS.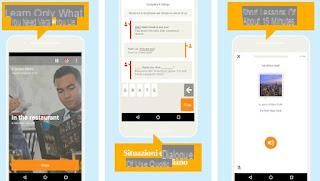 Thanks to this app we will be able to learn the phrases of daily use or phrases and dialogues to be held in certain situations, so that we can immediately immerse ourselves in the spoken language without having to study all the grammar rules. We can find both short lessons (for those who are always in a hurry) and detailed lessons with final exercises to test their skills in language management.
LearnEnglish Grammar
Il
British Counsil
provides various applications for learning English, especially grammar. So if we want to speak English in a fluid and captivating way, we can install the app on our smartphone
LearnEnglish Grammar
, available for Android and iOS.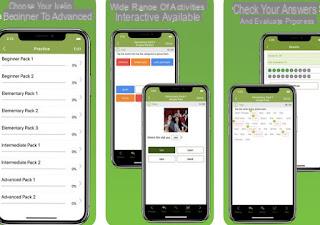 With this app we will have different learning levels to overcome, so that we can gradually understand all the constructs and grammar rules of the English language, all essential to be able to speak correctly and understand what we are told. The app adopts a very classic approach, with various steps to overcome for each course, exercises in which to test the knowledge learned and the final texts to be able to level up or not (in case of errors, it is better to retrace your steps and repeating things that are missing or that we have not learned correctly).
Language Course (solo Android)
If we have an Android device we can download the complete and 100% free course offered by Language Course.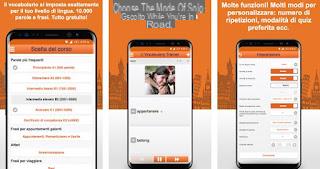 With this interactive dictionary we will be able to learn the pronunciation of each word and learn many of the commonly used phrases, so that we can use them at any time of the day. Features included in the app include offline operation (without Internet connection), Listen Only mode and speed and capacity regulator (so you can hear words based on your knowledge of the English language: slow for beginners and fast for who is already proficient with the language).
Other apps for learning English
The ones we have described to you in the first chapter are undoubtedly the best apps that we can install on our smartphone or tablet to quickly learn English in all its aspects, even based on our abilities. However, hundreds of themed apps are available in the stores! Below we have collected what we believe to be among the best apps to try as an alternative to those already reported.
Memrise (Android and iPhone) is another app already described in this blog, with a large variety of courses to learn foreign languages ​​for free. Memrise is a website and an app with online courses of foreign languages ​​that also works offline, without internet connection.
Tandem is an app for iPhone and Android famous for its social features, which allows you to exchange information and conversations with another person, in order to learn and learn a language and also to meet new international friends.
SpeakingPal English Tutor allows you to improve spoken English by using speech recognition technology to simulate a voice call with a native English speaker. There are over 100 levels and many different dialogues, phrases and vocabulary. The app, amazing as it is interactive, is only free for 16 levels, on iPhone and Android.
English Grammar Test for Android is one of the most amazing English learning apps, with over 1.200 grammar tasks so you can learn tenses, pronouns, adjectives, adverbs, prepositions, word order and other such. There are also tests, hands-on exercises, material design and analysis.
Dictionary.com is the best English dictionary and translator app for iPhone and Android already described in another article, which works even without internet connection.
Busuu is more like a social network for learning languages, one of the best sites to learn languages ​​online and for free, which also exists as an app for Android and iOS. Lessons range from beginner to advanced, and Busuu offers more than 150 topics, 3.000 words and phrases.
Fun Easy Learn English is an Android-only application with a vocabulary with more than 6.000 words in its database to help you learn new English words using illustrations, images, speech files for pronunciation and translations.
Phrasalstein, unlike the other applications on this list, serves to improve the use of verbs in English. The application was designed as the scenery of a cartoon horror movie, with fun animations and an effective learning system, for Android and iOS.
Vocapp (Android and iPhone) is an app for learning English through flashcards, i.e. through images and questions to be answered with multiple choice.
English Listening and Speaking (for Android) is another good app for studying English with transcripts, recordings, idioms, phrases and vocabulary. It's not structured like it does with apps like Memrise or Duolingo, however, it works great for practice.
Hello English: Learn English (Android and iPhone) is one of the most popular English language learning apps, with hundreds of lessons, games, a 10.000 word dictionary, teacher meetings, global leaderboards, and offline support. Most things in the app are free, including lessons, games, etc. only some features like teachers cost money.
Dictionary Merriam-Webster (Android and iPhone) is an English dictionary among the best ever, with audio pronunciations and completely free.
Conclusions
Learning English with your smartphone or tablet is really possible! In fact, there are many apps designed for this purpose and able to adapt to any skill level (from those who don't chew a word of English to those who have already studied it at school and want to learn more). On balance we are not asked who knows what: you just need to get involved and learn at least the rules, the basic words and phrases to be able to speak and understand English.
In another guide, we showed you how
Learn to speak English in video chat with native speakers: WeSpeke
.
If, on the other hand, we already write in English and want to check if the spelling and grammar are correct, we suggest you read our article
Programs for writing in English with correct spelling and grammar
.
Best App to learn English or other languages ​​on Android and iPhone