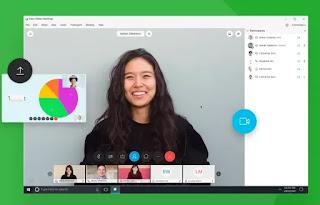 With the epochal crisis of the Coronavirus, remote work and videoconferencing has become the normality of every online activity, not only to stay in touch with friends and relatives, but also to follow school, dance, Yoga, fitness lessons. and then to work in a team with work colleagues and continue the office duties.
Among all videoconferencing platforms,
the most used is definitely Zoom
, which has beaten the competition for its features that lead it to be flexible, customizable at high levels, integrable with other applications and then because it is able to manage conversations even 100 participants together with a video meeting (even with a free account). Such popularity, however, has also brought to light numerous Zoom problems related to video performance, which in many cases can be poor and then, above all, related to privacy. First it was discovered that Zoom was secretly sending data to Facebook, then that anyone could easily infiltrate private videoconferences between groups of people (a nuisance action that took the name of ZoomBombing).
For those who want to try Zoom alternatives (which for free accounts is also limited to only 40 minutes of meeting), we see here the main features of others
similar and free platforms for making group video calls
. As usual on this blog, we will only cover
alternative a Zoom
that can be used
free
.
1)
Microsoft Teams
Microsoft Teams is the integrated video conferencing platform of the Office 365 subscription. With the Coronavirus outbreak, Microsoft Teams offered free access to everyone for as long as it takes to get out of the crisis, so anyone can sign up for the free version Teams using a regular Microsoft account. The free version allows you to make video meetings with up to 300 members, allows you to join meetings as a guest, make audio and video calls, share your screen and create a shared file hosting with a space of 10 GB for each Team.
For further information, we have written a dedicated guide on how to use Microsoft Teams to organize work remotely
2)
Skype
Also from Microsoft, Skype is the ideal free solution for video calls with small groups and small businesses, supporting up to 50 people simultaneously for an unlimited period of time. The platform also offers built-in call recording tools that any member can use and allows everyone to save and share the recording making it available for up to one month. All users must download the Skype app, although it is possible to join a Skype video chat even without the app and without an account.
3)
Cisco webex
Cisco Webex is another widely used video conferencing platform around the world, best known as a webinar platform. While WebEx has always been a paid business application with a limited free version. In the last month, however, Cisco has significantly improved the free offer, with the possibility of making video conferences from 100 participants for an unlimited duration. Cisco WebEx offers excellent performance, total security, screen sharing tools for PCs and smartphones, integrations with other platforms, grid view of video conferencing like on Zoom and many other professional tools, all also included in the free account (see the list of Cisco Webex functionality). Personally I think it is the best alternative to Zoom, also excellent for personal or home use.
4)
Jitsi meet
Jitsi is a bit of the surprise of the moment, a name unknown until recently, which has become very popular all over the world for its unique and fundamental feature: it is open source and free for everyone without limitations. Jitsi can be used to host meetings that can be attended even without registration. In addition to video conferencing, it is possible to use public and private chat, screen sharing, recording a video conference (on Dropbox) and even background blur such as Skype, Microsoft Team and Zoom.
The most unique thing about Jitsi Meet is the ability to be able to see a Youtube video together with other people sharing a YouTube video.
Jitsi Meet works on the same Zoom principle, with the ability to share the automatically generated meeting name that attendees can join freely (there's no moderator though, so anyone can kick other attendees). Conversely, there is no end-to-end encryption or file sharing.
In another article we have seen
how to use Jitsi Meet without limits
5)
Jio Meet
Jio
is a new Indian alternative to Zoom, very powerful in its free version, with the possibility of making video meetings with up to 100 participants and for a duration of 24 consecutive. Jio can be used via browser and downloaded as an app for Windows, Android and iPhone.
6)
Facebook Workplace
Facebook also has its own videoconferencing platform, which is not Messenger, but the lesser known Workspace, which allows free videoconferencing with up to 50 people. Workplace also offers file storage for a total of 5 GB per person, Machine Translation (basically whoever writes in other languages ​​is translated automatically), live video streaming, other integrations and, of course, apps for smartphones and PCs.
7)
GoToMeeting
GoToMeeting is a video conferencing app widely used by companies and associations, which works like Zoom and is free to use. The platform is virtually identical. The subscription plans, video call limits, and interface (with gallery view of attendees) are all like Zoom. GoToMeeting allows you to hold a group video call of 100 people with a limit of 45 minutes per session. You can join a meeting without registering and you can use 1 GB of cloud storage space for each user, which is useful for recording video meetings even from the smartphone app. There is also the possibility of holding a webinar for many people to attend, with a maximum duration of 100 minutes in the free version. To host and join a meeting, you need to download the app.
8)
Riot
Riot is an open source platform for managing corporate communications, somewhat similar to Slack and Microsoft Teams. Among the many functions it also allows you to host videoconferences, although obviously all participants must be registered in advance on the platform. Riot uses cloud services on Matrix servers, encrypted so that no one can access them. For a personalized workspace, you have to pay the subscription.
9)
BigblueButton
BigblueButton
is a free, open source web conferencing system designed for online school classes with up to 150 participants. You can host web conferences only through a browser (Chrome / Firefox) and, similar to Skype and Zoom, you don't need to register to join a meeting. The online platform also includes tools for screen sharing, file sharing, whiteboard for annotations and explanations, group surveys during lessons and small group divisions.
10) Other paid video calling platforms similar to Zoom (but you can do the free trial)
Other valid platforms for economic videoconferencing, which however do not have the possibility of being used for free, are:
Google Hangout Meet, which is free for teachers, but requires a Google Suite account for everyone else.
Zoho Meetings
BlueJeans
Ringcentral
Anymeeting
Best alternatives to Zoom, free