Google Chrome (Android/iOS)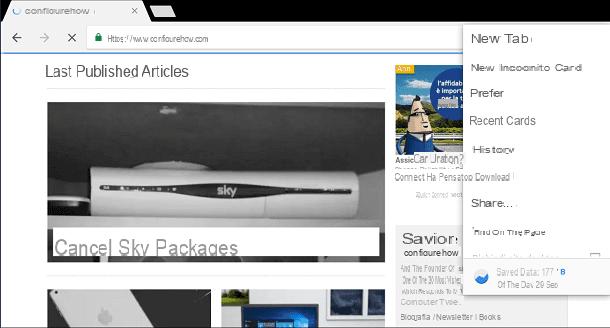 I start this tutorial dedicated to browsers that will allow you to surf the Internet with what is without a doubt the most famous and used browser free downloadable on iOS and Android devices. Google Chrome is the browser developed by Google Inc., a well-known company famous for the homonymous search engine.
Google Chrome is so famous and popular also because of its speed in loading pages thanks to the presence of a particular technology capable of carrying out a considerable compression of the data present on Internet sites.
There are several features worthy of mention of Google Chrome, but among all, it must be emphasized its integration with all the services offered by Google. By using Google Chrome as your default browser, in fact, you will have the possibility to connect your Google account.
In this way, in addition to finding all your browsing data synchronized (such as favorites, saved passwords and cards), you will have quick access to all Google services. The Google account you use to access the browser is in fact the same that allows you to use Gmail, Google Drive, for example, and all the other tools developed by Google.
Being the Google browser, the default search engine is Google. Using the Google browser, it is also recommended to download the Google search engine application. In particular, the latter, in its application for Android and iOS mobile devices, is able to provide you with recommendations with personalized tabs, suggesting websites to visit.
Among the other most prominent functions of Google Chrome there is the possibility of browsing incognito and visiting Internet sites in desktop mode.
You can download Google Chrome as a browser from the Android Play Store by tapping here from your device. For the download on iOS I refer you to this App Store link.
Mozilla Firefox (Android/iOS)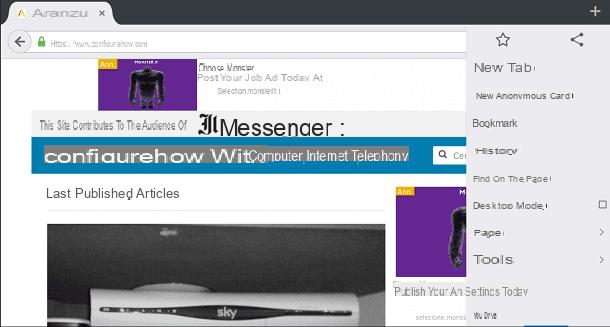 Mozilla Firefox is certainly one of the most popular and popular browsers for surfing the Internet on mobile devices. It is an excellent browser for surfing the Internet which I consider as valid as its famous "rival" Google Chrome.
Mozilla Firefox is considered by many to be a lighter browser than Chrome, a browser that has the reputation of being a bit heavy, especially for non-latest generation mobile devices.
Mozilla Firefox is obviously free and offers the possibility to log in via a previously created account. In this way, if you already use the browser in its desktop version, you will find all the navigation data perfectly synchronized.
Although its performance in terms of loading speed for Internet sites is perhaps not comparable to Google Chrome, Mozilla Firefox is still an excellent browser on balance. Among its most notable features are some settings that can be activated for anti-tracking designed to discourage phising attempts.
Also very interesting is the possibility of installing a practically infinite series of add-ons on mobile devices, with the aim of extending the functionality of the browser on the basis of one's own needs.
I therefore choose to recommend the use of Mozilla Firefox if you already make excessive use of it on the desktop and want to always have all your browsing data at hand. If we were to rank the best browsers, Google Chrome and Mozilla Firefox could play equally well on Android and iOS.
To download Mozilla Firefox as a browser from the Android Play Store by tapping this link directly from your device. For the download on iOS, I refer you to this App Store link.
Safari (iOS)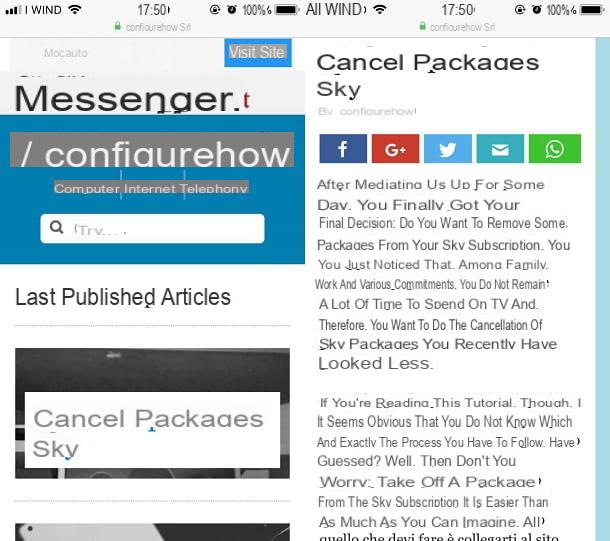 If you are using an iOS smartphone or tablet and do not want to download an alternative browser to browse the Internet, you can very well use Safari, the default browser on your device. Available only on iOS, Safari is already pre-installed in the memory of your device and therefore you will not have to carry out any download procedure.
Although it is a simple browser with limited functionality, I believe that Safari is perfect for light and fast Internet browsing. Clearly, if you need a browser with more functionality, you will find Safari a bit limited, especially compared to Google Chrome or Mozilla Firefox.
The presence of the mode Reader view it is also very convenient for reading articles on the web with a decidedly streamlined user interface. Among the other most prominent features of Safari is the ability to create PDF files of Internet pages and its integration with iCloud for online synchronization of browsing data and Internet pages saved in the reading list.
Safari, like advanced settings, offers the ability to block pop-up windows (pop-ups to be clear), integrates a warning in case of fraudulent Internet sites and also offers an anti-tracking mode.
You don't need to download Safari on your iOS device: the browser is already present by default.
Opera / OperaMini (Android / iOS)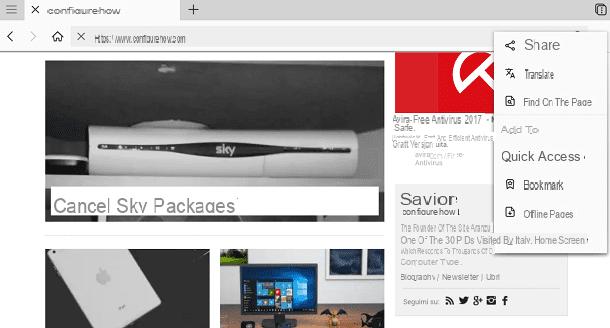 Available on Android and iOS, Opera (Opera Mini on iOS) is a free alternative browser that I consider very good, especially on older devices. Opera is indeed a lightweight browser.
The feature that I think most noteworthy about Opera is the presence of an advanced data saving mode which also offers a high compression mode for videos and images.
I believe the user interface of Opera is also very elegant and streamlined; I find it very convenient to integrate the presence of an integrated section for reading news on personalized topics.
Like all the other browsers mentioned, Opera also offers the possibility to download Internet pages for viewing in offline mode and there is also the possibility to customize the style of the interface, thus optimizing it to the maximum for use on a tablet or smartphone.
Opera is therefore a very valid browser and, by offering the possibility to log in with your previously created account, you will be able to find all the data concerning the navigation synchronized between desktop and mobile device.
Among the other most prominent features is the ability to block pop-up elements (pop-ups, therefore) and to customize the user-agent allowing you to view Internet sites in desktop mode.
If you want to download Opera to use it as a browser you can refer to this link which refers to the PlayStore. The browser is also available on iOS: you can download it for free by tapping on this link that refers to the App Store.
Dolphin Browser (Android/iOS)
Among the browsers available for Android and iOS (obviously free) less known but equally valid of mention there is Dolphin Browser. It is a browser rich in additional features, appreciated by many for its extensive customization possibilities.
Obviously it is not as famous as the previous browsers listed and the use of a lesser known browser could bring disadvantages related to any incompatibility problems in the display of some Internet sites.
Going back to talking about the characteristics of this browser, what stands out is the possibility of using gestures: it will be possible to connect the symbol drawn on the screen to the Internet address of a website. In this way it will be enough to trace the symbol on the screen to visit the site Favorite Internet.
Other noteworthy features concern the ability to aesthetically customize the browser through several completely free predefined themes. Like Mozilla Firefox, Dolphin browser also integrates an add-on section. The latter, downloadable for free from the special store, they allow you to extend the already numerous functions of the browser, optimizing Internet browsing and making it personalized.
I also point out the possibility to activate a dark theme for the browser (called night mode) and, a mode designed to save data that deletes images on websites. However, I do not recommend activating it as it could also cause problems with loading websites. To be used only in exceptional cases such as in the presence of a greatly reduced Internet connection, with which traditional Internet browsing is practically impossible.
Download Dophin Browser from this link for Android. On iOS you can tap this link which refers to the App Store.
App to open URL