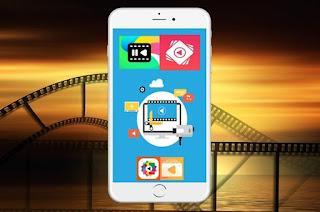 Applications for creating slideshow they are becoming more and more requested thanks to the fact that anyone can feel like a professional by modifying their photographs with particular effects and sharing them with their "public".
Various factors may affect the choice of the App to use, such as:
la type of effects: every self-respecting app must offer many and of good quality, although obviously we must not take for granted that an effect, no matter how amazing, can be enough to create a crazy slideshow;
la ease of use: the commands and the toolbar should be intuitive to make work easier for users;
la ease of sharing: sharing options must be within reach of .... click !!
In this article we will try to provide a useful guide for all those who want to try their hand at Slideshow apps by describing their features, pros and cons. To make things easier we will divide the article into three sections, one dedicated exclusively to users Android, one dedicated exclusively to users iPhone and one dedicated to existing slideshow apps in both the versions.
Best slideshow app for Android
a) Photo FX Live Wallpaper:
It is certainly the most popular app in the industry with over 13 million downloads.
The app offers tons of features, allowing you to upload photos, design slideshows, add animations, set colors, effects and much more. Photo FX Live Wallpaper has an excellent photo editor, is customizable and allows you to create high quality wallpapers. Furthermore, it is very intuitive and therefore easy to use even for the less experienced.
Disadvantages include the inability to launch the camera with the app running, the tendency to crash when there are too many folders open and the lack of automatic rotation of photographs.
b) Photo Slideshow & Video Maker:
This application offers a truly optimal slideshow creation experience thanks to the combination of an intuitive interface and advanced tools.
Photo Slideshow provides a large number of effects, filters and frames, accompanied by a practical content management that facilitates the creation of quality slideshows by adding the clips contained in the gallery on different folders. At the same time, it is difficult to share the saved videos; in addition, the quality of the images changes according to the selected level.
c)PIXGRAM – Music Photo Slideshow: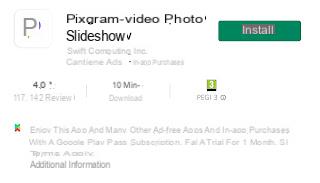 This slideshow maker app makes it easy for anyone to upload photos, select their favorite music, add filters and effects, create their own slideshow and share it with the world and is certainly the ideal app for newbies.
Pixgram it allows you to save slideshows in different formats, has an excellent range of filters and requires the use of personal music. It may not be the most professional app on the market, but it does its job.
d) Slideshow Maker:
Slideshow Maker it does not enjoy the notoriety of the apps presented in the previous points but offers truly remarkable possibilities for those who are beginners in creating slideshows: thanks to a decidedly intuitive interface it is very easy to upload photos, search for them, set up random playback and much more. There is also a widget for automatically updating photos, which allows you to add new ones.
On the other hand, enabling the widescreen function tends to crash and does not have the functions offered by applications of the same category.
e)Dayframe: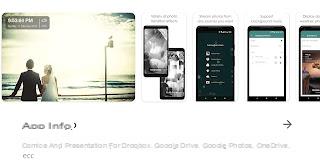 Dayframe is an application designed for expert editors and provides users with a feature-rich package, accompanied by an excellent customizable menu and an interactive design. The app can be used online and it is possible to create quality slideshows, using various features to give a unique touch to your slideshows.
Unfortunately Dayframe tends to drain the battery of the device in use in a rather short time and can be difficult to use for beginners.
Best slideshow app for iPhone
a) PicPlayPost: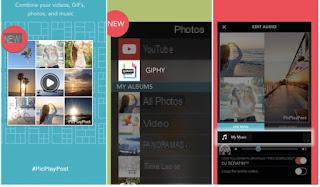 PicPlayPost is an intuitive app that allows you to put together photos, videos, music and GIFs in a simple way, making it one of the most popular apps of its kind. The app is accessible to anyone and offers effective functions for joining videos and images easily.
PicPlayPost boasts a rather intuitive interface that allows you to insert up to 9 photos, GIFs or videos per project and make them more attractive with a good selection of high resolution effects.
The decidedly limited music for slideshow and the application of a watermark to the slideshow, albeit customizable, are not very pleasant.
b) SlideLab:
SlideLab allows you to transform photos into videos in just a few minutes by inserting either the integrated or personalized music in the app. The slideshows created can be stored on the mobile device, preserving their original size, or shared on your social profiles already adapted to the resolution required by the social network on which you want to share. The app also offers a wide range of filters to apply to your images.
The only flaw, SlideLab does not allow you to use music from iTunes for sharing on Facebook or Instagram. It still remains an exceptional app.
c) Photo Slideshow Director: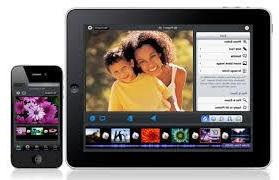 Slideshowdirector allows the iPhone / iPad to become a platform for making slideshows, using the photographs saved on the device. The amount of effects offered is exciting, especially considering that the app allows you to save slideshows in HD even in full screen. In addition, the app allows you to share slideshows on social media without difficulty.
Slideshowdirector has a very simple and intuitive photo editor and also allows you to create music videos.
Conversely, the processing speed can be compromised by the iPhone memory. Nonetheless, it remains arguably the best slideshow maker available for iOS.
d) PicFlow:
Picflow It does not have all the features offered by other apps, but it is an app that is easy to manage and control when making slideshows. This app allows you to set the playback time of each single uploaded photo, and then arrange it to scroll with the chosen background music that can also be loaded from the iPod.
PicFlow, within a few minutes, it allows you to create dynamic and lively presentations to share on Facebook or Instagram, cropping the images with the swipe and pinch function and applying one of the 18 transitions available.
Unfortunately the free version is rather limited and the video encoding does not go beyond 30 FPS.
e) iMovie: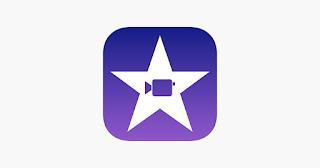 iMovie offers an impressive amount of features and a high level of quality, making it one of the best slideshow maker apps for iPhone. The app allows you to change audio for each clip you create and offers a wide range of movie themes, transitions, sound effects and titles. For these reasons, a lot of users do not consider other apps and use iMovie for every need related to editing videos or creating slideshows.
There are so many reasons why this app designed for iPhone is one of the best for creating slideshows. On the other hand, the app is not very flexible and rather difficult for beginners to approach.
Best slideshow apps for both Android and iPhone
a) VivaVideo: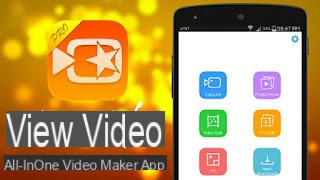 Available for both devices Android that for iPhone , VivaVideo has a basic version that can be used and downloaded for free. When editing your images, you can choose between a "pro mode" for more flexibility and a "quick mode" for a faster, more automated version. The in-app camera allows you to record videos while applying more than 60 special effects. You can then add transitions, sound effects and even duplicate the video made.
By exiting the app, your changes will be saved automatically and you can easily merge the videos via the storyboard function.
Unfortunately, the free version of the app includes an intrusive watermark on the videos, features a lot of advertisements, and a five-minute slideshow limit. To remove these frustrations, you need to purchase the pro version for $ 2,99,3.
b) Movavi:
It is available for both users Android for both users iPhone and offers tons of options for editing slideshows, photos, videos, and more. Movavi It is free and its video and audio editing offers a professional experience as well as the ability to include high quality effects and work with many different video formats. It is possible to normalize the sound, record directly from the screen to capture video calls or other activities that take place in real time on your device and even apply makeup digitally or retouch a photo with ease.
There are also other interesting features such as the ability to create custom subtitles. Movavi also exists in a paid version, whose options premium leave from $ 59,95. Some users have found the tools difficult to use unless tech savvy.
c) MoShow: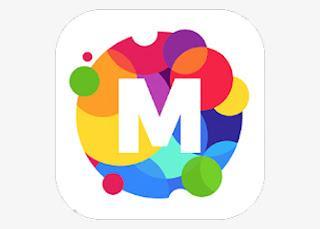 It is available for both Android that for iOS and it is a perfect application for creating presentations for the Instagram newsfeed because it formats the video into a square. To date, however, it has a portrait format option that is ideal for Instagram and for IGTV. The free version of this app limits a square photo slideshow to 30 seconds and a vertical photo slideshow to 11 seconds, which is quite frustrating.
All in all, MoShow it will be difficult to use without investing in the pro version. The app MoShow complete coast $ 5,99 per month or $ 35,99 year.
Conclusions
As you can easily guess, there are many applications dedicated to photo and video editing and it is often difficult to understand and choose which ones may be the most suitable for our needs and describe them all.
We have tried; now all that remains is to get to work!
The best slideshow maker apps for Android and iPhone