What is HarmonyOS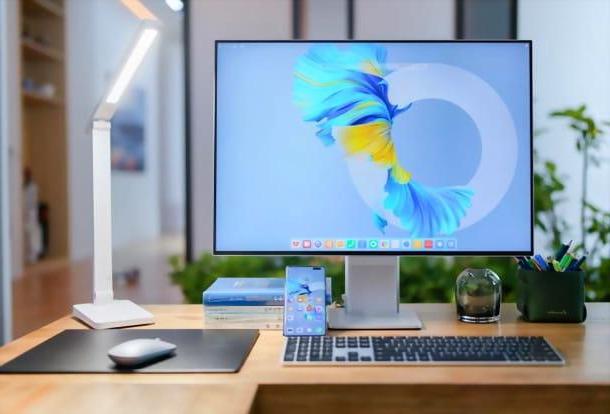 In recent months there has been a lot of confusion around HarmonyOS, and there was no lack of hasty judgments by people who have branded the new HUAWEI operating system as a simple "clone" of Android created solely to respond to the well-known events of the US ban: nothing more wrong!
The general situation certainly accelerated the development of HarmonyOS, but in reality HUAWEI started working on its new operating system as early as 2016, long before the US ban. In short, it is a solution based on a precise vision and not on a need of the moment.
The vision behind it is, as previously mentioned, the one that leads to a unique experience across multiple devices. According to the current scheme, each device uses its own operating system, and this leads many users to have difficulties in transferring data and experiences from one device to another.
True, there are cloud services that, thanks to the Internet, facilitate the synchronization of data on multiple devices, but these still require the installation of an app on each device, thus creating a "friction" that often discourages less users. experts.
HUAWEI therefore wanted to rethink everything at the base, realizing its vision in HarmonyOS 1 8 + N +, where "1" represents the smartphone, "8" represents all the other products linked to the ecosystem and N the experiences that HUAWEI creates (often in collaboration with important partners) related to artificial intelligence, solutions for cars, maps, video games and more.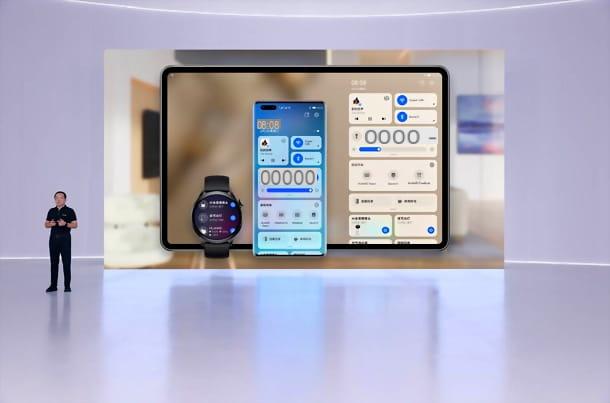 So how does HarmonyOS work? How does it fit every device? On smartphones and tablets is it really linked in some way to Android or is it a completely new platform? We try to answer, proceeding in order.
Without getting too technical, at the heart of HarmonyOS is the concept of distributed technology where a distributed virtual bus operates at virtually the same level as a physical hardware bus. Put simply, this means that the various devices can function as if they were physically connected at the system level: thanks to this link, it is possible combine previously independent devices into a cohesive and holistic Super Device.
Also the data management is distributed and files stored on one device can be used on another device naturally, without having to install additional programs; all this, then, in an extremely safe way, since HUAWEI has designed its new operating system thinking first of all to privacy and safety of users, improving the already very high standards of EMUI.
HarmonyOS manages user data based on categories and protects devices based on specific levels, setting particular security thresholds for Super Devices: in this way, only devices that meet strict security requirements can access the data corresponding to the their security level. Even apps designed for HarmonyOS are subject to very strict controls before being approved.
HarmonyOS can really run anywhere, from smart appliances to tablets. To be precise, the system is designed to work on devices with a minimum of 128 KB of RAM (kitchens, TVs and all kinds of smart appliances) and on more powerful devices, such as smartphones and tablets. Precisely in this regard, it is important to point out how this operating system is not a simple fork of Android but it relies on different components and designs that HUAWEI has used to create a whole new platform.
HUAWEI made use of several open source projects (therefore freely usable and modifiable), including the open version of Android, to build a whole new system. We can therefore think of HarmonyOS as a a state-of-the-art "puzzle" of open source projects that HUAWEI has perfected and modified to create an innavitva experience for users.
At the base, Harmony uses different kernels, which are used intelligently according to the device on which the operating system is run: on smartphones and tablets, for example, the Linux kernel (which is also the basis of Android), while it is used on wearable devices LiteOS.
HUAWEI has modified the kernels in question by removing the unnecessary parts and implementing a lot of new software, both "under the hood" - with, for example, all the part relating to the uninterrupted communication between the various devices -, and outside, designing a intuitive and easy to use user interface for everyone.
As already mentioned, all this represents a turning point also for developers, who can write the code only once and create apps that will then be able to "run" on any HarmonyOS device. To be precise, it is possible to create standard applications for the Linux kernel and lite applications for the LiteOS kernel.
And now we come to one of the most frequently asked questions: Can I use Android apps on HarmonyOS? The answer is yes. Being (also) based on the open source version of Android, HUAWEI's new operating system allows you to run common Android apps as well. This means that smartphones and tablets based on HarmonyOS will be able to "run" even the applications that we are used to using today on Android devices.
It goes without saying that applications written specifically for HarmonyOS will benefit from better performance. But it is the entire operating system that guarantees performance and autonomy of the highest level. According to what was stated by HUAWEI, a smartphone with HarmonyOS 2 is able to maintain read / write speeds similar to those of a newly purchased phone even after 36 months of use, even when the storage space available on the device is reduced. Furthermore, the optimized RAM consumption allows you to keep more apps open in the background and therefore always have them ready for use and the optimizations of energy consumption guarantee a better battery life compared to Android: HUAWEI Mate 40 Pro, for example, is in able to run Game for Peace Elite for 5,1 hours straight.
How HarmonyOS works
Get some clarity on what's behind it HarmonyOS, the time has come to understand how HUAWEI's new operating system actually works. I will give you some practical examples to make you understand how the various devices can communicate with each other and how the user can interact with them seamlessly, that is, without interruptions; But first let me give you a brief overview of what are the key elements of the HarmonyOS experience.
Control Panel. It's where you can easily manage ecosystem content and devices, transferring data and experiences from one to the other with a simple click or tap. Let's take a practical example: Do you want to watch a movie at home late at night? Just open the Control Panel, drag the smart screen icon onto the phone icon and the movie will go straight to your phone. If you wear compatible headphones, for example HUAWEI FreeBuds 4, simply drag the headset icon onto the phone icon to play the sound on the latter.
Multi-device Task Center. Among the main advantages of HarmonyOS is the possibility of making apps work on different devices without having to be installed individually on each of them: all functions and services will be available when and where needed without having duplicates. Practical example: are you playing on your smartphone but would you like to have a bigger screen? Simply swipe up and hover to view the Overview screen and transfer the game to your HUAWEI MatePad Pro directly from your smartphone, so you can continue playing on your tablet without having the game physically installed on it.
‌HarmonyOS Connect. It is an app that allows non-Huawei products to become part of the ecosystem and connect, for example, smart home devices to a HarmonyOS smartphone. Just think about this: just place your smartphone on a Midea oven and select a recipe to start preparing the chosen dish!
From the point of view of the user interface, HUAWEI has taken care of everything down to the smallest detail, guaranteeing a unified experience also from this point of view, with the HarmonyOS Sans font specially designed and the natural gravitational animations that offer a consistent user experience across all devices in the ecosystem.
On smartphones and tablets, the HarmonyOS Home is very streamlined and organized, with gesture intuitive that allow you to access many interesting functions. For example, just swipe up on apps to generate gods widget or touch any free part of the Home to hide them.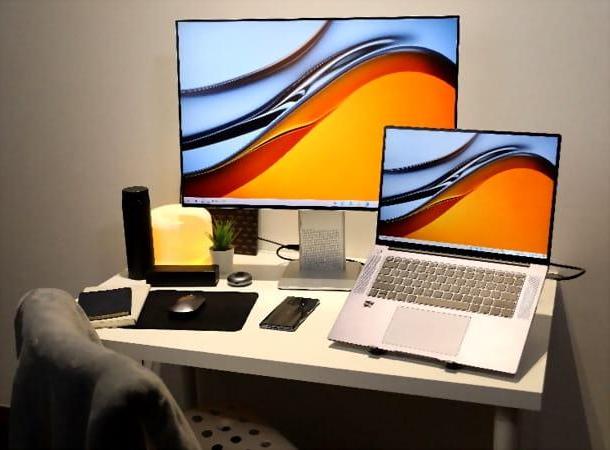 But now we come to gods usage scenarios of the HarmonyOS ecosystem, precisely to understand the potential of seamless interaction between the various devices.
Scenario Smart Home: in the house of the future, after waking up thanks to the alarm set on the smartwatch HUAWEI Watch 3, it is possible to check directly from the wrist the report of the hours of sleep carried out, of the heartbeats and of the oxygen level in the blood (which are monitored in real time). Once awake, while basking a little more under the covers, take your smartphone and control your smart oven, for example the Midea oven, to prepare breakfast. The first part of the morning then continues with the reading of the latest news on the tablet HUAWEI Matepad 11, asking for updates to HUAWEI Assistant and listening to some music with eSound o RTL 102.5. Then you move on to the list of activities of the day, noting everything in a practical and fast way directly on the tablet, with the pen Second generation HUAWEI M-Pencil.
Scenario Smart Office: once you arrive at the office, you turn on your HUAWEI laptop, for example MateBook X Pro, which is already connected to the tablet HUAWEI Matepad Pro with multi-screen collaboration. Thanks to Huawei Share, you start working by exchanging files between the two devices, or even with your smartphone, with a simple touch. Up HUAWEI MateView, through the connection to the PC, you then begin to make video calls and follow presentations with colleagues. After the meeting, you can take a look at what is happening at home simply by placing the HUAWEI smartphone on the laptop display, which will open the home security camera and check from the PC that everything is under control.
Training scenario: to ease the stress of work and keep fit, there is nothing better than a workout. Here, too, you can take advantage of the HUAWEI ecosystem. In fact, you can be guided by the over 100 training modes available on HUAWEI Watch 3 listening to the right music, always saved on the smartwatch, through the ANC earphones HUAWEI FreeBuds 4 which allow you to isolate yourself from your surroundings and focus on what to listen to. After training, you will want to go shopping to prepare a healthy meal and follow the diet: in this case, it will be sufficient to consult an app suitable for the purpose, for example that of Melarossa, on HUAWEI Watch 3, and that's it!
These are just small examples of what it will be possible to do in the near future with the integrations allowed by HUAWEI products, and it is just a taste, also because the company is committed in Europe to collaborate with the major producers of technological devices, in a way to build an increasingly rich and varied ecosystem.
HarmonyOS compatible devices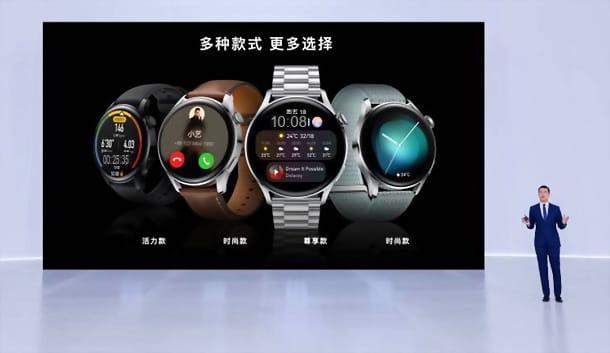 HUAWEI has decided to launch HarmonyOS to the general public in conjunction with the release of version 2 of the operating system. In total, about 100 Huawei products will receive an upgrade ad HarmonyOS 2, including the Mate 40, Mate 30 and P40 smartphones and MatePad Pro tablets (you can in any case return to Android, if you have second thoughts), but for the moment it mainly concerns the Chinese market. In the city, however, it was decided to launch many directly new interesting products with HarmonyOS: here they are in detail.
HUAWEI Watch 3 e Watch 3 Pro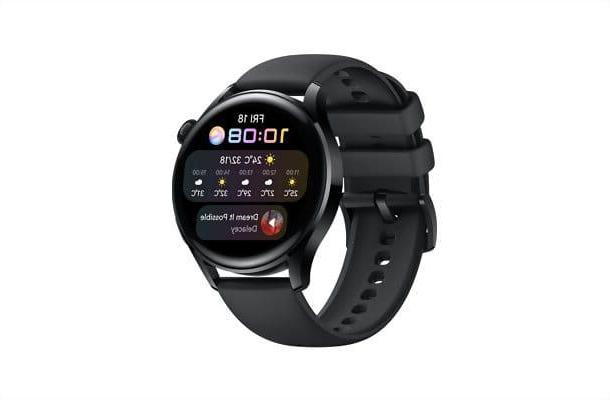 The smartwatches of the family HUAWEI Watch 3 are the first devices in their category that work with HarmonyOS 2. They feature a curved glass screen, a 316L stainless steel case and a new 3D rotating crown that detects different pressure levels and provides tactile feedback in response to user input. They allow you to make and receive phone calls, manage health and fitness with support for 100 training modes and, thanks to the new high-precision temperature sensor, monitor the temperature directly from the wrist. In addition, they support fall detection with automatic activation of SOS functions. Thanks to the integration with the other devices given by HarmonyOS, the functions pass directly from the smartphone to the wrist, making information of various kinds available at a glance, for example those on flights and destinations to be reached (with real-time alerts) . Autonomy, then, is top of the class, with HUAWEI Watch 3 Pro which offers a battery life of up to 5 days in smart mode and 21 days in ultra long mode and HUAWEI Watch 3 which has a battery life of 3 days in smart mode and 14 days in ultra long battery life mode. More information here and here.
See offer on Amazon See offer on Amazon
HUAWEI MatePad Pro and MatePad 11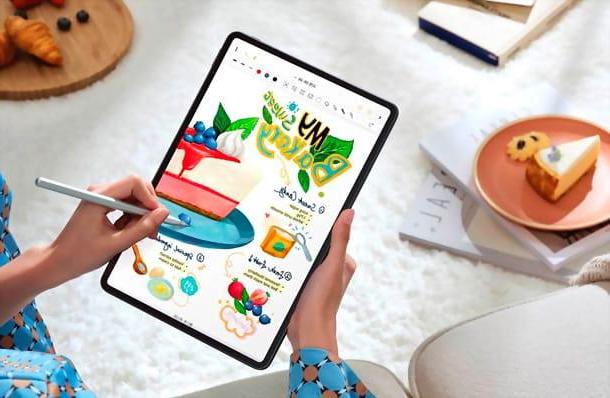 HUAWEI MatePad Pro is the first tablet with HarmonyOS 2. It features a 12.6 "FullView OLED display with a 90% screen-to-body ratio (therefore very thin bezels) and an incredibly high color accuracy, comparable to that of professional monitors. of delta E of less than 0,5, ultra-high contrast ratio of 1.000.000: 1 and DCI-P3 color range. Under the body it houses a very powerful chip from the Kirin 9000 series. 8 microphones and two 13 and 8 Megapixel cameras with ToF sensor. Thanks to HarmonyOS, the device integrates perfectly with smartphones and PCs: you can use Multi-screen Collaboration to switch work from one device to another naturally, while in Mirror and Extend modes, the tablet can become a drawing board or monitor, also supporting the passing of files between devices. The device is compatible with the pen Second generation HUAWEI M-Pencil, which is platinum coated to ensure high precision handwriting and has ultra low latency. The latter recognizes 4.096 levels of force and features the FreeScript function that converts handwriting into digital text in real time. Read more here.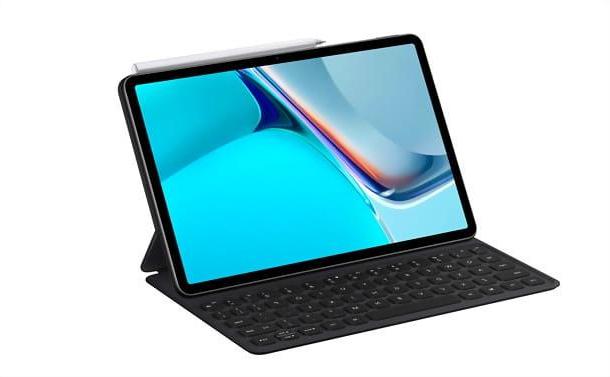 HUAWEI MatePad 11 is another tablet with HarmonyOS, in this case mid-range. Its most interesting feature is certainly the display, which measures 10,95 "(2560 x 1600 pixels of resolution) and has a very high refresh rate, equal to 120Hz, to have very fluid animations and natural and super responsive interactions with the pen. Second generation HUAWEI M-Pencil. Also of note is the excellent color reproduction (DCI-P3) and the TUV Rheinland certification, which testifies to the protection from blue light and the ability to use the tablet for many hours without straining the eyes.
It is a desktop tablet equipped with a keyboard (with support for wireless charging) and a long battery life: 10-12 hours per charge with average use. The multimedia sector is also very good, with a refined audio system including 4 microphones and background noise suppression technology. Read more here.
MateView and MateView GT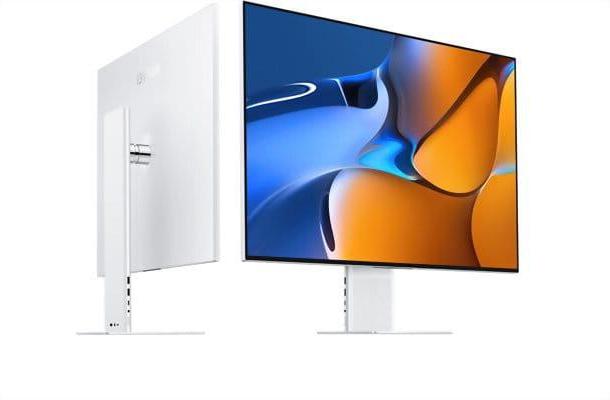 There are also two monitor in the new HUAWEI catalog, and what a monitor! Let's start with MateView, which is an ultra-stylish 28,2 "monitor with super-thin edges and 4K resolution (3840 x 2560 pixels) with 3: 2 aspect ratio, cinematic DCI-P3 color gamut, delta E in sRGB under 1 and HDR support with VESA DisplayHDR 400 certification.
It offers a convenient Smart Bar for quick change of the input source and interacts wirelessly with the devices of the HUAWEI ecosystem. For example, you can place your smartphone on the base to project its screen onto the monitor. Also excellent is the allocation of ports, with 1 USB-C, 2 USB-A, 1 HDMI, 1 Mini DisplayPort. Audio side, to report the presence of two 5W speakers in the support bracket, two microphones and audio jack. Read more here.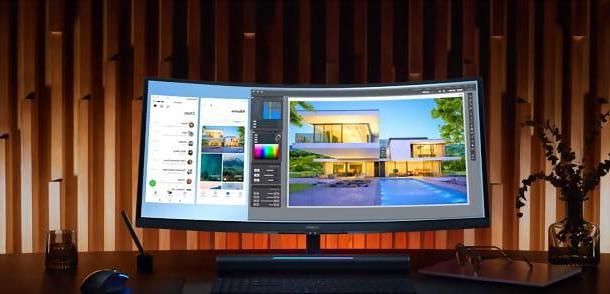 HUAWEU MateView GT is a 34 "monitor with 3K resolution (3440 x 1440 pixels), an aspect ratio of 21: 9 with 1500R curvature and an impressive refresh rate, equal to 165Hz, for very fluid images during gaming sessions and work. 1,07 million colors with cinema-grade P3 gamut, Delta E under 2, 350 nits of brightness, 4000: 1 contrast ratio and ultra-modern design.
The support bracket includes a stereo soundbar with two 5W speakers and touch controls. The allocation of ports, then, is extraordinary: 1 DisplayPort, 2 HDMI 2.0, 2 USB-C (one of which for charging). Read more here.
All the products in question will be available at launch on the HUAWEI Store and in major electronics stores, both physical and online.
Article created in collaboration with HUAWEI.
HarmonyOS: what it is and how it works