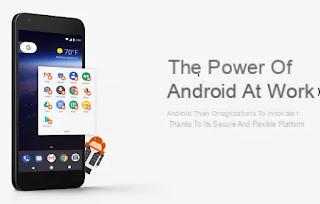 Once upon a time (actually only a few years ago) the phone of choice for managers around the world, salespeople, consultants, salespeople and office workers in suits was the Blackberry, the one with the full keyboard of all letters and the ability to receive emails with push notifications. Today we have come to a point where everyone uses a smartphone, which can be the same (in the sense of having the same features) for both the most influential and committed high-level manager, and for any high school student.
Each smartphone, in fact, allows you to send and receive emails, text messages, organize events and meetings, have an intelligent voice assistant, visit websites and keep any information, note or telephone number in memory.
Even with this standardization of mobile telephony, there are still gods
important requirements that the mobile phone must have for those who work
, for those who are almost always away from home, for those who spend hours on the phone and those who travel a lot.
To find out which are the best business smartphones, for employees, consultants and professionals in every sector, we rely, in part, on the judgment of Google, which has published a post on its blog on the subject to present
Android Enteprise
, the project that promotes the power of Android at work, with advice to company managers and recommendations.
Android Enterprise therefore establishes the requirements that smartphones must have to be among those recommended in companies and for professionals, based on the hardware, distribution, security updates and user experience that helps organizations in managing more difficult and diverse business environments.
Today's business phones must therefore have the following minimum requirements
for 2019:
-
An updated operating system
.
In the case of Android, at least Android 10.
I
minimum hardware requirements
To run Android 9 it's either a minimum of 2GB of RAM, 32GB of storage, and a battery life of over eight hours, but for a business-grade smartphone you'll need at least 4GB minimum.
-
An unlocked device
, which is able to install security updates within 90 days on its own, for a minimum of three years. An unlocked device means that users are able to install system and application updates without limitations. In practice, employers are asked not to restrict employees from using smartphones.
The list of devices recommended by Google in the Android Enterprise project, that is
"business" smartphones
which are considered i
best for those who work in the company and for self-employed professionals
, includes:
-
Google Pixel 4
, Pixel 3, Pixel 3 XL, Pixel 3A.
-
Sharp Aquos R3
.
-
LG V40
e
LG V30
-
Nokia 9 PureView
e
Nokia 8 Sirocco
-
Motorola Moto G6, G7, G8
e
Moto Z4
.
-
Sony Xperia XZ2
e
XZ2 Compact
It appears curious in the Google list, where obviously there are no Apple iPhones, there is no trace of Samsung smartphones and not even of Huawei and Xiaomi, the major producers of Android phones. It is clear that phones like the Note 10 and Samsung Galaxy S10 are perfect for business.
LG, Motorola and Sony seem to be Google's favorite companies while it is interesting to note the presence of the reborn Nokia, which with this "endorsement" is relaunched in the market as it has not happened for many years. In particular, the presence of Sony, Nokia and Motorola phones testifies to the fact that smartphones with the cleanest, most up-to-date software and less burdened by manufacturer customizations (such as Samsung ones) are always to be preferred.
Best smartphones for business and for those who work