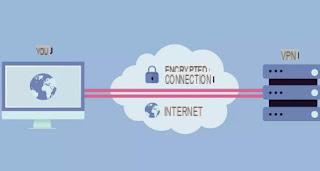 A VPN or Virtual Private Network is a method of connecting two networks as if they were on a single local private network. There are several reasons for creating a VPN, both to create remote connections between computers and, above all, for security reasons. Let's see together then
the best VPN services and programs that we can use for free.
The VPN services that we will offer you allow you to surf in a completely anonymous way or to connect two distant networks through an encrypted and secure network, imposing (in some cases) some limitations on data traffic that we will carry out without a subscription (keep many servers in around the world costs, so it is normal for free services to impose limitations).
Why use a VPN
A possible use of VPNs is to connect different networks together (present in different locations) in a secure way. You can imagine a chain of stores that connects the different branches around the city, in a single VPN. The data transferred between the various offices within the VPN is protected and encrypted while the data exchanged over the internet is not. Many VPNs are installed in offices to encourage employees to work from home or remotely on the computers of distant customers.
As seen in other articles it can
create a VPN to connect to several remote computers
, so as to be on the same LAN network even if placed far from the office or home.
Another possible use of VPNs (currently one of the most popular) concerns
anonymity
: with the right VPN services we can hide our IP, change IP based on the country in which we want to appear and also hide all the traffic generated during navigation (even in the eyes of the telephone operator). In fact, using a VPN we will be able to:
Surfing on American sites even when we are abroad: it is sufficient to set up a VPN server with an American IP and we will be on the American territory, even if we are traveling to a foreign country.
Surfing on foreign sites: if we are good enough with the language and want to watch movies and TV series from a foreign streaming service (such as Netflix in the USA), we can choose a VPN server with the IP of the country we want to be in and browse as if we were there.
Bypass IP and regional blocks: some providers or foreign governments impose a filter for access to some sites; these filters can be bypassed (in most cases) with the use of a VPN.
Hide traffic from the operator or control bodies: If we fear that our connection is being monitored, we can hide behind a VPN and browse without being tracked or detected.
Secure your internet connection, with the security that the incoming and outgoing traffic from our PC is encrypted, without the possibility of being seen in the clear by those who try to intercept it, including the telephone company and the same company that provided the VPN
These are the main reasons why a common user
may decide to use a VPN on their computer or portable devices
. If we still confuse proxy and VPN, we recommend that you read our in-depth guide on
how Proxy, VPN and DNS work.
Best free VPN services
In this part of the guide we will show you what, for us, are undoubtedly the best VPN services to enjoy for free on a computer or mobile device. They differ from the other services (all very good anyway) for the availability of the service (if it is free but with limitations or if it is
free forever
), on speed (also based on our line speed) and on the presence of numerous servers to hide behind.
Tor
If we are looking for a completely free service, without any limitation on the data exchanged and with excellent protection, the only one we can use is
Tor
.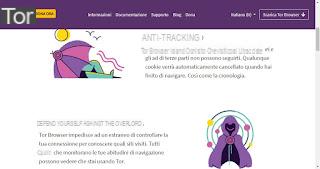 While it doesn't work like a classic VPN (which creates a single connection between us and the server),
the level of security is very similar (if not even higher)
: our encrypted connection is bounced between multiple intermediate nodes, up to the exit node (which we can choose, so as to be with any IP, American or foreign): from here on we can connect to the page and to the server required,
by masking our traffic behind a fake IP
. Even if someone wants to go back to the IP of our original connection, they would have to retrace "backwards" all the bounces made, making it very difficult to recognize the user's true IP and its possible position.
The only real flaw of the technology is that, given the numerous bounces made and given the voluntary nature of the project (the intermediate and exit nodes are managed by non-profit volunteers),
the connection is very slow: in the best of cases it reaches 2-3 Megabits per second
, even with a very fast starting connection.
We can therefore use it to hide traffic from the operator or some government body, but it is not suitable for streaming or to hide the data generated by a BitTorrent client.
To use the mobile versions
, we can download the Tor Browser apps for Android and TOR Secret Browser for iOS.
ProtonVPN
If we want to use a real VPN, with a good connection speed and above all no limitations in navigation, we must focus on
ProtonVPN
.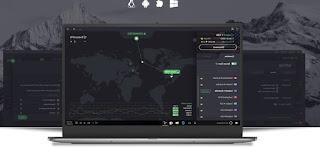 By installing this client on our device we will be able to surf without bandwidth and time limits, at a decent speed (up to 10 Megabits per second),
by choosing one of the 3 VPN servers available for free
. This service can therefore be used for any scenario where a VPN is required, such as streaming (10 megs should be enough for a good streaming) or to hide web traffic. If we want to get a higher speed from the connection and choose a greater number of VPN servers (with as many IPs), we recommend that you purchase the subscription to
4 € per month
(one of the lowest), which allows you to access all the servers of the service, connect up to 2 devices at the same time and surf at the maximum possible speed (often identical to that of the line).
The most expensive subscription allows you to integrate Tor into the connection, to access ultra-fast servers and use very advanced technologies to completely hide our origin, so as to be untraceable even with powerful government filters.
Mobile apps can be downloaded here -> ProtonVPN for Android and ProtonVPN for iOS.
WindScribe
Another good VPN service that we can take advantage of for free is
WindScribe
.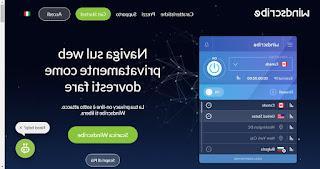 With this VPN we will be able to surf without speed limits, choosing one of the 10 servers made available for free. In the free version we will be able to take advantage of up to 10 GB of data per month, a very high value compared to the competition, difficult to finish if we use the service only to browse the Web. Among its advantages we find a very restrictive policy on cookies and on collected data. (they do not keep any data, since all the traffic generated can be downloaded locally and deleted from their servers with one click), advanced tools to avoid government filters and blocks and the innovative double-hop system, which allows you to connect to two VPN server simultaneously to hide the user's identity. Obviously, if we want to use the service also for streaming content, we will necessarily have to buy a subscription, paying 9 dollars a month.
There is currently no Android app available, but we can download the iOS app from here -> WindScribe for iOS.
Hotspot Shield Free
The last VPN we recommend using for its connection speed and good amount of traffic is
Hotspot Shield Free
.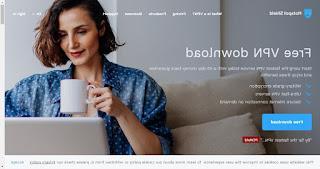 With the free account we will be able to benefit from 25 VPN servers, connect up to 5 different devices and take advantage of up to 500 MB of data per day. If we want to use it to surf the Internet, this is certainly one of the best solutions, also given the high degree of security offered by encryption and the large number of servers that are also offered in the free version. If interested in accessing all the VPN servers and to take advantage of all the bandwidth made available by the service, we can subscribe to a subscription for € 15 per month, which can go down to € 3,49 or € 6,99 per month if we choose the plans tri-annual or annual.
To use Hotspot Shield on smartphones and tablets, just download the right app from here -> Hotspot Shield for Android and Hotspot Shield for iOS.
Other free VPN services
The ones we have reported so far are the best VPN services that we can take advantage of for free on our computer or mobile device, each with its limitations and constraints. But there are a lot of VPN services that offer a free trial or a limited free account; below we can find some of them:
Betternet is one of those VPN services that protects the privacy and security of the connection by encrypting all traffic between your home computer (or home network) and their service. Betternet does not record session data, does not discriminate protocols or IP addresses and does not host any data about the users who use it.
tunnel Bear it is a program similar to Hotspot Shield but better because it guarantees a faster connection. The limit of the free version is 1 GB of bandwidth per month (you have to press a button to send a tweet on Twitter). The IP can be masked to alternatively access US sites blocked in Europe or European sites with IP from England.
Opera Browser with VPN has the advantage of being a full web browser, which includes a free VPN service to be activated when needed, unlimited.
Speedify, a VPN that optimizes the internet connection on smartphones and PCs
CyberGhost is a free VPN limited to 1GB of encrypted traffic per month. CyberGhost is another Windows-only VPN client, it requires an account registration but does not allow you to choose the server to use. Ideal for web browsing but not a dedicated solution for exchanging files or watching streaming videos (1 GB per month is not much).
incloack you can try it only for a limited period of time but it provides a proxy to browse with the IP of a country of your choice, city and USA included.
Avira Phantom VPN is a free program to access the web freely without any restrictions, keeping your activities anonymous on the internet. You can then connect to the internet from a VPN server from the USA, CNADA or other countries, mask the IP address, ignore firewalls.
VPNBook has no bandwidth limitations and provides information to set up a VPN connection without account creation. The service is funded by advertising and the sale of paid (virtual) dedicated VPN servers to customers. Installation requires the download of the free OpenVPN client or a procedure explained on the site itself.
HideIPVPN offers a FREE VPN an account on servers located in the US and UK. On the website, 100 free accounts are offered as gifts every month.
Speedify, a VPN that optimizes the internet connection on smartphones and PCs
Conclusions
Whatever our need, we can use a free VPN with good performance in many cases, without necessarily having to spend something. The best servers and the best connection speed are obviously reserved for paying users, but even with the free limitations we can browse protected, hiding our identity. For those who want maximum privacy and no connection limits, we can always use the Tor network, even if the latter is very slow when compared to other VPN services.
In other guides that we have created on the site we have seen together:
le Best VPN extensions for Chrome
The best VPN app for private connection on Android, iPhone and iPad
Best Browsers with VPN Included
Best free VPN services and programs for safe and free surfing