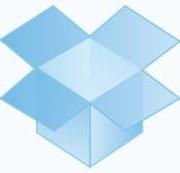 For a level playing field, after seeing the best applications for Google Drive on Chrome, let's see too
the best apps to use
the other popular and excellent "cloud" online storage service,
dropbox
.
Dropbox, as it has been around for several years, is supported by many external applications developed to make the most of the service and take advantage of the "online hard disk" space in which to save files for a space of 2 or more GB with a free account .
There are applications to do almost everything: synchronize Google Docs (and Google Drive) with Dropbox, automatically send Gmail attachments to Dropbox, play music in a browser of mp3 files saved in Dropbox, encrypt files, host a website or a blog, save web pages, save Facebook photos to Dropbox and much more.
Those who take advantage of online storage services can also view all the files saved in Dropbox in Google Docs and other free services, all together in one page.
1)
Use Dropbox to host a website or blog
In Dropbox you can take advantage of the public folder by adding files from your website to it.
Imagine, for example, opening a blogspot blog on Blogger.com, if you need a hosting to save HTML, JavaScript, CSS files, files for visitors to download or even photos and images, you can use Dropbox.
Also, if you want a simpler solution, you can use applications like
DropPages.com
e
Pancake.io
that allow you to publish simple and free websites using Dropbox.
DropPages and Pancake are better suited for publishing static web pages while Scriptogram is geared towards the blog format (with reverse chronological order of posts).
A mini guide to Droppages is in the article where two other apps are also indicated
to listen to music in Dropbox and to create an online image gallery
: "DropBox to listen to music online, publish photos and create sites"
2)
Keep Google Drive and Dropbox in sync
.
You can create a double copy of the files so that they are available from both Google Drive and Dropbox and that the files are always identical, even after making changes on one of the archives.
InSync
is an enhanced client program to upload files to Google Docs from desktop.
Since InSync can keep Google Drive synchronized with a Windows folder, you can make it work with the folder created by Dropbox.
On InSync (available for Mac and Windows) go to Preferences and change the default directory by choosing the Dropbox folder.
3)
Save Gmail attachments to Dropbox
As explained, it is possible to quickly save the attached files in incoming messages on Gmail, in the Dropbox folder with just one click.
4)
Save your favorite websites to Dropbox
GimmeBar
is a bookmarking service where you can keep web pages, photos and everything you see on the internet.
You can link Gimme Bar account with Dropbox.
5)
Download files directly into Dropbox
Save
is an online service for downloading files from the internet directly to Dropbox or Google Drive. Just paste the link on the text box and proceed with the authorized download to your cloud storage account. This is especially useful when you want to upload an online file to Dropbox from a computer without logging into your account.
6)
Send files to Dropbox via the web
If you want other people to be able to upload files to their Dropbox, but without having to share folders with them, you can use the web application
Send to Dropbox
to receive files from anyone, anywhere.
7)
JetForm
is a web app for Dropbox that allows you to create a form to embed on your site to receive files from visitors.
7)
File transfer from Dropbox to any other Cloud service
To transfer files through different cloud services such as Dropbox, Google Drive, Facebook, etc., Otixo is an almost perfect solution that allows you to
manage all cloud services together from your computer
.
8)
Upload files to Dropbox by email
Dropbox, unlike SugarSync, doesn't offer the ability to upload files via email, but there is a free app to do it, and it's the aforementioned (in a previous post) Send To Dropbox.
Once you connect your Dropbox account with the application, you will get an email address and all files sent to this address will be saved in the Dropbox drive.
This is useful for uploading files online from a mobile phone or when you want to quickly save Gmail attachments to your Dropbox.
9)
Edit text files saved in Dropbox
You can create a document to save in Dropbox with web apps such as
WriteBox
, for writing quick notes.
10 )
Connect online accounts with automatic actions and updates
you can do it with the very powerful application
IFTTT
which allows Dropbox to integrate with Facebook and other online services.
Dropbox Automator also allows you to link Dropbox to Facebook, EverNote, Twitter, Instagram, etc.
11 )
BoxCryptor
instead, it allows you to protect files in the Dropbox folder with a password, as explained in another guide.
12 )
Sortbox
is a web app that magically sorts files saved in Dropbox based on set rules. It works not to sort existing files into existing folders, but it is to automatically place new added files in the appropriate folders
Top 15 apps to use Dropbox in different ways