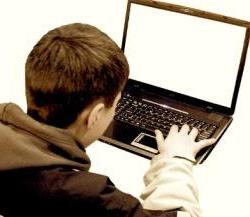 The internet is an amazing resource for children, but there are also many dangers, so it is important for parents not only to have a certain
control over what your children are doing on the PC
, But especially
prevent them from visiting certain kinds of unseemly sites
.
The main paid antivirus suites have included the
Parental control
which preventively blocks browsing on some dangerous websites by recognizing them before any inconvenient image may appear.
But if you don't use any antivirus suites, there are at least
5 ways to protect inadvertent browsing on inappropriate sites
in order to
keep children safe and prevented from finding junk or doing damage to the computer by clicking randomly
.
1)
Block on the router
One of the simplest ways to set up parental controls is by configuring the Parental Control feature on your router.
The router works as a clearinghouse for all internet traffic that crosses the network, so parental control allows you to filter the web for all devices on the network: computers, smartphones, tablets and even game consoles.
Parental Control is one of the main functions of a router's configuration screen (although it is not included with all routers).
2) If the router does not have this web content filtering option or if it is not satisfactory anyway, you can let the filter be managed by an external service and
change the DNS
.
Changing the DNS on the router makes sure that the censorship controls are active on the whole network, whatever PC or device you use.
As explained in another article it is possible to set the DNS of OpenDNS or SecureDNS to surf the internet safely.
A program like
DNS Angel
it facilitates the configuration of DNS parameters on a computer (therefore not on the entire network) using those of the main external web protection services.
3)
Parental Control on a Windows 7 computer
Windows 7 has some parental control options that allow you to control what time a user can log on to the computer and what programs they can use.
However, this is only useful if our children are using separate user accounts on the computer.
Windows 7 does not include a web filter program.
It is therefore necessary to install the program, as already explained and told
Windows Family Safety
.
4)
Parental Controls in Windows 10 and 8.1
The Family Safety program is built into Windows 10 and combines Windows 7 options with internet controls. To activate parental controls just go to Windows 10 settings, in
Accounts> Family and other users
and create new users that a certain user account belongs to a child to activate online account management and all filters.
From the Family safety site you can read all the statistics on the use of the computer, on the most visited sites, the amount of time in which it was used and so on. You can then configure the restrictions and prohibitions by activating or deactivating various options written clearly: usable programs, time allowed to stay on the internet, website filtering and warnings on unknown sites to decide if they are allowed or prohibited.
5)
Parental Control Programs
If you are not satisfied with Windows Family Safety or if you still want to use a different program that imposes a
family filter on the internet
, there are many free alternatives, even better than the Windows tool.
-
Qustodio
is an excellent program for Windows PC, of protection for children who use the computer and surf the internet.
The free version of Qustodio, which is a commercial product, has some limitations but should meet almost everyone's needs.
There is no monitoring of social networks and Facebook and you cannot control the programs that our children can use.
However, you can block dangerous websites, divided into various categories, and read reports on internet use.
-
Norton family
is a powerful parental control system in your language, with which you can manage and decide the times in which children are allowed to use the computer and which sites they can access.
Norton Family allows you to see everything that is done online, such as searches, which sites, how long on Facebook and so on.
-
K9 Web Protection
is one of the best free programs to block sites on your pc or limit browsing time on Facebook, Youtube or others
-
Spyrix Keylogger
is a program to spy on the computer by seeing screen images and recording the keyboard for parents who do not want or cannot put bans and locks but still want to control what their children are doing.
Of course, no parental controls can be perfect, and these programs, in addition to blocking good things, can't keep all the bad on the net out of the house.
Furthermore, it must be taken into account that any barrier can work with children but not with adolescents who, if motivated, can overcome any barrier with their ability to use technology.
In any case, they are not only for the safety of our children when they surf the internet, but also for us, I still recommend reading an old but valid article on
how to protect children, family and ourselves from the dangers of the internet
Parental Controls and Parental Controls on PC and Internet: 5 Ways to Keep Kids Safe