Here we go again: your best friend managed to steal your smartphone, changed the password of your Snapchat account and, now, has no intention of revealing the new password to you, at least until you have satisfied one of his strange requests. With good intentions to remedy this without giving in to the joke, you immediately searched the Internet for information on how to recover Snapchat account and, for that very reason, you found our post.
If this is your case or if, for some other reason, you have lost the password to access your profile, you have nothing to fear! It takes very few steps to be able to log back into Snapchat by setting a new password, without having to remember the one used previously.
So what are you still doing standing there? Don't waste another second and read carefully everything I have to explain to you on the subject, I guarantee you will be able to log back into your Snapchat account in no time, leaving your prankster friend only the taste of bitter defeat. Happy reading and best of luck in everything!
How to recover Snapchat account
If you have been locked out of your Snapchat account because, you have been neglecting it for a long time, you ended up forgetting your password and / or email, you should know that you can easily recover it, following the instructions I'm going to give you.
How to recover a Snapchat account without a password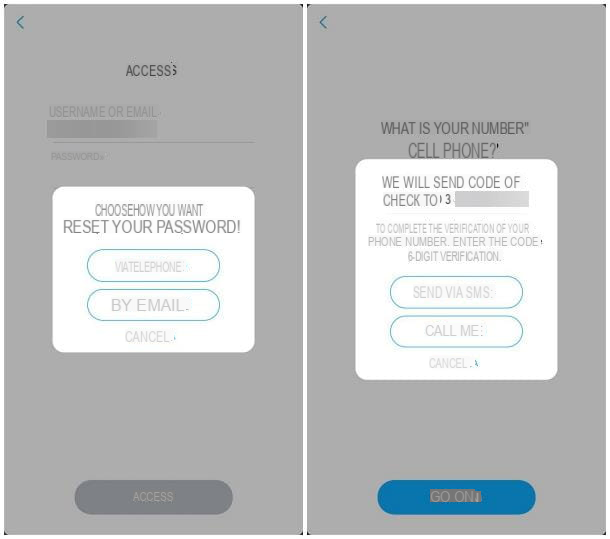 The main requirement to be able to recover Snapchat account without password is to have access to the email address orphone number used when registering for the service. If you have access to these means, you can fix your problem really in a matter of seconds.
To get started, open the Snapchat App installed on your device, tap on the Start item and then on the Forgot your password link ?, which is immediately below the text boxes to enter the username and password.
Now, tell us whether to reset the password by phone or via email, depending on the recognition method set up when you created the account.
Then, if you have chosen to continue by phone, enter your mobile number in the corresponding field, tap the Continue button and choose whether you would like to receive the verification code via SMS, or with a call. Once you have obtained the verification code, enter it in the corresponding text field, tap the Continue button, enter the New password in the field provided, tap the Continue button again and that's it!
If, instead, you had opted to recover the password via email, a password reset link will be automatically sent to the address associated with your account; in some cases, you may have to manually enter the email address to use (which must match the profile to be recovered, otherwise it will not work) and press the Continue button.
After a few seconds, you should receive an Email Message containing the reset link, which I told you about a while ago: to reset your password, just follow the aforementioned link and indicate the new password in the new browser window that opens. That's it!
Note: If you don't have the Snapchat app, you can perform the password reset procedure through any browser on your smartphone, tablet or PC. All you have to do is connect to this website and follow exactly the same steps as shown above, as the procedures are the same.
How to recover a Snapchat account without an email address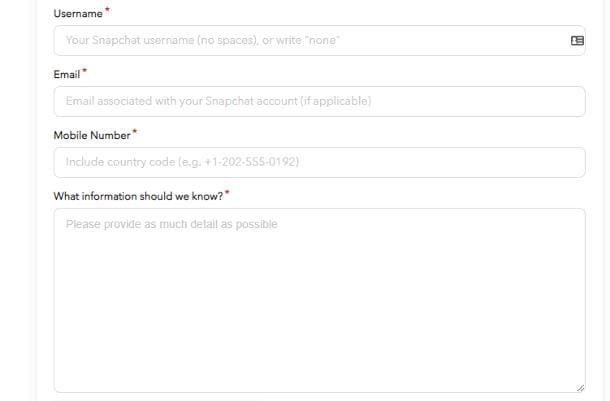 If you no longer remember the email address you signed up for the service with, you can recover Snapchat account without email in at least two different ways. The first, the automatic one, is to use thephone number associated with the account to reset the password: I explained how to do this in the immediately preceding section of this guide.
If you have not associated any phone number with the account or if you no longer have access to it, you will necessarily have to contact Snapchat support: this way, after careful verification of your identity, an insider could help you regain access to your account. Currently, however, only requests in English language.
In any case, it does not hurt to try: to try to receive assistance "direct", connected to the web page dedicated to Snapchat support, put the check mark next to the item I forgot my password (I forgot my password) and then click on the Yes button (Yes), located just below the box indicating the wording Need help with something else? (I need help with something else).
Now, fill in the proposed form with the required information( Snapchat username, an email where to be contacted and thephone number you registered with, if available) and indicate your request in the What information should we know box, providing as much detail as possible.
Finally, pass the captcha check located at the bottom and press the Submit button to send your request: you should get a response from the Snapchat team within a few days.
How to recover a deleted Snapchat account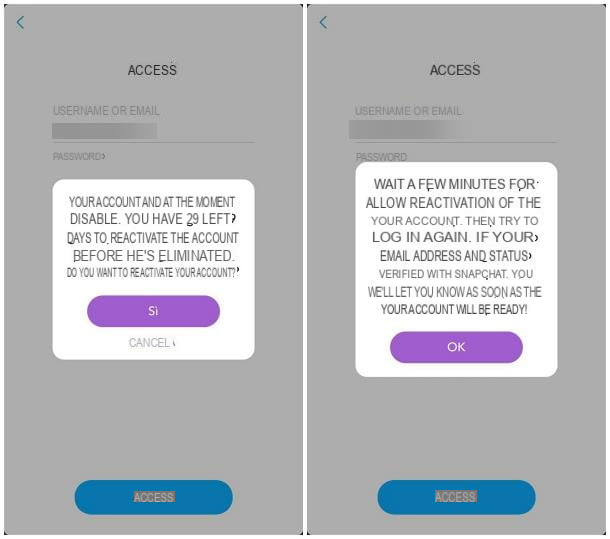 On impulse, you have taken steps to delete your Snapchat account and now, after careful consideration, you want to get it back? In this case, I can have good news for you: if the deletion occurred for less than 30 days, you can reactivate your account very easily.
In fact, after the deletion request, all Snapchat accounts remain inactive for 30 days, during which it is possible to reactivate them; after this time, the account is permanently deleted.
So, to recover Snapchat account deleted for less than 30 days, download the service app for Android (from Play Store or alternative store) or iPhone / iPad (by tapping the Install / Get button that appears on the screen and verifying your identity if necessary), run it and tap the Start button.
Now, enter the username / email and password matches the deactivated profile, tap the Start button and respond affirmatively to the account reactivation request. Done! After a few minutes, your profile, which will have maintained the same features as when you deactivated it, will be working again.
How do you say, have you deleted your Snapchat account for more than 30 days? In this case, I regret to inform you that you cannot go back: after the waiting period, the entire account and its data are permanently deleted, with no possibility of recovery.
However, no one forbids you to re-register to the service, using the same phone number or email address you used previously: all you have to do, in this case, is to press the Sign Up button attached to the home screen of the Snapchat app and follow the simple procedure proposed, to complete everything.
To learn more, I recommend you read my guide on how Snapchat works, in which I have shown you all the details about the procedure I just mentioned.
Frequently asked questions and answers
Tap "Forgot your password".
Choose how you want to reset your password: by e-mail.
You will receive a link to reset your password by e-mail to the e-mail address associated with your account.
Click on the URL.
Finally, enter the password of your choice!
Tap your profile icon and tap ⚙️ to go to settings.
Touch "Two-factor authentication" Touch "Restore code".
Tap "Produce code".
Enter your passcode to prove you are you! Save your code and keep it safe and reachable 🔐.

The easiest way to recover a Snapchat account without email and number is to contact the support team.
To do this, you can write an email to Snapchat support or visit the dedicated Snapchat support website.

You can contrast your linked cloud account or your phone's cache to recover deleted Snapchat pictures, and you can even take the help of a Snapchat photo restoration tool.

Compilation of frequently asked questions that our users have sent us and that our experts have answered.