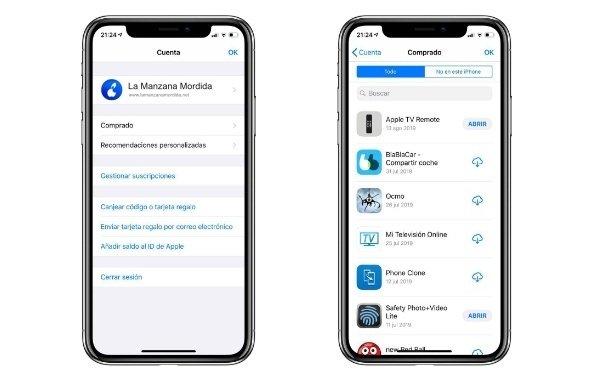 How to recover deleted apps from the Play Store
If the device you usually use is Android, it doesn't matter whether it's a mobile phone or a tablet, restoring deleted apps is really simple. In fact, every time you install an application, whether it's free or paid, the app download is logged on your Google account in the section Collection of Play Store.
Click on the app Play Store, once entered click onicon with the three horizontal lines in top left.
Scroll through the menu that opens and click on Le mie app ei miei giochi.
Click on the tabs that you will see Collection, here you will see all the applications downloaded fromGoogle Account che stai using.
For each application you will be able to read Not installed o Installed.
Find the apps you couldn't find and click Install to recover deleted icons and display them again on your device.
How to restore removed apps through backup apps
The method described above is the simplest way to recover deleted apps, but if the apps you can't find don't come from the Play Store, don't worry! However, you can recover them through various applications that perform the backup and the restore the apps on your device.
Among all those available, we recommend the Backup and Restore App, which can be downloaded for free from the Play Store.
Download and install Backup and Restore App, open it and select the tab Installed on the top bar.
Put a check mark on the apps in the list you want protect from an accidental uninstall.
At this point, click on Backup at the bottom and wait for the saving process to complete.
If you have already installed App Backup and Restore and want to use it to install a deleted application, follow the steps below.
Open Backup and Restore App and click on the section Archived broadcast on the top bar.
Put a check mark on the apps to restore and then click on Restore it.
Then on Yes and finally on Install.
To proceed in this way remember to activate the option Unknown origin in the settings of your Android device in the section Safety.
Possible reasons for wanting to reinstall uninstalled apps
The reasons and reasons why you have uninstalled one or more apps are endless, as are the reasons and reasons why you may need to reinstall these deleted or lost apps.
Fortunately it is very simple to recover the apps and you can do it, as we have seen, without any recovery program.
Let's see together some of the reasons why you may find yourself in this situation.
You just bought a new phone- Connect your Google Account and reinstall all your applications. Speaking of new and old phones, take a look at how to recover data from broken phone.
You sent in warranty your phone and has been reset, then returned to its original state.
You deleted apps a long time ago and now you want to get them back you don't remember their names anymore.
You accidentally deleted an application from a device that is not yours. If you have not only deleted apps, but files as well, try Android deleted file recovery and iPhone data recovery.
The apps have been deleted or damaged by a virus and you don't know how to recover them.
How to activate disabled apps on Android
If, on the other hand, the apps you're looking for have only been deactivated, retrieving them is a breeze. The same is true if you want to disable apps, because you don't want to use them anymore but you don't want to delete them either.
Let's see together step by step how to activate and deactivate applications quickly and easily!
Go in the Settings.
Click on Applications and find the applications to disable.
Click on Disable.
A message will appear warning you that other applications may not work correctly, click again on Disable.
Follow the same process to reactivate applications, just click on the button disabled.
Downloaded and deleted apps: conclusions
An application is never completely deleted as long as it is possible to access the Play Store of the device with the Google Account with which it was downloaded. All you need is a little patience, search for accidentally deleted apps and restore them.
And if the apps don't come from the Play Store, there are many applications that allow you to retrieve them, but only if you have had the foresight to act before the need arises.
For many other problems that you may encounter in trying to recover files from your devices, Android or Apple, we offer you our guides:
How to recover deleted messages
How to recover deleted videos from mobile
Recover deleted numbers
Retrieve old call log
How to restore Play Store deleted by mistake