The smartphone can be an excellent personal assistant for
keep under control the expenses, the family budget and the costs of the bills
so you know how much you can spend and when it would be appropriate to save, without having to keep a paper record (which can be lost or end up in the hands of those who should not know our financial situation) or without keeping money stored around the house (as in the famous postal book, now definitely an obsolete tool).
In this guide, we will talk about the
free iPhone and Android applications
, designed for
organize expense items and be able to automatically create reports and graphs on financial trends
or, in other words, how much money goes out and goes into the family budget each month.
App to manage expenses and save money
All the apps that we will report to you provide are free, although in some cases it may be necessary to pay the Pro version to unlock all the features. Our advice is to try them all and, once you have found the one that's right for you, proceed with the purchase of the paid version, given the role it plays in managing our family budget.
Monefy
Among the best apps we can try to manage money and personal expenses it certainly stands out
Monefy
, available for Android and for iPhone.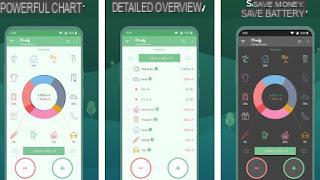 By installing this application we will be able to manage expenses, record earnings and create a budget so we know how much we can spend each month and when we have saved in the previous month (it will be marked as savings or loss in the account of the new month).
We can also create several different portfolios and decide whether to include them in the monthly account, so that we can generate easy reports with which to control our expenses and earnings.
This app differs from the others for pie graphics and the ability to customize the icons of the categories, as well as create others at will. Also very useful is the widget (which allows you to add expenses and earnings on the fly without opening the app), the PIN protection system and biometric control (to prevent anyone from peeking at our accounts) and the automatic backup system on Google Drive o iCloud (to save a copy of our balance sheets and restore it in case of phone change).
Goodbudget
Another very useful app for managing personal money and expenses is
Goodbudget
, also available for iPhone and Android.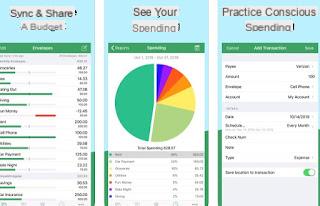 This app allows you to correctly manage all your income and expenses in order to create a monthly budget with spending limits (which will be reported immediately, so you know when to stop or limit your expenses to the bare minimum).
You can create different categories so as to record how much you will spend each month.
Even if graphically not at the level of Monefy, the app is still very detailed and synchronizes the data of the online account so, if we wish, we can also create and manage a single budget to share with other trusted family or friends.
Expensify
If we are looking for a truly complete and professional app to manage every entry and exit of our account (without ever opening the bank or account app), we recommend that you try
Expensify
, available for Android and for iPhone / iPad.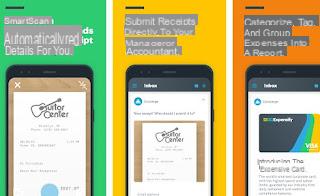 This application simplifies the collection of expense items thanks to its SmartScan, which allows you to take photos of receipts and bills and leaving the application the task of transcribing the figures and various references, so that we can upload our expenses in a few seconds. taking photos of all receipts and receipts we receive; obviously we can also manage expenses and add income manually, by entering expenses in one of the categories present.
Among the useful functions we also find the possibility of obtaining detailed reports to check the progress of the account or budget and understand where you can save. The data can be synchronized online and the app can also be used from the PC on the website.
Expense Manager
Another very professional app to manage our money is
Expense Manager
, downloadable for Android and for iPhone / iPad.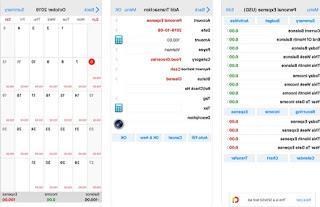 This app is very clear and detailed and will be the joy for those who already manage the expenses on paper or on repor: in fact we can add the various expenses made so that you can know how much you are spending and how much you will need to save if you exceed certain limits (freely settable).
The app provides a list of common expenses and various categories also with pre-filled templates in order to facilitate and speed up the first compilation which is then the most boring one.
There are many options of various types, support for multiple accounts, photo storage, widgets for the Android home screen and for the specific iPhone screen.
Daily Expenses
Another simple and affordable app for managing money and personal expenses is
Daily Expenses
, downloadable for Android and for iPhone / iPad.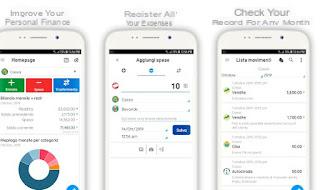 This app comes with a very simple and easy to use interface, ideal for those who do not want to keep up with the many functions of other applications and for those who just want a quick application to mark the money spent and create a reference budget with monthly expenses.
The app also allows you to manage personal finances and manage current accounts and credit cards separately, so you always know where we have spent certain amounts and where we can afford to spend some extra money.
Conclusions
What we have shown you are the best apps to manage the monthly spending budget and to keep track of the money that enters and leaves our wallet (real or virtual): by using one of these apps in a regular way we will be able to save a lot of money. , especially if we are very careful about the expenses to be made.
Still on the subject of savings and money management, we can also read our article on
App to save receipts and receipts and record expenses with automatic scanning
.
If, on the other hand, we want to combine a budget manager with other tools for work and office, we can read our guide
App for office, work and study, free on Android and iPhone
.
Can't we put money aside? In this case, we advise you to add the apps that we have covered in the guide to one of the apps seen above
App to save energy, electricity, gas and petrol
.
Best apps to manage money and personal expenses (Android and iPhone)