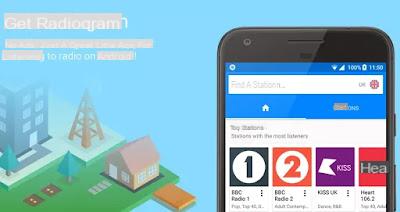 Using the smartphone to listen to the radio is really convenient, both for those who want to listen to the chatter of talk radio, and above all to listen to good selections of music. Today there are few smartphones that have built-in FM radio, so to hear your favorite radio stations you need to use an application that by connecting to the internet allows you to choose to listen to music from web radios around the world.
There are many good ones
app radio per smartphone Android e per iPhone
, which can be downloaded from the Google Play and Apple stores, which are
free to use to listen to online songs and streaming music
.
The advantage of these applications is the ability to choose a musical genre and discover automatic selections and new favorite songs.
Below, the
best streaming radio applications for Android and iPhone
1)
Tunein
is an app based on the online service of the same name Tunein to listen to the radio in streaming, which I had already talked about. The application is available
free for Android and iPhone
and allows you to listen to radios from all over the world; and national and regional radios such as Radio DJ, Radio Globo, M2O, Radio Capital, Radio Rock, Radio Subasio, Kiss Kiss, Radio Rai 1 2 and 3, RDS, Rete Sport, RTL 102.5, Tam Tam Network and many others. The application is localized in your region and immediately detects the radio stations of the country where you are. You can browse the list of radio stations by categories: Music, Talk show, Sports, then also by language, country or city from which they broadcast. Favorite radios can be marked for easy retrieval.
Among the options you can also set an alarm and you can set a sleep timer to turn off the radio after a certain period of time.
To top it all off, there is also Car Mode or "Car Mode" which changes the app interface to the suitable one while driving. Finally, if you want to remove the advertising, you can pay for a subscription of TuneIn Premium.
2)
Audials Radio Player Recorder
is a very popular app to listen to online radio, for iPhone, which has a very interesting peculiarity, it is in fact one of the few apps to download music on Android and iPhone because it allows you to record songs. There are over 50.000 radio stations from around the world and you can search for the type of broadcast by sorting the radios by genres, countries, top artists and top hits. It has a built-in audio and video player which can be used to play files on the phone and there is a "Car Mode" which changes the app interface to make it more convenient to use while driving.
A similar app for Android
and
VRadio
, which works both to listen to national radio streaming, and also to record the broadcasts and the music you want.
4)
Simple Radio
, For
Android
and for
iPhone
, it is an app to listen to FM and AM radio stations from all over the world, in streaming.
Simple Radio is a simple application that perfectly replicates normal AM / FM tuners, with the ability to search for any station by name or by country and city. As an application to explore new genres and listen to songs online without particular preferences, however, it is perhaps not the best one to use.
5)
XiiaLive
is a free app for Android and iPhone, beautiful to look at, fun, that allows you to browse a large music catalog with different genres of music such as rock, classical, electronic and hip-hop. Each of these genres has radio stations from around the world that you can choose from. Stations you like can be marked as a favorite so you can easily return to them later. There are some additional features in the app like the equalizer and sleep timer.
6)
Radio Online - PCRADIO
, for Android and iPhone, sorts the radio stations already sorted based on different genres such as rock, pop, metal, etc. and has a handy search bar to find your favorite stations from any country in the world. Like most other radio apps, PCRadio allows you to mark certain radio stations as your favorite for easy access. Finally, the app comes with a built-in equalizer to tweak the sound.
7)
FM Radio: Stream Live Stations
, Android only, has a large music collection sorted by countries and genres. You can listen to FM radio stations from any country and you can search for them by the genre of the music they broadcast. While playing a particular song you can set a sleep timer ranging from 5 minutes to 6 hours and you can also set that song as the alarm sound.
8)
AccuRadio
, for Android and iPhone, is an app to listen to streaming music that does not have FM radio stations, but allows you to choose some music selections based on genre, one of the best for discovering new songs and for casual listening.
9)
radiogram
is a very recent app for Android that allows you to listen to radios from all over the world for free, including national and regional radios, in streaming via the internet. The peculiarity that makes Radiogram special is the fact that it has absolutely no advertising, so everyone can listen to their favorite radio stations without interruptions and with an interface that never disturbs, easy to discover and search for radio stations even for musical genres. You can also listen to a radio by searching for it by the station name.