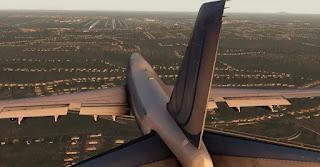 A video game sector in which the PC is still superior to consoles is that of simulation and management games, including flight simulators. As PC processing power advances, flight simulators have become more and more realistic, allowing users to experience what it's like to be pilots from the comfort of their own home. Anyone who has tried a simulation game will have found that they are not cheap, but luckily for
flight simulators that can be played for free on Windows PC
there are still several.
In this list, the
eight best free flight simulators
, from the traditional flight sims that take us to fly over the most famous cities in the world and even in space, to those where there is also a bit of aerial combat.
1) FlightGear
The free FlightGear flight simulator
for Windows PC, Mac and Linux, to which I have dedicated a separate article, is the
number one free simulation games ever
. FlightGear is fantastic, not only can it be downloaded in one version because it is completely free, but also because it is open source and always improved and improved by the community of players and developers. The very open nature of the simulator allows people to create and test their own aircraft models.
The software uses a limited amount of built-in scenarios, but you can download various regions of the globe and over 20.000 airports directly via the FlightGear website, via BitTorrent, or by purchasing an optional Blu-ray disc. The installation process and interface are not easy to use for those who just want to play and reading the guide is certainly required to learn how to take off, land and basic flight procedures. Its realism is incredible both in the general flight controls and in the detail of the scenes, with clouds, water surfaces moving and the sun moving in real time.
2) Microsoft Flight Simulator
Microsoft Flight Simulator
it is not completely free, but you can download it for free for Windows 10 to fly to some parts of the world with some models of aircraft. This game is too
incredibly realistic
and, paying the full version, allows you to fly around the world.
3) DCS World
DCS World
is one of the best 3D air combat shooting games, a very realistic simulator with graphics that look real. It is definitely one of the best free PC flight simulators.
4) GeoFS
GeoFS
is a complete, online flight simulator that works entirely
in the browser
, on PC and even on smartphone, without the need to download anything. It can be played using a joystick, mouse or computer keyboard and allows you to take off and fly around the world in one of 20 aircraft available. Those who play for the first time will find it easy to accelerate and take off, customize the controls and receive all the instructions to learn to fly on the first trip. You can fly planes with multiple engines or simple propeller planes or even a hot air balloon, a helicopter and a paraglider.
Obviously the game also exists in a paid version, with better images and a higher resolution, but the free version does not have heavy limitations and also still supports interaction.
multiplayer
.
At any moment, in fact, you could meet another player's plane flying across the sky and beyond, too
commercial airliners moving in real time
. You can fly all over the world with around 30000 runways available for take-off and a live map with the location of all the other players. The conditions are also based on the real-time data from the Open Weather Map, so if you travel to a part of the world where it rains, you will also see rain during the flight. As a simulation level it may not be the best on this list, but since everything works online from a browser on any PC, it is still one of the primary choices to try.
5) YSFlight
YSFlight
is an ancient and free flight simulator, which hasn't evolved much from its humble beginnings (it was Soji Yamakawa's 1999 university project, Captain YS, which has continued to update it over the years), still remaining a viable option. The software is incredibly light on the system and has a solid set of built-in features. You can fly over 70 aircraft to choose from, from the Blue Angels F-18 Hornet to an Apache helicopter, in maps that span many regions of the world. You can customize the flying experience in many ways and even participate in aerial combat with friends.
6) X-Plane
X-Plane
is a professional flight simulator, with over 3.000 different airports, all meticulously detailed even inside the terminals. X-Plane takes itself seriously, so much so that the developers don't describe it as a game, but as one
engineering tool that can be used by real pilots
to predict flight qualities. This precision is achieved, at least in theory, through an aerodynamic model known as the "Blade Element Theory". This theory simulates flight by modeling the forces on each component of the aircraft simultaneously to calculate aerodynamic forces in simulations that have not been run, rather than using the predefined lookup tables that have become the standard for simulating aviation. This allows X-Plane users more freedom in designing aircraft to add to the game.
X-Plane is incredibly detailed and during the flight, anything can happen randomly, even that a component of an airplane could break, as it would in reality. You can fly anything in X-Plane, from a B-2 Bomber to a space shuttle, and there are hundreds of additional free or premium aircraft. Obviously X-Plane can be very difficult at first, requiring several hours of practice.
The full version of X-Plane 11 is not free, just a demo. older versions of X-Plane can be purchased for half price.
6) Google Earth
Google Earth, the program to see the world
, hides a very nice flight simulator inside. Certainly it is not a perfect simulator from a technical point of view, but if you want to see the world from above, the real one photographed from the satellite, there is nothing better.
The cockpit controls are fairly basic and easy to learn, with a fairly arcade mode. With Google Earth, you can fly over our home, the Colosseum or over other environments that no other simulator will ever see.
In addition, you can also simulate a helicopter or hang glider flight, ideal for flying over the mountains.
To fly from your PC with Google Earth, go to Tools -> Flight Simulator or, for more, check out the article on
flight simulator, paragliding and helicopter Google Earth
.
8) War Thunder
For those who prefer
fight as well as pilot
, Yes they can
drive warplanes in War Thunder
a free game set in the second world war, very beautiful and also fun. War Thunder offers an action-oriented flying experience, allowing players to fly a plane of one of the five great powers of war (United States, Germany, Great Britain, Soviet Union and Japan). War Thunder is also an online multiplayer game, with most of the player battles against each other.
9) Rise of Flight
Rise of Flight
puts players in the cockpit of classic WWI planes, with exceptional authenticity. You can fly to admire the view and then follow the story of the great war or fight multiplayer battles. There are many ways to customize the controls, even using just the mouse and keyboard.
Best airplane flight simulators, free on PC