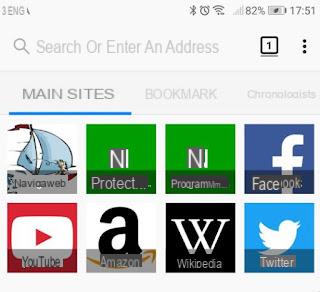 Even if Chrome is the default browser for most Android smartphones, it is not certain that you cannot prefer an alternative browser, that is, a different application to browse the internet. Searching in the store it is possible, in fact, to find browsers that are lighter and faster or organized in a different way or with additional functions that are not available on Chrome.
Unlike iPhones, where Safari is so integrated into the system that it is the basis for any other browser, browser apps for Android phones are standalone applications, which in many cases can even be faster than the pre-installed browser.
In this article we see the
best, fastest and most powerful free android browsers
, which can be installed
on mobiles and tablets
to browse the internet.
Chrome it is the main browser of all Android devices, almost always pre-installed on the phone. The main advantage of using Chrome is the ability to keep data such as bookmarks, history and logins synchronized between Chrome for PC and Chrome for Android on your Google account. To do this, just log in, with the same account, both on Chrome for PC and on the Android phone and activate Chrome synchronization. In this way, you can work indifferently on a PC and on a tablet or smartphone, with the same saved data. Chrome's flaw is probably being owned by Google, which makes no secret of using its products to collect usage data. In another article, the guide for Improve Chrome on Android by changing these 10 Settings
Chrome-based browsers that support extensions I'm Yandex Browser, very good, fast, identical to Chrome but without all the bloatware brought by Google.
You can use a different version of Chrome with the app Chromer (Lynket Browser), which allows you to open links from other apps in an ultra-fast way using Chrome, but without loading the entire browser.
Microsoft Edge per Android the mobile version of the same Microsoft browser for Windows 10. Its main advantage is that it allows you to use the function to send websites from the phone to the PC with a button.
Opera provides 3 different browsers for Android. Opera Browser and Opera Mini are two different versions of Opera for Android. Opera browser is an alternative app to Chrome, while Opera Mini is a particular browser, which includes a free VPN and allows you to see blocked sites.
The browser has also recently come out Opera Touch, much more modern than the other two, which makes the connection between PC and smartphone quick and easy, through the synchronization function called Flow, which can be used without the need for an account. Opera Touch is also optimized for one-handed use and is one of the most original browsers for Android smartphones.
Mint Browser is the Xiaomi browser available for all phones: simple and fast, it is an ideal app for slower phones and for those who surf with a slower connection.
Puffin browser to open Flash sites on Android it is also one of the lightest browsers, with surprising speed comparable to Chrome. Puffin Browser is also available in an Android TV version.
Samsung Internet Browser is the official browser of Samsung Galaxy smartphones, which is also available for other Android smartphones. The Samsung browser is very similar to Chrome, it syncs with Chrome on PC by installing the Samsung Internet extension and is truly among the lightest and fastest ever. The mobile browser supports some extensions, allows you to print web pages, save them for later reading, request a site in desktop mode and all the normal options.
Tor Browser per Android, officially released in 2018, to make anonymous and untraceable connections on every website.
Firefox for Android it is the first alternative to Chrome and, like on PC, it is always worth having it installed. Firefox is certainly the first choice to make for those who use Firefox even on their computer as their default browser, because data can be synchronized on the Firefox account. In Firefox for Android there are indeed many useful features, including support for Firefox extensions on Android.
Mozilla also provides the browser Firefox Focus for Android that works to browse the internet privately and without leaving traces.
Firefox lite (to download on APKMirror because it is designed only for Android Go) is the most minimalist and fastest Mozilla browser, for those who want an ultra-light browser with no other features than that of opening websites. This browser was created for low-end smartphones with a lightweight Android Go system, but can also be used on any other Android mobile. Its Turbo mode, when activated, loads web pages instantly. Firefox Lite also has the function to photograph entire web pages with a schreeshot, so that they can be reopened as static images.
4G Browser is an alternative browser that works in private mode and is super fast. Its 4G system makes ultra-broadband Internet access using the communication standards of fourth generation mobile technology. This feature is important enough to be said to be the absolute best Android browser in terms of speed. The app receives constant updates so that you are always up to date on both technology and user experience.
Kiwi Browser it competes with that Opera Mini which, until now, could be considered the lightest of all browsers, with more speed and without giving up all the functions of Chrome. As general and main features, in addition to the accelerated loading of web pages and the tabbed interface, there is the possibility to switch user agents and open sites in desktop version instead of mobile version. Excellent privacy and security options, with the possibility of preventing the tracking of navigation data, to keep or delete the history, cookies and saved passwords. The strong point is certainly the speed of loading websites and then the fact that you have all the functions of Chrome without binding to the Google account. Among other functions, support for Facebook Messenger chat via the m.facebook.com site, night mode, deactivation of AMP pages, notification block and Download manager.
UC Browser is a huge browser that is indispensable for browsing the internet in an optimized way even on mobile phones with small screens. Much like Opera Mini does, UCBrowser compresses websites by saving bandwidth in the data connection. However, this also does something more in fact, all those sites that do not have a mobile version and are difficult to navigate on the small screen of the phone, are optimized and each web page is modified so that it can be read and displayed with all the elements arranged. , neatly, vertically.
Apus Browser is a simple minimalist browser that also supports Flash Player, user-agent switching and full screen. Apus Browser is a very light app, with a material design interface (that of Android Lollipop) that takes up very little memory, therefore ideal for weaker and less powerful smartphones.
Via browser is a fast and compact browser, which gives a certain freshness and modernity in surfing the internet. This browser has many features such as: safe browsing, personalization, data saving, offline web page reading, incognito mode, synchronization of favorites, extensions, desktop version of the sites, translator and much more.
Brave Browser it is very similar to Google Chrome, with tabs, the address bar at the top and the menu bar at the bottom. This is an excellent browser for those who want to surf without being tracked by advertisements, anonymously, so as not to leave any traces of navigation.
DuckDuckGo Privacy Browser it is similar to Firefox Focus, optimized not to leave traces on the sites you visit and with the search engine DuckDuckGo, the one that respects Google's competing privacy.
Dolphin Browser it has been one of the most popular browsers in the Google Play Store for years, although some time ago it was caught up in allegations about possible data spying. Now that these privacy concerns should be resolved, Dolphin can be considered as one of the most customizable and feature-rich web browsers for Android.
Aloha Browser it is instead the app that allows you to surf the internet behind a free VPN, the best to visit blocked and blacked-out sites in the city or in other countries.
Best Android Browsers for Smartphones and Tablets