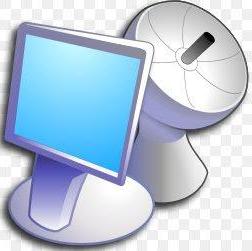 Managing your computer remotely or being able to solve problems on the PC of a family member or friend without being physically in front of it, is much easier than you think and you just need to have the right program. What we intend to create is a bridge on the internet that connects our PC with another to control it as if we were standing in front of it, on a remote desktop. This type of connection has the most varied fields of application, for example, to work from home on the office PC, to use the computer programs from the tablet, to drive the PC remotely from the mobile phone, to solve problems on the computer of our parents without having to go to their home and so on.
For all this and more, these are
the 7 most used and best free remote desktop programs
to connect to a computer from a distance
READ FIRST:
Share your pc screen: best free applications
1) Teamviewer
Teamviewer
The Teamviewer program is a bit of the obvious and best choice for everyone because it can be installed on Windows, OS X, Linux, Android and iOS, and is free for personal use. Not only does Teamviewer offer remote desktop functionality, but it also allows you to do file transfer, remote power on, guided assistance and remote work in collaboration with other people with screen sharing.
I have already talked about Teamviewr in the past as the program for the complete control of a PC from another computer or from a mobile phone.
The beauty of Teamviewer is that all the functions are free and, above all, that it installs quickly and easily, without any configuration to do. Even a child could use Teamviewer, it works well without having to make configuration changes on the PC, on the firewall, on the router.
2) Splashtop
Splashtop
Splashtop is similar to Teamviewer, supports Windows, Mac OS X, Android, and iOS, and is free for personal use (up to five computers, and with some limitations depending on how you use it). As a program it has some more potential, even allowing you to listen to the multimedia content of one computer in streaming on another computer at a distance. Splashtop is a great tool for watching movies from your computer on your tablet, without making transfers, in streaming. Splashtop is very optimized for use by tablets and smartphones and in fact it had already been mentioned in the post on how to try Windows 8 on a tablett or on Pad. It would therefore be perfect if it were not that Splashtop is not completely free like Teamviewer in its use as a remote desktop.
3) Chrome Remote Desktop
Chrome Remote Desktop
is the app integrated within the Google Chrome browser, on Windows PC and Mac, which allows you to connect remotely to any other computer where Chrome is always installed, the important thing is to use the Chrome Remote Desktop application, completely free, for personal and commercial use. On the features and on how to use the remote desktop in Google Chrome to control another PC via the internet, you can refer to the linked guide.
While very easy to use, Chrome Remote Desktop is also very basic, with few additional features.
4) The Remote Desktop
Microsoft's RDC protocol and Apple's Remote Desktop platform use technologies that exist within their respective operating system, Windows and OSX, to allow remote administrators to connect from anywhere. It is more than anything else a solution for business use, to connect remotely to servers or computers without having to physically go there. The problem is that these solutions work well on an internal network of PCs of the same type (Windows or Mac). To use the remote desktop via the internet, however, a non-trivial configuration on the router, port forwarding and security settings is required.
Microsoft has released the official RDC remote desktop app for Android and iOS.
5) VNC
VNC or Virtual Network Computing is not a specific program but more an open source platform, of all. Depending on the client software and the VNC server you are using, you can have more or less functionality and different configurations.
The "official" VNC software is RealVNC which exists for Windows, OS X, Linux, Android, iOS, and even for Google Chrome.
The other very popular client is
TightVNC
, completely free, open source, therefore the most used.
VNC is not too difficult to configure, but it is certainly not the solution for everyone also because it also requires the opening of ports on the router to make it work via the internet. The advantage of VNC is that the data is fully under control, it does not pass through the network of others and there are no proprietary services to subscribe to.
6) Iperius Remote
Iperius Remote
is another remote desktop program similar to Teamviewer, which you can use for free in the freeware version. Operation is completely automatic and does not require special configurations, just install Iperius both on the controlling PC and on the one to be controlled and then enter the connection codes.
7) Aspia
Aspia
is a great free and open source remote desktop software for Windows PC, ideal alternative to TeamViewer. Thanks to the Fast Connect option, it is very easy to access a remote desktop in seconds by entering the IP of the computer to be connected, even if only in view-only mode. You can also transfer files between connected PCs. To use this software, you need to download and install the host application on a PC to be controlled, then the Console application on the PC you want to access.
Best 7 remote desktop programs to connect to your computer from afar