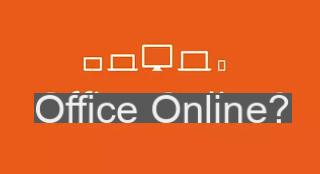 Microsoft's Office suite is available in two versions, one that you can buy with the programs to install in the traditional way, the other all online in the cloud, which you pay for with a subscription.
We have seen in another article the differences between Microsoft Office as a program and Office 365.
If you don't want to spend anything, we know that the best of the Microsoft Office alternative programs is LibreOffice.
If you want them instead
alternative online e gratis a Office
to
create, edit, save and share documents from any computer
keeping a synchronized archive, then it is better to rely on
cloud applications
.
1) The site
Office Online offers free use of Word, Excel and Powerpoint
, with the apps integrated into Onedrive which makes cloud archive of saved documents.
The web applications of
Microsoft Office
, ie Word, Excel and Powerpoint, can therefore be used directly
online
using a browser like Chrome or Firefox, with no need to install any software and for free.
On the Office.com site, which can be accessed with a Microsoft account, it is therefore very easy to create new documents with Word, Excel and Powerpoint and it is also possible to open PC files by uploading them online to Onedrive.
If you use the Onedrive folder synchronization system, all the documents present on the various PCs used will already be found on the Office site.
The interface of a program like Word is exactly the same as that of regular Word, with all the tools and options to format text and add elements.
2) If you don't like Microsoft's Office Online, you can use the world's most popular and most used alternative, namely
Google Docs
which offers web applications similar to Word, Excel and Powerpoint, for writing documents, creating spreadsheets and presentations.
As Microsoft's Office uses OneDrive as an archive, Google Docs uses OneDrive which is similar to nearly identical, also with the ability to sync files from different computers and keep them saved in the cloud keeping them available at all times.
Google Docs can also be opened from a computer without an internet connection to view documents and open them offline.
From Google Drive you can upload doc or docx, xls or xlsx, ppt or pptx files and edit them directly via the web app.
In another article we saw how to open Office files with Google Docs on PC.
In another article, the
guide to Google Docs
.
Both Office Online and Google Docs can also be used to simultaneously write a shared document, as explained in another article.
Both services, then, can be used, always free, even from Android smartphones and tablets or from iPhones and iPads.
Office for free and online to write and save documents