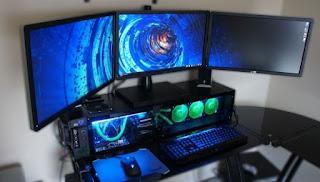 At what point has the technological evolution of computers reached?
It can be difficult to notice the differences, since most of the evolution is "hidden" inside the case of desktop PCs and since cheap PCs have practically always the same features for several years. In this blog we always try to find the best compromise between quality and price when we make articles on components and on PCs to be assembled; but if instead we wanted to buy the best of hardware available today (thus creating
an exceptionally powerful computer, with hard-to-match performance
), which components should we buy?
Out of curiosity and also for those who really have no spending limit, let's see
the pieces to buy to have the best PC on the market
, with the most expensive, powerful and cutting-edge hardware components that we can find for sale (available now), so as to create a
Super pc
ready for any type of program (even advanced multitasking) and to run any game on the market.
No greed and savings therefore:
the cost will not be less than 5000 €
, so you have to indulge in unbridled expenses by buying the
most powerful home computer possible today
, to boast even with the most technological friend.
Basically here we will show you
what is the best PC hardware available today
talking about processor, motherboard, RAM, disks, video cards and other important components. Staying on hardware that is sold to everyone on the market and can be purchased on Amazon (with warranty and facilitated returns in case of problems), we see here which are the
more performing PC components
which you can buy today.
If we are looking for something more accessible to anyone's pockets, we can always bet on
a very good PC
with 8 GB of RAM, an Intel i5 or i7 processor, basic video card (unless you are a gamer) and 1 terabyte SSD or hard disk, which will cost around 700 €.
1)
Processor and heatsink
The heart of a PC is its processor, which makes it possible to process the machine's processes.
The most powerful processor today is
Intel Core i10 or i9 10 series
($ 500), equipped with 18 cores and 36 threads, it provides all the power you need to do whatever you can think of with a computer. It is impossible to imagine the power emitted by this miniature "monster", but we still have to take into account some limitations: there is no heatsink inside and it does not have an integrated graphics processor (it has been sacrificed to make room for all the cores) ; the latter makes it necessary to focus on an external graphics card to manage the monitors.
As a heatsink we recommend going for a quality liquid-cooled product such as the Thermaltake Water 3.0 Riing (154 €), equipped with three fans with bright LEDs and adequate cooling power for the recommended processor.
2)
Motherboard
Depending on the processor selected, the best motherboard to buy can be determined.
Intel's Core i10 and i9 series 10 chips use the LGA 1200 socket, so you need to find a new compatible X299 motherboard.
The best motherboard available on Amazon is the Asus Rog Maximus Xii Hero (€ 362). It is a large motherboard, with built-in 802.11 Wi-Fi, a small "LiveDash" OLED display that can show system information such as temperature, Dual M.2 support, and USB 3.1 Gen 2 Type-A and Type connectors. -C, Intel Gigabit Ethernet, LANGuard GameFirst and DDR4 memory support at various frequencies.
3)
RAM
The Intel X99 platform has eliminated the limit of 64GB that there was for the amount of RAM on a computer, so we might as well take advantage of this feature right away by focusing on the Corsair Vengeance RGB kit (€ 122), with 2 DDR4 modules from 16 GB each at 3000 MHz, for the maximum capacity of 16 GB. In addition to being very fast.
4)
Video Card
The best video cards cost a lot, but we certainly don't have to limit ourselves after choosing all these expensive components!
If you demand the excellence of PC gaming performance and there are no cost limits, you can buy the super graphics card ASUS ROG Strix GeForce RTX 2060 (400 €), equipped with 6 GB of GDDR6 video memory and capable of view images at 60 FPS at 4K resolution with the maximum graphic detail of any video game.
5)
Monitor
If you are going to buy a video card of the level seen above, you must also buy a high-end monitor to support 4K resolution images. There are many level monitors available in stores and here we can cite, as an example, at least three models for sale on Amazon:
- LG 38GN950 UltraGear Gaming Monitor, 38 "Curved, with 3440 x 1440 resolution, 350 cd / m2 brightness, 5 ms response time, ZeroFrame, G-Sync technology, HDMI, USB 3.0, Black / Red 800 Euro
- MSI Optix, 27 "IPS UHD with 3840x2160 resolution at 350 Euros
- Philips 346B1C Gaming Monitor, with 34-inch curved screen for 560 Euros.
The top of the monitors for those who do photo editors at a professional level can be considered today the BenQ SW320 Monitor from 400 euros.
6)
SSD M.2
For this PC we have to provide an internal memory with a very high speed in reading and writing; the only way to get it is to bet on
moduli M.2
, completely similar to SSDs but more compact, they appear as thin chip cards to be inserted inside special slots on the motherboard (more speed and less latency).
The best M.2 module that we can integrate into the motherboard seen for this PC is the 980 TB Samsung 1 PRO (324 €), equipped with large capacity and crazy speeds, so you can start the operating system and programs. in less than 1 second!
7)
Classic SSD
To keep personal data and folders on a fast disk, we can connect a classic SSD such as the SanDisk SSD Ultra 3D from 4 TB (560 €) to one of the motherboard's SATA ports.
However, we will have high speeds and lots of space to save personal files, so that we can easily give up mechanical disks (now really obsolete).
8)
Dedicated sound card
If you want perfect audio output from your computer, we can also mount a Creative Labs Sound BlasterX from 190 Euro on the motherboard. Thanks to this card we will have audio outputs with high and well balanced frequencies, so that we can also connect a speaker system without experiencing distortion in the sound; definitely an investment to make if we want to have top-notch audio.
9)
Power pack
The components chosen consume a lot of energy, so even on the power supply we can not spare any expenses.
To cover all needs we can buy the Corsair HX1200 from 250 Euro, 1000 Watt, completely modular, with load regulation on all tracks thanks to a state-of-the-art digital control system.
In this way we will have to be able to supply energy to all the components without the risk of turning off the PC due to low electrical load.
10 )
Homes
As a Case in which to mount all the exceptional hardware we bought, we need something special like that of the Corsair iCUE from 380 Euros or others with bright lights and colors and tempered glass like the Cooler Master MasterCase H500P
Most Powerful PC Ever - Better Hardware Parts Today