If we are faithful to the Apple world and use the iPhone as a smartphone every day, we already know that if we need a map or a navigator we can count on
Apple Maps
, which even if graphically consistent with the Apple environment is certainly not one of the first choices to focus on to get the best driving directions or to check the map of a city or a place to reach.
In this case the Apple App Store comes to our aid, they present
diverse alternative a Apple Maps
very valid that we can use as a navigator on our iPhone.
Let's find out in this guide
the best GPS navigators for iPhone
that we can install; we will present both free and paid apps from map providers for classic navigators.
As anticipated we will show you the main GPS navigators for iPhone useful for reaching a specific destination in the city or for traveling on roads and highways that we do not know. Since there is no shortage of apps on the iPhone, we will point out both the completely free apps and the apps that offer a free trial period (both in kilometers to travel and in days with which to use the premium license without limits), so as to be convinced and if you are happy to buy a user license or a subscription for higher quality services (even if the free apps are more than enough for standard navigation).
1)
Google Maps
The first navigator that we recommend trying on an iPhone is Google Maps, which can be downloaded for free from here ->
Google Maps per iPhone
.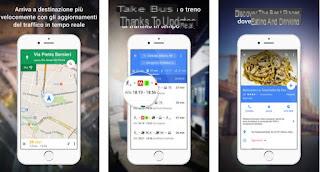 With this app we will be able to get maps and directions for any place or city to reach, with real-time traffic updates and the ability to download offline maps to be able to surf even without an Internet line. The app is unbeatable in reporting points of interest with lots of information retrieved through feedback and reviews on Google as well as offering routes and routes even for those who travel by public transport, on foot or by motorbike.
2)
Waze
Another good GPS navigator to use on the iPhone is Waze, which can be downloaded for free from here ->
Waze
.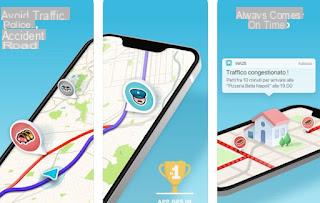 With this app we will be able to obtain real-time information on traffic, accidents and the presence of speed cameras along the route, complete with an acoustic signal.
Waze is able to recalculate routes quickly and quickly based on traffic and notifications from other users who use Waze, which help to enlarge the map and report both points of interest and any signs along the route. The functionality with which to add the ZTL permit is excellent, so as to insert the routes in the limited traffic areas within the urban route. It only works when connected to the Internet, so better be prepared for it.
3)
Here WeGo
Among the best navigators that we can try on an iPhone there is definitely Here WeGo, downloadable for free from here ->
Here WeGo
.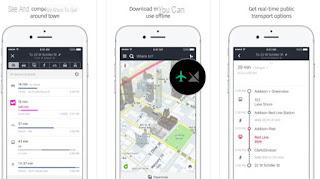 The app offers precise indications for any city or nation we want to reach, with an eye to the indications for those who often travel on foot or by public transport (one of the most precise in this sense). Here WeGo offers the possibility to download the maps of entire states or continents for free on the iPhone, so that you can surf even without an Internet connection.
4)
TomTom Go
One of the most complete apps for iPhone about GPS navigation is TomTom Go, available as a free trial from here ->
TomTom Go
.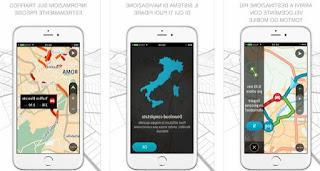 The maps and directions are identical to those supplied with the famous satellite navigators for cars, with the updating of maps and points of interest via Internet connection. The app is available for free for use in a trial version: we can take advantage of 75 free kilometers every month; in order to unlock all the functions we will have to purchase a subscription.
5)
Sygic GPS Navigator
Another effective GPS navigator for iPhone is Sygic GPS Navigator, downloadable in free trial from here ->
Sygic GPS Navigator
.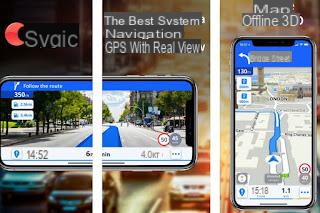 Among its strengths we find detailed 3D maps, speed cameras and interactive roadblocks, the driving system with augmented reality (Real View) and constantly updated maps. The app is available for free for 7 days, after this trial period you need to purchase a license to continue using it.
6)
CoPilot GPS
Among the most convincing free trial navigators for iPhone there is also CoPilot GPS, available from here ->
CoPilot GPS
.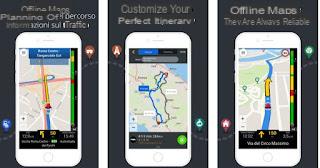 The app combines offline maps with data retrieved via Internet connection to always find the best route for each indicated destination, also showing various alternatives to the most followed and discounted routes in order to save time. The virtualization system of outgoing roads and junctions is excellent, so that you can always guess well in advance where to channel yourself to exit a motorway or a canalized intersection. The app is available for free without limits for 7 days, after which you must purchase a license to continue using it.
7)
NavMii GPS city
Another app that we want to point out for GPS navigation on iPhone is NavMii GPS city, available for free without limits from here ->
NavMii GPS city
.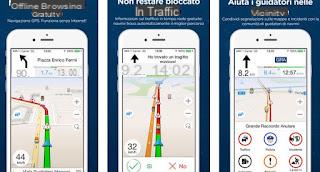 The app is very similar to Waze in terms of functionality, since it offers precise and detailed information on traffic and points of attention also thanks to the reports of other users who use the app; in spite of Waze, however, it is possible to download offline maps without limits, so as to be able to use the navigation features even without connection to the Internet network (if we go abroad for example).
The maps are provided by the free and open source service OpenStreetMap, so the app can be used without limits and without paying subscriptions.
Best GPS navigator apps for iPhone alternative to Apple Maps