During the course days you purchased your first Apple-branded device and immediately created your iCloud account following the instructions I gave you in my guide on the subject. A few days later, however, you forgot your password to access it and now you would like to know how to retrieve it. If this is indeed the case and if you want to deal with it, I am happy to tell you that you can count on my help on this occasion as well. I can explain to you, step by step, how to recover your iCloud password.
I know, you may be thinking right now that this is complicated and will inevitably take up a lot of your free time, but believe me, it's not like that. Retrieving iCloud passwords is in fact quite simple, provided of course you are the legitimate owners of the account.
So if you're really keen to find out what you need to do to recover iCloud passwords, I suggest you make yourself comfortable, take a few minutes off and focus on reading this guide. I'm sure you'll succeed in the end and that at the first good opportunity you'll also be able to explain to all your friends in need how to do it. So, what do you say we put a stop to all this talk and get started right away?
Before you go through all the steps you'll need to take, though, there's one thing you should keep in mind. Going to the iCloud password recovery procedure that I'll show you in the following lines, you won't get your old password back but you can set a new one to re-enter your account without losing everything connected to it.
Please also note that all the operations that I'm going to show you in the next few lines and through which you can retrieve iCloud passwords can be done without any kind of problem from both computer and mobile simply by accessing your favorite web browser or the one set as default.
Restore password
If you're interested in figuring out what you need to do to get your iCloud password back, the first thing you need to do is click here so you can connect to Apple's iCloud website right away.
Next, click on Forgot your Apple ID or password? located below the on-screen login fields and wait for a new tab to open in your web browser window.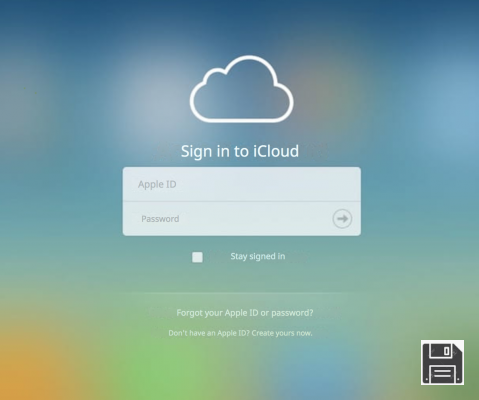 On the new web page that opens now, type your iCloud account in the blank field in the middle of the screen under Enter Your Apple ID to get started, then click Continue.
At this point, indicate the method by which you want to authenticate your account: you can check the box next to Receive an email, to receive an email from Apple to the addresses registered for your account with a link to reset your iCloud password, or you can check the box next to Answer security questions:, to retrieve your iCloud password by answering the security questions you provided when you created your account. Once you've chosen the system you want, press Continue to retrieve your iCloud password.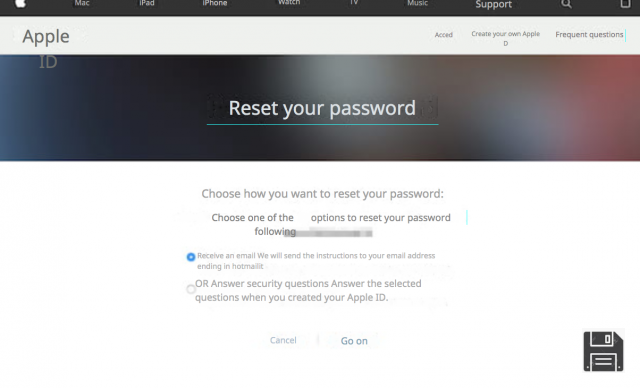 If you've chosen email authentication, wait for an on-screen alert to appear indicating that the message has been sent, then log in to at least one of the email addresses registered for your account. Then open the Inbox or Inbox section of your inbox, press on the email sent by Apple and follow the instructions inside it, taking care to click on the appropriate link to change your iCloud password. Then, follow the simple instructions shown on the screen.
If you chose to retrieve iCloud passwords by answering security questions, enter your date of birth using the drop-down menus that will appear on the screen, then click the Continue button and fill in the displayed text fields, making sure you answer the questions correctly. You will then be shown a new screen where you can change the password previously associated with your account.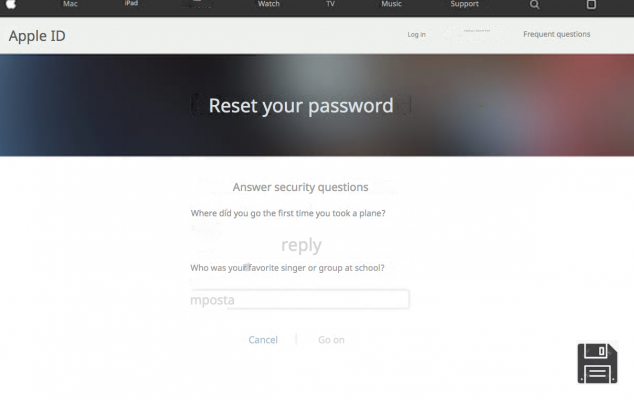 If your account is protected by two-step verification, you'll need to do the following. First, provide your password recovery key and click Continue, then select a trusted device or phone number by following the on-screen procedure shown on the screen and wait a few moments so that you can receive the security code directly on the device or by SMS to the selected phone number.
Next, type in the security code obtained in the appropriate field visible on screen and then set a new password for your account by typing it in the appropriate field visible on screen and then pressing the Reset Password button.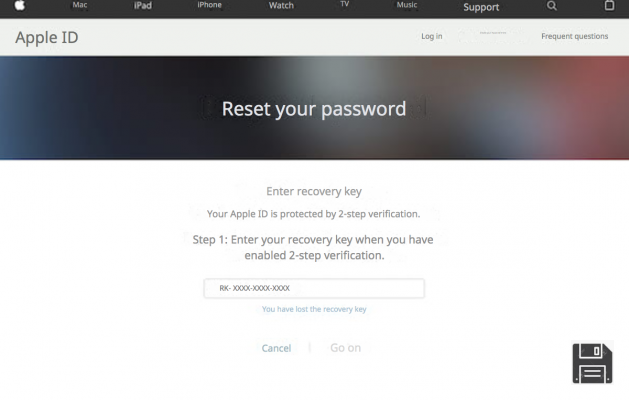 Note: If you try several times in a row to retrieve iCloud passwords without succeeding, your account will be blocked. You will be able to perform further tests from the following day.
Once you've completed the process of recovering your iCloud password, you'll be asked to log in again with your new password. Please note that in some cases you may also need to update your password for the Apple services you and your devices.
If you experience problems
Forgot not only the password associated with your Apple ID, but also the email address used to access it? Well, don't worry, you can deal with that again. How? For a start, click the Forgot your Apple ID? link attached to the Enter Apple ID section, which you can access by clicking here.
Next, enter your first name, last name and email address in the respective fields and press Continue then, if the system recognizes your personal information, you will be redirected to the password reset page like the one we analyzed earlier. At this point, follow the path shown in the previous lines and you'll see that in no time you'll be able to retrieve your Apple ID and, as a result, recover your iCloud password.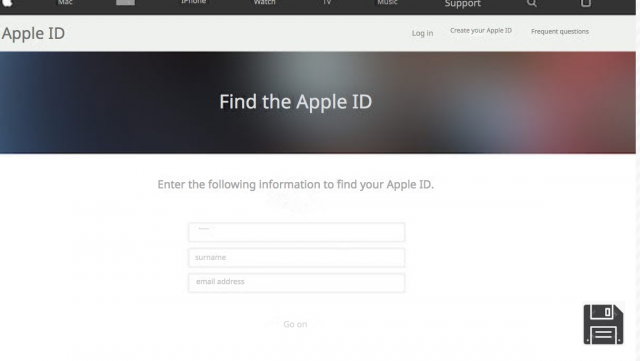 Want to recover iCloud passwords but are you experiencing any problems? If so, please contact Apple Support.
To do this, click here and depending on your preferences and needs you can choose between Reset Password (to get help trying to reset your account password), Talk to Apple Support now (to get in touch with Apple Support immediately), Schedule a call (to schedule a phone call) or Call Apple Support at another time (to leave your contact details and information and call support later so you can save time in providing details).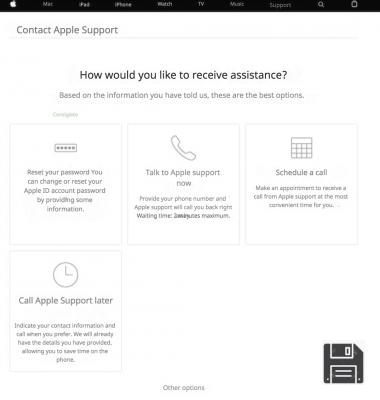 Now click on the option corresponding to your choice and then follow the simple wizard that is shown on the screen.
Of course, depending on your choice, the on-screen wizard for Apple to help you recover iCloud passwords may be slightly different.