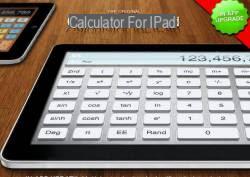 There are more than 300.000 applications in the Apple App Store that can be installed on an iPad. It therefore becomes useful to have a list with only le
best free apps for the Apple tablet
which still remains the best-selling one.
It should be noted that practically all applications for iPhone and iPod also work on iPad only if they are not
optimized for the larger screen of the Apple tablet
, they do not always have good yield. In this article we see then
the best apps of which there is an optimized version for iPad
, which are also
free
.
1)
Skype per iPad
a nice easy and fun interface optimized for the iPad screen. Skype allows you to make phone calls from your tablet and also to make video calls and is a really obligatory app for all tablet owners.
2)
The Weather Channel
is one of the most popular apps to see the weather forecast graphically in every detail and with beautiful HD images.
However, those who want an weather app can only install
the WeatherHD
.
3)
SkyGo
is the application that allows you to watch Sky channels from the iPad and is a must for all Sky pay-TV subscribers, to always have a way to watch football matches or movies, even on the train, at a restaurant or at home of friends.
4)
Feedly
is an application to read and share content from your favorite websites that can be followed via RSS feed. Feedly is a relatively new app, recommended for Google Reader orphans.
5)
Flipboard
is another popular app for reading news and keeping up to date on any topic by turning your tablet into a customizable touchscreen newspaper.
6)
Google Chrome browser su iPad
it has some success because it is fast and because it has the synchronization function. In practice, those who use Google Chrome on the computer can use Chrome on the iPad with the same account to have the same bookmarks and also to synchronize the open tabs and passwords.
SEE ALSO: The 10 best browsers for iPad and iPhone
7)
Search with Google
it is much more than just a search engine. With Google Now, you can get different types of information including weather alerts, fastest routes to work, match times, etc.
8)
Snapseed
is a great photo editing app to which I have a separate article on how to edit photos with fingers on Android, iPhone and iPad
9)
Evernote
, popular app for taking notes, making to-do lists and keeping reminders.
10 )
Amazon
, to appear online, browse products, keep track of purchases and search for any type of object for sale in a convenient way, much more convenient than the site.
11 )
Waze
, the free and social GPS navigator for mobile phones and tablets, remains an indispensable application even on the iPad, which makes you want to use the Apple tablet as a screen for GPS navigation to control traffic and your movements.
12 )
Calculator for iPad
is the free calculator for making quick calculations and also usable as a complete scientific calculator, which is missing on the iPad.
13 )
paper
is a great application for allowing you to take notes, sketches, illustrations, drawings and diagrams. You are able to purchase additional tools within the same application.
14 )
Kindle
to use the iPad as an Amazon Kindle Ebook reader, buy books online and read them from the screen.
15 )
Daily budget
allows you to easily manage your personal finances, keeping all the information of online accounts and cash flows, even with graphs.
16 )
Adobe Photoshop
is a program that costs hundreds of dollars and can also be downloaded for iPad, in its official and complete version.
Alternatively, the application
Photoshop Express
for iPad is free.
It allows you to edit photos with cropping, rotation, color adjustment, adding filters, borders and frames.
SEE ALSO:
20 App to edit photos on iPhone with filters and effects
17 )
Google Earth
on iPad is a magnificent app, with the view of the Earth in 3D, large, to travel virtually to all places, even the most remote.
18 )
dropbox
is one of the "cloud" apps, such as Sugarsync and Google Drive, which allows you to increase the space of the iPad's internal memory.
The files are saved online in a free internet space and are synchronized with all other devices, mobile or computer.
19 )
Rai.tv
is the app to watch Rai 1, Rai 2, Rai 3, Rai News, Rai 4 and all the other public television channels live and for free.
20 )
My CookBook
is the richest application to discover new cooking recipes.
21 )
TuneIn Radio
, one of the best apps to listen to music and radio in streaming, from closest and foreign radios.
22 )
OPlayer
one of the best, if not the best, apps for watching videos and movies on iPad and iPhone
23 )
TeamViewer
, the best free app to access your PC or Mac from an iPad or iPhone, remotely
24 )
Officesuite
, the free application to create and open Microsoft Office documents on iPad.
25 )
Official Microsoft Word, Excel and Powerpoint for iPad
are three apps released in 2014, complete but free only with limitations.
26 )
DocuSign
, one of the best apps to write with your finger or stylus on the iPad screen
27 )
Google Maps per iPad
it has an interface optimized for the big screen and is also very useful for downloading maps and being able to consult them offline from anywhere, without internet connection.
28 )
Opera Touch
to surf the internet more comfortably from the iPad is a new application which is discussed in another article.
BONUS:
Social applications
Obviously, off the list but still to be remembered, there are the social network apps: Facebook, Twitter, Instagram, YouTube, Pinterest.
In other articles, i
Best 40 XL and HD games for iPad
, among which we remember the most downloaded of the year and of all time,
Temple Run 2
, runner game with very high quality graphics on iPad.
Top 25 free iPad apps, the most useful on the Apple tablet