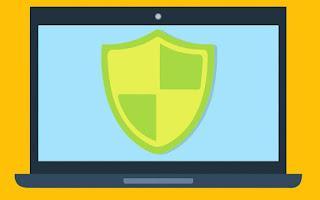 Alongside the usual traditional antiviruses we can find on the market some antiviruses that make the cloud their strong point, moving all the computing power and updating capacity to the cloud managed by the security company: we are obviously talking about
Cloud Antivirus
. An Antivirus Cloud is a program where the database and the virus detection engine resides on an online server while, on your PC, there is only a lightweight client that monitors the situation, sends data to the central server and receives the results and possibly, the care.
Starting from the assumption of always being connected online (which is now taken for granted), let's see together what they are
the best Cloud Antivirus that we can install for free on our computer
, so you can benefit from superior performance, fast scanning speed and great response against the most dangerous threats.
https://www.freeverything.com/2009/07/3-cloud-antivirus-gratis-con-protezione.html
Best free cloud antivirus
Considering computers completely useless if not connected to the internet, the presence of a cloud antivirus is the most logical possible choice: if we are connected we risk getting infected, so a cloud antivirus will be active just when it is needed. This does not mean that if we are without the Internet we are caught: even the cloud antivirus have a local scan module, but it works less well than the cloud module.
Advantages of a cloud antivirus
Using a cloud antivirus is therefore a very innovative but also effective choice, since these antivirus are online
they take up little RAM
, perform optimized scans in the cloud (also based on network speed) and consume less computer resources.
Another significant advantage concerns the update: being based on the cloud, it must never be updated, since updates are implemented directly from the cloud server in real time (all new changes will be immediately provided to users of the cloud antivirus, without having to press or confirm on a button).
Cloud antivirus: which one to choose
After seeing what advantages a cloud antivirus brings, let's see together which ones we can install and use
free
on all Windows PCs (Windows 7 up to Windows 10).
The first cloud antivirus we can try is
Free Panda Antivirus
, downloadable for free from the official website.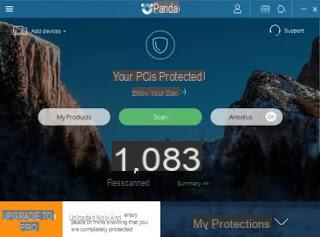 Panda Antivirus offers an effective always-on cloud scanning system, but also provides an offline scanning module (functional when disconnected from the internet). With Panda Antivirus we will therefore have
full protection
from all threats, replacing any other traditional antivirus by large.
Panda Antivirus offers a very simple interface to keep under control, in fact it does not require any maintenance by the user ("install and forget") and in case of threats it will automatically remove or quarantine the suspicious file. In addition to the scan module, it also offers a scan system for connected USB devices and a disaster recovery tool, to be installed on a USB stick or DVD.
Another very famous cloud antivirus we can focus on is
Kaspersky Security Cloud
, available for download from the official website.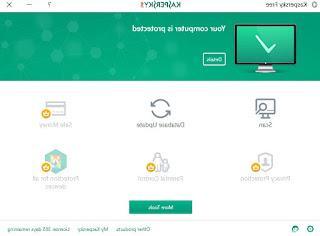 The paid version of this antivirus is among the best in the world for detecting and intercepting the most dangerous threats; in the free version much of this power remains intact, thanks to a very powerful and responsive cloud scanning module, capable of blocking even the newest ransomware and the most sophisticated malware attacks (such as spyware, trojans and keyloggers).
Compared to Panda Cloud it offers a more equipped interface, but even in this case we can operate in "install and forget" mode, since with the basic settings Kaspersky Security Cloud offers an unparalleled level of security.
In the absence of connection, this antivirus still offers a good level of protection, so as to always guarantee a response in case of threats (even if at a lower level than the antivirus operating with the active cloud).
Another hybrid cloud antivirus that we can try on our Windows computers is
Avira Free Antivirus
, available for free download from the official website.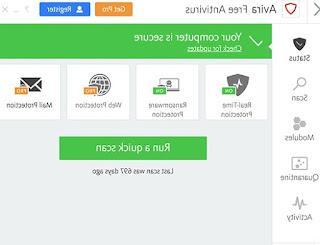 As described in the official guide, the free version of Avira antivirus benefits from the company-managed protection cloud, which is able to quickly identify new threats and block them before they can do any damage. Compared to the antivirus seen so far, Avira offers a high level of protection both online and offline: in fact, without an Internet connection, the Avira scanning module remains very effective against all malware, reaching maximum efficiency (99,99% of positive detections) when the cloud is active.
If we look for a
pure cloud antivirus
(which therefore only works if connected online) we suggest you try
Immunet
, available for free download from the official website.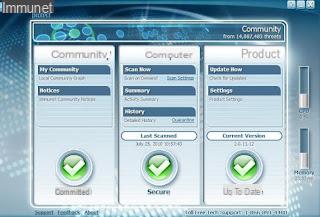 Immunet is
very light in memory
, offers a valid
real time protection
(only if the computer is connected to the internet), allows you to do the
full computer scan
or single files and also offers a telephone or email support service. There is also a paid version of Immunet that unlocks various advanced features and also allows offline use. Immunet Protect is really light as a feather, an antivirus that is almost invisible even on old PCs, which works even if another antivirus is already installed and without the need to disable Windows Defender.
Any antivirus you own can
install as additional protection
, that is, a
additional antivirus
that improves the detection of threats and ensures greater system security.
Another very effective cloud antivirus against all cyber threats is
HitmanPro.Alert
, available for download as a trial trial from the official website.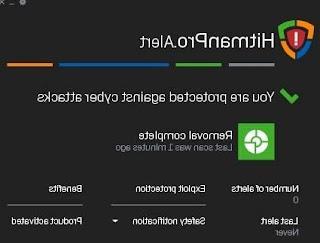 HitmanPro is a scanner that uses multi-engine online scanning modules (based on various antivirus) to check files on the computer, thus blocking any virus but also all modern cyber attacks carried out by unscrupulous hackers.
HitmanPro is really fast at scanning and, when it finds something suspicious, it sends a fingerprint to its server to check for threats, with very high reaction times (fractions of a second on each type of connection). As a cloud solution it requires constant internet connection and
it is probably the most effective of all those seen so far
but it is free only for 30 days, upon expiry you must purchase the program at 30 Dollars a year.
Conclusions
Cloud antiviruses are now a reality in the world of cybersecurity and, even if all the antiviruses on the market have a cloud module for analyzing suspicious files, there are very few antiviruses that work exclusively on the cloud that are effective and free. Our advice is to try them now, since
they are much lighter than paid antivirus
or security suites and still offer a higher level of protection than Windows Defender.
To increase the security on our PC we can also consider the installation of a secondary antimalware, such as those seen in our guides
Best Anti-Malware to find even hidden spyware
e
Best Anti-Spyware programs to protect your PC
.
Free Cloud Antivirus with online protection and scanning for malware and viruses