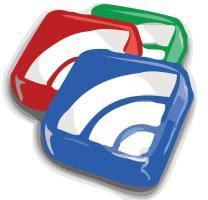 For anyone who writes a blog and for all those who like to learn from multiple sites at the same time, today is a sad day for the sensational news of
closing of Google Reader
which for years has been the only tool for reading blog feeds, news sites and any online source with regular or periodic publications. Google Reader is the web application that
collects all the news in one page
when they are published, allowing users to
scroll and read titles quickly
and pause or mark as "to be read" or "special" the elements that deserve to be kept and remembered.
Google Reader, despite having a spartan and a little old graphics, has always remained a simple and fast site, extremely useful for quickly and effortlessly reading all the news of the day, even from 100 different sites.
Without Google Reader
, which will cease to exist from 1 July 2013, must be found
the best alternatives to replace it
, the
best free feed readers on the internet
.
1)
The best replacement for Google Reader is Feedly
.
Feedly is a web application that can be used both as an extension for Google Chrome and Firefox, and as a regular web app. There are also applications for iPhone and Android that allow you to synchronize news and readings from PC to mobile or tablet. Feedly has the advantage of automatically importing all sources and news received into Google Reader automatically, by logging in with the same Google account. Although the graphics look more like a magazine, it can be configured in the options to see article titles in one line, as is the case today in Google Reader. Even with Feedly you can save news as special to keep your favorite items. Feedly is very fast to load and uses the same Google Reader API with an almost identical interface.
2)
Inoreader
is my second choice after Feedly, a web app for reading feeds very fast to load and virtually identical to Google Reader. Currently all feeds can be imported from an OPML file. InoReader does not have mobile applications but the mobile version of the site works very well so it is not even necessary.
3)
CommaFeed
is the website that is proposed as a copy to replace Google REAder, with the same graphic interface. The web application has extensions for Firefox and Chrome but can also be used without extensions (not as feedly). The site is quick to load and you can choose to import the Google Reader feed before it closes. Commafeed is a new app, similar to Google Reader, of which apps for Android and iPhone are expected, which promises very well.
4)
Another great feed reader alternative to Google Reader
è
The Old Reader
which is appreciated for its simple, full-screen, clean and fast graphics.
The Old Reader tries to follow Google Reader with a web application, which can be accessed via a Facebook account, which can only improve if it is not abandoned.
5)
NewsBlur
is another promising alternative that already looks good, but which will take time to accommodate all users abandoned by Google Reader.
However, NewsBlur is not completely free; requires payment of $ 1 per month if you want to receive news from more than 65 sites at the same time. NewsBlur has a very simple interface, it allows you to import the feeds saved in Google Reader (by logging in with a Google account), to hide uninteresting news and to highlight the favorite or to keep ones instead. NewsBlur also provides applications for Android and iOS, essential for those who want to stay up to date and don't want to read the same things twice.
6)
Feed spot
is an excellent feed reader that can be customized and that follows the very convenient list-like interface of the old Google Reader.
For each element you can press on the star to mark it to be read later and as a favorite.
You can import subscriptions and items saved in Google REader, there will be apps for iPhone and Android and further improvements in functionality.
FeedSpot, while still immature at the time of writing, is a very fast and promising candidate to be a Google Reader replacement.
7)
Netvibes
it can be used both as an alternative to iGoogle, i.e. as a personalized home page, and as an alternative to Google Reader. From the button at the top you can choose the widget or reader view which is the list of news received from the subscribed feeds. You can import sources from Google Reader by loading the OPML subscriptions.xml file saved by Google Takeout (see above) so as not to lose any of your favorite sites. The main flaw of Netvibes that stands out immediately is the almost illegible graphics of the elements marked as already read that become almost invisible on the screen.
8)
RSS Owl
is a Java based program that works quite well, fast, lightweight can (indeed could) synchronize feeds with Google Reader.
9)
Reedah
is a clone of Google Reader very similar graphically, where you can import your subscribed feeds to keep up to date.
10 )
FeedReader
is a free online-only feed reader that allows you to collect and aggregate RSS news, blogs and online activities.
11 )
Bloglovin
is an easy to read but not very customizable feed aggregator, which can hardly be an alternative to Google Reader but can be used to discover new news.
12) Feeds can also be collected in a
PC program
This solution is not convenient if you work online from multiple workstations and from tablets or smartphones but it can be useful for those who want to have a desktop client to download the news of the day, read them comfortably, organize them by topics and store them.
-
Seesmic Reader
is a modern and functional open source feed reader, where to import the OPML file or to start aggregating RSS feeds.
- Omea Reader
13) Who is not interested in the list of articles but wants
browse the news of multiple websites, blogs and online newspapers as if reading a magazine
, can use le instead
applications only for smartphones and tablets
Google News
or Flipboard.
Other alternatives are listed in another article
"feed reader" to read news from websites
from a single interface.
In other articles we also find:
-
How to save favorite web pages, news and articles to read later
-
Open and read offline websites without connection on PCs, tablets and mobiles
Best Feed Reader to follow sites and blogs