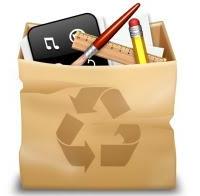 Discover new things
it can often be a difficult undertaking, but
with a smartphone in hand
and connected to the internet, it is possible, in any place and in all circumstances, to find what you need at the moment.
For example, you can be on the lookout for new ways to read fresh news, find places to eat, find parking, find the street with less traffic, find the right recipe, and so on.
In this article we try to
10 different types of free applications for iPhone and Android phones
(Samsung, HTC, Nexus etc.)
to discover new things and find what you need for every different need and at any time
.
1)
To find restaurants
the best applications are probably two:
- American
restaurants
(Android - iPhone) is an app that allows you to find trattorias, pizzerias and restaurants of all kinds with a card and the reviews of those who have been there.
You can check at any time which restaurant is closest to you, what type and what price it has.
-
TripAdvisor
(Android - iPhone) is the application that is based on the reviews of many users who use TripAdvisor and finds on the map the best places to eat in every city in the world.
The regular Tripadvisor app relies on your internet connection.
If you are traveling to go to a particular place, for example, London, if you use an Android mobile phone or an iPhone or an iPad, you can download the Tripadvisor City Guide application which acts as a guide to the city, including restaurants and which also works offline without internet connection.
This type of app is there for every big city in the world and you can look at the list on the Cityguides web page.
The best app, however, is perhaps
Yelp
, the locals and restaurants par excellence.
2)
Another great application for PC, iPhone and Android
It allows
find restaurants
based on what you want to eat.
Foodspotting
instead of displaying the names of the places on the map, it displays photos of the dishes. With the app you can see photos of delicious dishes that other Foodspotting users have recently enjoyed and understand where the nearest place to eat is.
3)
Find out the best way to get to a place with Waze
.
There are several applications that work as GPS navigators for Android smartphones and even iPhones and, among these, Waze is the nicest and most useful for finding routes based on traffic conditions and current events. Being a social road navigator, you can read the comments left by other users who have made the same road and then find out if there are blocks, broken roads, works, police checkpoints, traffic and so on.
Al
Waze free GPS navigator for iPhone and Android
a more detailed review has been dedicated.
4)
Discover the events and things to do in the evening and at night
in every city.
In every major metropolis in the world, there is at least one party or party every night so you have to find it.
If you are in the USA, among the many you can install Saambaa which allows you to search for the best events in American cities.
If you are in town the best app for finding things to do at night is
2Night
which is a kind of Tripadvisor for night clubs with applications for Android and iPhone.
Also excellent is the app, only for Android, 2Nite which lists the events posted on Facebook divided by city.
5)
The best applications to read news of the day
on a tablet or smartphone there are at least two:
-
Flipboard
that transforms the screen into a magazine that also takes news from your Twitter and Facebook account and makes it easy to discover new content through divided into categories.
-
Google Newsstand
which is very similar and makes adding other sources of information very easy.
6)
Find people around
Hard to find applications to find known and unknown people around better than Facebook, except
tinder
, for iPhone and Android, to meet new people we like without paying for dating services.
Similar to Tinder, there are dating apps to know who we like near us, including OKCupid (Android - iPhone), which is also the best online dating site in town too
7)
Find out what song it is
today it is really simple if you have a smartphone in your hand.
In fact, just install
Shazam
, start it, let it listen for a few seconds and as if by magic you will find the title and the author.
8)
Find new songs to listen to based on the moment
.
The best apps available in town too are
8Tracks
which are more or less based on the same concept of finding songs based on the tastes of the listener, by genre or by type of artist.
9) Finding the nearest petrol pump with the lowest prices is also a very easy thing to do with the applications for iPhone, Android, Nokia, Windows Phone, Blackberry provided by the site
Price gasoline
.
If you know of other useful applications to find new things that have saved your life on at least one occasion, please leave a comment.
Best apps to discover new things and find what you need