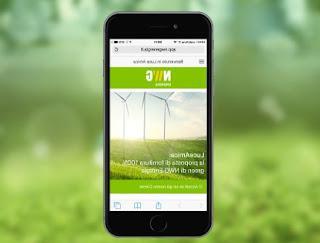 More and more often we hear about environmental protection and energy saving as the only way to preserve the nature that surrounds us and to guarantee a peaceful future for our children.
Since the topic is delicate and important, we can find a way to combine business with pleasure: in this guide we will see how to use our smartphone and
more useful applications and to control energy consumption
, (and consequently save money on bills) e
emissions of carbon dioxide or CO2
to help us be environmentally friendly.
In addition to home energy savings, we will also show you the best ones
app to find electric charging columns
(for plug-in hybrids or pure electric cars), how to find the
service stations offering methane refueling
(which is less polluting than petrol and diesel) and finally, if we really cannot avoid the most polluting fossil fuels, we will show you at least
apps that allow you to refuel at the lowest possible price
, so as to increase the autonomy of the car by spending the right amount.
1)
How to monitor energy consumption in the home
Let's start with household consumption, which can be very high in terms of pollution; Fortunately, various apps are available to monitor the consumption of electricity, water and gas for heating.
For example, the app
for Android Electricity shopping
allows you to record and monitor the
electricity consumption
.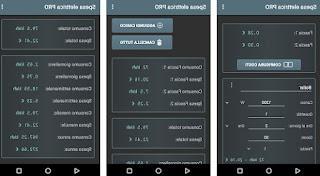 Just use the app to write the values ​​marked by
electricity meters
between two readings (we allow at least 30 days to pass between the two) to then automatically know the average normalized rate of consumption per hour, day, week or month.
The app also displays a graph showing the rate of consumption over time and the total amount of energy actually used during each day, week, month or quarter.
If you know the average cost per unit supplied (you should read on your bill) the graphs can also show the amount of money instead of energy.
For iPhone
a similar app is
Energy Tracker
, graphically prettier, but very complete to understand the consumption habits of gas, water and electricity.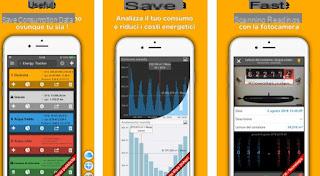 With this app we will be able to enter all our consumptions (water, electricity and gas) and therefore monitor our performance in energy and economic terms, thus discovering where we are wrong and where we can intervene.
We can also take a picture of the various counters to automatically insert the data, so as to make everything very fast.
2)
App of energy managers
In addition to the generic apps that we showed you a little while ago, we can also use
the official apps of the various energy operators working in the free market
; in this way we will be able to immediately see the consumption and expenditure in terms of energy, even before the bill arrives.
Below we have collected all the apps of the main energy suppliers (electricity and / or gas):
-
Enel Energia
(Android and iOS)
-
Sorgenia
(Android and iOS)
-
Eni gas and light
(Android and iOS)
-
Edison
(Android and iOS)
-
ENGIE
(Android and iOS)
-
Green Network Light and Gas
(Android and iOS)
If your operator is not among those listed, simply search on Google by typing the name of the company that manages electricity or gas, followed by "app", so that you can get yourself the page where you can download the apps for the mobile devices.
With these apps we will be able to keep energy costs under control, send self-readings, pay bills online and in general save thanks to the instant reading of the absorbed power (only for some operators).
3)
How to find charging stations for electric cars (hybrid and full-e)
We can make a great contribution to the environment by focusing on the new electric cars, available both in hybrid versions (much more comfortable to manage, since they can also go with a classic fuel) and in fully electric versions.
If your car supports charging via an electric column, it is a good idea to have an app that can show you where to go in case we need to recharge.
The best app in this regard is
NEXTCHARGE
, available for both Android and iOS.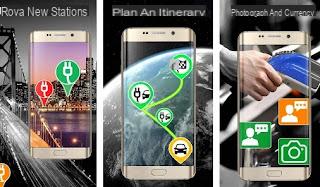 With this app we will be able to quickly find the columns in which to recharge, with information on the technology used and on any prices, with the possibility of planning a long trip (with scheduled itineraries by adding stops to the columns) and evaluate the columns tested, so as to also help other motorists in possession of electric cars.
4)
How to save with classic fuels (petrol, diesel and gas)
By now we know that fossil fuels contribute to pollution and should be avoided, but too many cars cannot ignore them to work: if we really have to use them, let's rely on these apps to save on supplies and pollute less with the calculation of the pollutants generated for every trip.
Fuelio
(only
Android
), is used to calculate
gasoline consumption and carbon emissions
when you go by car or even by motorbike, to keep a record of the expenses incurred.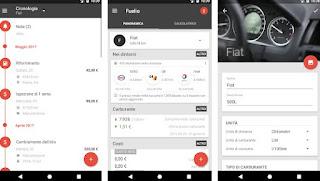 Just enter the information about our car, the type of fuel used and the itinerary to be taken, including the stops for refueling; we will get the estimated fuel consumption and CO2 emissions.
A similar app for
iPhone
è
Changers
, which calculates to be the
CO2 emitted
either that saved by cycling or walking.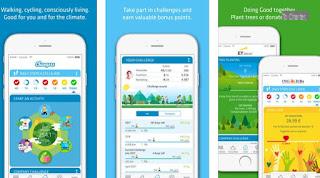 Really an excellent app to try to use polluting cars as little as possible and move around the city by bike or on foot.
If we have a methane car (which we remember pollutes less but still produces CO2) it can be very useful to use the app
Gasoline Methane prices
, available for both Android and iOS.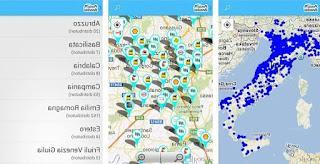 With this app we will be able to immediately find the service stations that offer methane gas refueling, with prices and opening and closing times (we remind you that self-service methane distributors are really rare, so we will have to plan the refueling when the station choice is open).
In other articles, we have also seen, about energy saving:
How much does a PC consume and how much power does it need?
Electricity cost of the computer per day on the electricity bill
Solar and crank charger for iPhone and mobile phones
Calculate gasoline costs on Google Maps driving directions
App to save energy, electricity, gas and petrol