SD cards
(Secure Digital) are today the most common form of removable memory media for all portable devices: tablets, cameras, camcorders, cell phones, smartphones and laptops.
Various types of memories are available, of different sizes, capacities and speeds; in these cases it is quite easy to go wrong.
To avoid unpleasant situations, to avoid wasting money on cards with low memory capacity, slow speed or unreadable and
to buy the right memory SD card
for your purpose, it is important to understand the
differences between SD card models
, which are by no means all the same even at the same size.
Although we cannot indicate here exactly what to buy for each type of device, let's see the
general information to be prepared when purchasing a new SD card
.
Features SD memory card
When buying an SD card we have to consider
four main factors
to consider:
-
Speed ​​class
-
Bus speed
-
Capacity
-
Card size
Class
For SD Cards there are several classes that can be purchased:
class 4, class 6 or class 10
. This number simply allows you to know the
minimum write speed of the card
. The card number indicates the MB per second that the card can write to itself at least.
For example, a class 2 SD card writes at 2 MB / s. Besides these classes are also available
UHS classes (U1 class and U3 class) and video classes (V6 to V90)
that identify the fastest SD cards, dedicated to professionals in filming and shooting to make videos and to save photos in very high definition in fractions of a second. One class does not necessarily exclude the other:
a class 10 is also U1 and V10
, while the fastest ones now available on the market are the
U3 / V30, the V60 and the V90
.
2)
Bus speed
In addition to the writing speed of the single card we will also have to consider the speed with which the data comes out and enters it; that's why we talk about bus speed (ie the speed of metal contacts in exchanging data). This speed can be classified on SD cards by a Roman symbol saved in a corner of the card; currently the normal classes (without Roman symbols), class I (first Roman numeral) and II (second Roman numeral) are available. To get the best results in terms of transfer speed we will have to
adopt only SD cards that have a Roman numeral (I or II)
, so as to be sure of making the most of the writing and reading speed.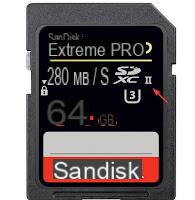 Obviously, the device in which we are going to insert the SD card must also have the same compatibility, otherwise it will not be exploited adequately.
SD memory capacity
The capacity of the SD card is the most obvious value in a shop window or at the mall. To avoid spending money unnecessarily on an SD card that is too small or too large, we need to determine more or less what we need for our electronic device. Take into account that there are currently
three main types of SD cards with different capacities
:
The types of MicroSD cards that are on the market are the following:
-
SDSC
o
Secure Digital Standard Capacity
, with a memory capacity from 128MB to 2GB and FAT file system which is not compatible with the latest smartphones;
-
SDHC
o
Secure Digital High Capacity
they have a memory capacity ranging from 4GB to 32GB, uses the FAT file system and is compatible with virtually any modern device;
-
S
o
Secure Digital Extended Capacity
they have a memory capacity from 64 GB to 2 TB and use the exFAT16 file system; compatible with a large number of modern devices.
Considering that digital cameras on the market today start from 13 megapixels and above and smartphone cameras start from 10 megapixels, we make the choice of the card based also on the number of photos that we can save on it: a 2GB SD card can contain about 380 photos saved in JPEG format, but not even 100 if taken in RAW format. After inserting the memory card into the camera, take a picture and then check the data on the screen to see how many images the card can hold based on the shooting mode (JPEG, RAW, TIFF)
In this table, an estimate of how many Jpeg images can hold Memory cards of various sizes, taking photos with different cameras.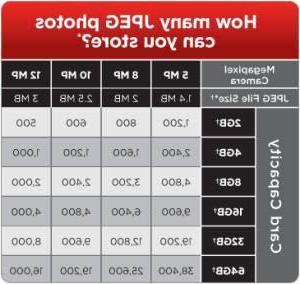 In the case of smartphones we will also have to take into account the use of the SD memory card as a space where music files, video files and data files of some apps (such as navigation app maps) can also be saved, so better to be provident e
focus on models from 64 GB and up
.
Card size
Speaking of SD cards in size there are actually t
re different models
:
- Format
Standard
(32mm x 24mm)
- Format
MiniSD
(31,5mm x 20mm)
- Format
MicroSD
(11mm x 15mm)
Each device should indicate what type of card it wants in its specs, so you never go wrong.
Smartphones always use microSD while cameras generally use the Standard format or at most the miniSD format (although SD adapters are increasingly popular in order to accommodate smaller formats without problems even on the largest slots).
SD and MicroSD cards to buy today
Referring to the Amazon store and in the light of what is written in this post we can recommend buying one of these SD cards, taking into account that
the most reliable manufacturers (brands)
of memory cards are Samsung, Sandisk, Fuji, Lexa, Delkin, Viking and Kingston.
MicroSD
-
Kingston SD
: microSD format, 128 GB, class 10, U1, class I (€ 15)
-
Samsung EVO Plus
: microSD format, 64 GB, U3, class I (€ 12)
-
Toshiba microSDXC
: microSD format, 64 GB, U3, class I (€ 11)
-
SanDisk Extreme
: microSD format, 128 GB, U3, class I, V30 (40 €)
-
Delkin SDXC
: microSD format, 64 GB, U3, class II, V60 (70 €)
SD Card
-
SanDisk Ultra
: SD format, 64 GB, class 10, U1, class I (€ 21)
-
ARCANITE MicroSDXC
: SD format, 256 GB, class 10, U1, class I (€ 30)
-
Lexar Professional SDXC
: SD format, 64 GB, class 10, U1, class I (€ 27)
-
Delkin SDXC
: SD format, 64 GB, U3, class II, V60 (120 €)
-
Comprehensive SDXC
: SD format, 64 GB, class II, V90 (€ 86)
6)
Conclusions
For digital cameras and SLRs
it is advisable to focus mainly on memory space, therefore on the 64 or 128 GB models.
For digital video cameras
we consider class U1 and class I cards for videos with resolution up to Full HD (1920 x 1080).
For 4K or high framerate videos
we recommend to focus only on SD cards (of any type) with class U3, class II and class V60 or V90, so as to have the right writing speed when recording videos at these resolutions.
For smartphones
usually a very high speed is not required, but let's make sure that the minimum is always an SD card with class 10, U1 and class I to be comfortable in any scenario.
On the subject we can also read the following guides:
-
Guide to Optimize Memory Cards and SD Memory Cards for Cameras and Mobile Phones
-
Programs for recovering files and photos deleted from memory cards and USB sticks
Which SD memory card to buy: types and differences