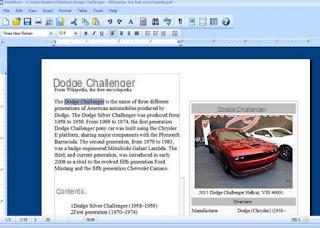 Although this is a topic that has already been talked about some time ago, it is worth checking now what news there are and how many and what possibilities we have to
edit PDFs
, which is the most popular type of digital document ever.
PDF is a standard digital format used to share documents via the internet, via email and also via Whatsapp.
A PDF can be generated from a file written with Word or even from a scanned sheet.
A PDF can contain a book, a form to fill out, a medical report, a plane ticket and any official document or one that you want to make non-editable, at least in theory.
With this article we make a complete overview for those who need a program capable of editing a PDF file, perhaps to fill in the fields of a form without having to print it or to change a few words to a document received in PDF or even to copy text from a book, however, making the necessary changes for a term paper or a school assignment.
Without spending money, it is possible
edit a PDF using one of these free programs for Windows PC, Linux and Mac (or web apps)
, very effective and very easy to use.
1)
LibreOffice can edit PDFs
LibreOffice is the free Office suite of programs
, alternative to Microsoft Office, with programs similar to Word, Powerpoint and Excel,
per PC Windows, Mac e Linux
.
After installing LibreOffice, if you want to edit a PDF document, you can right-click on it, go to Open with and choose to open it with a new program, by clicking on Choose other app and then on Other apps (below) in the next window and then scroll down again to click on Find another App. From the Programs folder, select LibreOffice, go to the programs folder and click on swriter.
Automatically the PDF will be opened with the LibreOffice Draw application and the PDF file will be editable in all its elements, from text to images. Although the original formatting may be lost in more complex documents, the LibreOffice PDF editor is perhaps the most convenient, most efficient, and most handy tool you can find.
2)
AbleWord
per PC Windows
This is an alternative program to Microsoft Word for writing documents that also supports reading and editing PDF documents, almost perfectly. You can add, remove, edit text and images, check spelling, insert tables and frames, and much more. To use it, simply open the PDF document to be edited and then save the changes, in an ultra simple way.
3)
PDF Shaper
for Windows
With PDF Shaper you can convert PDF files into editable RTF documents and provides a set of tools for operations such as merging, splitting, rotating document pages, deleting pages and converting PDF to image.
We have already talked about this type of program in the article on how to manage PDf and perform conversion and modification operations.
4)
PDF-XChange Viewer
This is a commercial program, also usable for free and the same as I've already talked about, which is perfect for writing on a PDF and filling in form fields, adding information or putting crosses, textures, captions, notes, dots and rectangular shapes and other things.
Note: Although PDF-XChange Viewer is still available, it has been replaced by a more advanced paid program called PDF-XChange Editor, so it may not be available on the official website in the future.
5)
PDFescape
e
PDF Fox
These are not programs, but websites that I had already mentioned in the article on how to edit text and images in PDFs.
They are really high quality solutions, which allow you to open PDFs to be able to modify them in every aspect, in the text, in the images, and also to fill forms and insert signatures, highlight text, add shapes and so on. Both are impressive online services, which also support encryption by making files sent to the site private and without storing any of the changes you go to make. PDFZorro also allows you to password protect PD documents and compress them to reduce size.
7)
DocHub
This website is one of the most effective free tools for editing, sending and signing PDFs, with all edits saved online in your personal Google Drive or Dropbox account.
8)
River PDF
This is also a free web application that works on the web browser and also has a Google Chrome app. Once you have uploaded a PDF file for editing, you can add text, highlight and even fill forms or create custom signatures. The files are saved in real time and you can make sure that these are saved in Google Drive or Onedrive or Dropbox.
9)
LightPDF
is a very simple free program for editing PDFs. With this PDF Editor it is perfect for quickly converting PDF files to Word, PNG, JPG, PPT and TXT, without getting lost in too many options or configurations. Just upload the document and select the conversion format. LightPDF also offers editing options including a pencil, adding basic shapes, color filters, a crop tool and a yellow highlighter. You can add watermarks to mark PDF files, you can add the password to protect the document, you can add your signature and there are also tools to merge multiple PDFs into one or to split a PDF into multiple documents.
10 )
Nitro PDF Reader: program to read, modify and create pdf files
, described in another article.
Top 10 PDF Editing Programs