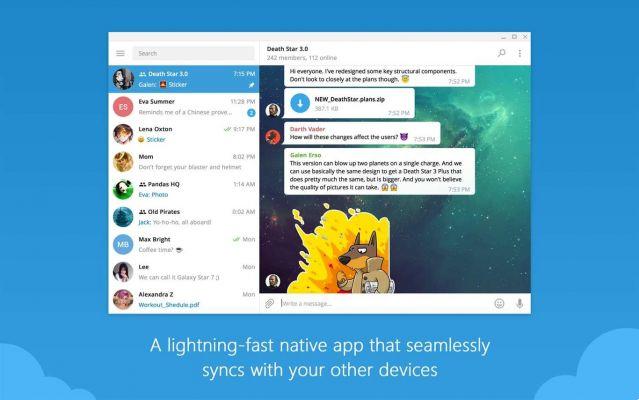 Nowadays, it is very common to be receiving receiving messages different messaging applications continuously.
This is a fast form of communication that has become part of our habits and allows us to keep in touch with each other. keep in touch with friends with friends, family or work colleagues. All this, without the need to drop everything and put them on the phone.
However, at times when we are doing work on the computer or just hanging out, it can be a bit annoying to have to be checking mobile apps. Luckily, Telegram's platform has a web version that makes it easy to communicate when you're on your PC.
As is often the case, this mode is somewhat less complete than the mobile version, as these types of platforms are very much designed to be used with the smartphone most of the time. On the other hand, it will do you a very good service in the moments when you need it.
Do you want to start taking advantage of it today? Then follow along with us. In this article we're going to show you how to use the version of Telegram for PC step by step and everything you need to know about it.
How to use the web version of Telegram


The web version of Telegram is another format of the same application, therefore, it is ideal to keep your username so that it replicates exactly the same as on your cell phone. This means that you will need to sync your account.
You can do this in two ways depending on your preferences:
By downloading the web application. It is a desktop application that is compatible with PC, Mac, Linux and macOS.




Surfing the Internet. This involves entering the web and using the online messaging platform.
By using the web format you will not have to do any special process, since it works as another page. If you are interested in starting your session and enable it for use, you will only have to follow the steps below.
Go to the website web.telegram.org.

Enter your phone number and country.

Log in to Telegram on your cell phone.

Wait to receive the login code in the app's chat.

Type this code on the web quickly, you will have a time of 2 minutes.

It will automatically synchronize with your mobile account.
After following these steps you will see how all your activity is reflected in the web version. That is, you will have access to your conversationsYou will have access to your conversations, to the channels you follow, to your groups, everything exactly the same.
Stop using the web version of Telegram and logout


To preserve your privacy, you should ideally log out of Telegram Telegram once you're done using it. This is especially important if you do this in the office or in public places, as you don't want to leave your access open to third parties.
The positive point is that Telegram makes it very easy to do this and persevere with your security. Follow these easy steps easy:
Log in to the website where you have your session open.

Look for the three lines that appear on the right in the top corner.

Click on them and look for the settings.

Once in settings, scroll down to the bottom of the site.

Tap on log out.
This is important when you are in an unfamiliar space or with other people. However, when you are at home and no strangers are going to log in, you may want to leave it open. you may want to leave it open. If you do the latter, opening it every time will preserve your own session and you won't have to re-enter your data anymore.
Telegram Web features


The truth is that from the web version of Telegram you will be able to do practically the same as in the application for cell phones. Especially if you want to exchange messagesthis will be a piece of cake, just like any other chat. Let's delve into all your possibilities with this version of the platform.
Telegram web versions
You are going to find a couple of versions of Telegram for web and you should know them to know their differences. They are the following:
Telegram WebK. This is the most recent and improved version. The highlight is that it works faster than the original and also includes stickers, access to QE and dark mode format.

Telegram WebZ. It is very similar to the previous one, but the interface display is going to be somewhat different, it is more a matter of design.
They are quite light versions in both cases, which will not take up space and allow you to include direct access from the web of any device. The truth is that this aspect is very convenient.
What you can not do from the web version of Telegram
Some of the options you'll find in the mobile version are not accessible from the PC version. You won't have the ability to share GIFs in chats, nor will you have the ability to send your location to other users.
Everything you have saved on your cell phone, such as photos and videos, will remain there. When you are in the web version you will not be able to access all this content, as it is only synchronized with your smartphone application and not with all the data on your terminal.
The settings will also be somewhat limited. On the cell phone you will have a variety of options to manage the forms of notification and you will also be able to modify security measures, such as passwords. All this will not be possible from the PC.
What you will be able to do from Telegram web
You will have the possibility to contact anyone through its messaging options, with group chats or individually. All the usual forms of written communication will be available to you in this version.
If you wish to send some content, you will have the opportunity to do so. You do not have access to everything that is on your mobile device, but you can send photos or videos that are stored on your computer. You may even have a larger amount of resources here.
When it comes to groups or channels, you won't be hindered either. You will find the possibility to join them, but also to create them from scratch if you want, or manage those you already have.
How to download Telegram for desktop


Downloading the desktop version will allow you to operate with a Telegram much more similar to the one you are using on your cell phone. In fact, you will find all the possibilities that you see capped in the web mode in it, except access to photos from your phone and other content.
So you can download and install this version:
Go to the official Telegram download page.

Select PC/Mac/Linux or macOS depending on your device.

Download and install the application.

Wait until you receive the code on your mobile and replicate it on the desktop app.

Your accounts will be synchronized instantly.
The steps are almost identical to those of the web version, but the web version is more convenient. It is ideal for use at home, as it does not take away from your usual messaging usual messaging resources and you don't have to worry about logging into the browser every time.
Latest News
Free Nintendo Switch Codes
Free Gift Cards For Roblox
Clash Royale Hacks
How to get free gems in Brawl Stars
Family Island Cheats
ultimate fortnite 2v2 map codes
Best Fortnite prop hunt codes for creative maps