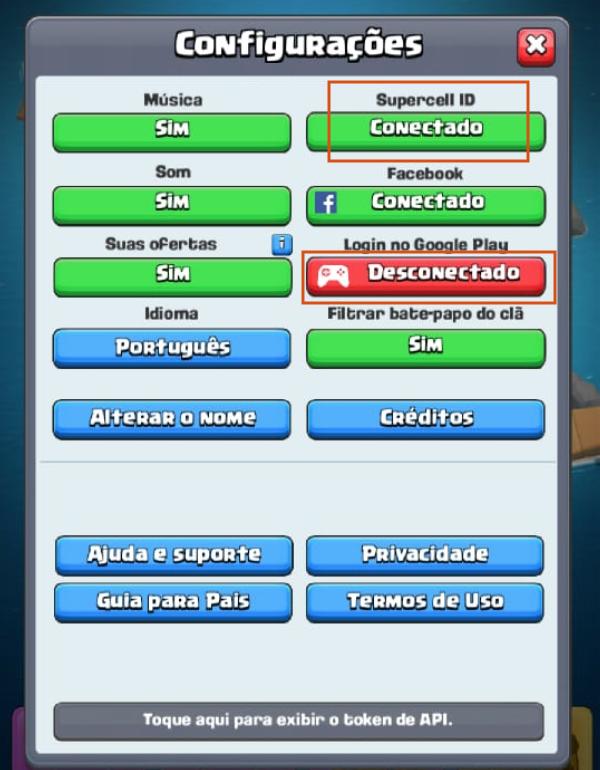 How to recover Clash Royale account on Android
Have you always used your tablet or phone to play Clash Royale? Perfect follow these steps to recover your account. First of all, connect the account to your Android device Google you were playing with.
Log in to the Android screen where the applications are collected and click on Settings, the gear wheel.
Scroll down and click on Account and select Google.
In the new screen enter the correct account.
At this point, open the Clash Royale and click on the icon Settings top right.
Select Google Play access, select the desired account and finally click on Yup.
Clash Royale account recovery on iOS
If you have an Apple device, don't worry, you can easily get your Clash Royal account back in a few simple steps. Let's see together how. First, check that the account you used to play is linked.
Open the settings and select Game Center then click on Use a different Apple ID for Game Center.
In the window that opens click on Aren't you [Name]?, enter the data you want to recover and select Log in.
Open the App of Clash Royale and wait for the upload, when a window opens with the request to recover the data, click on Yup.
Lost Clash Royale account: what to do?
Have you lost your Clash Royale account and don't know what to do? Let's see together how to recover it quickly and easily without creating a new account.
Open the Clash Royale App and click on Settings then on Guide and Assistance.
Select the item Help and then Lost account, now click on I have lost my account. How can I get it back?
To the screen that opens with the question Was it helpful to you? Awards No and then Contact us.
A form will open that you need to fill in with the information related to your Clash Royale profile: Username, Account level and Clan and all other information you remember.
If you entered the information correctly, within a few days you will receive an answer with directions to recover your lost account.
Phone change: how to transfer Clash Royale accounts
You changed your phone but you want to continue playing Clash Royale without losing your data? Let's see together how to easily transfer your account in just a few steps.
Clash Royale da Android a Android
If you want to transfer your data from your phone to your tablet or any other Android device, here's how:
Open the Clash Royale App and click on the icon with the three horizontal bars, then select Settings.
Then press on Access to Google Play and then Disconnected.
On the screen Scegli an account click on your Google account or on Use another account.
Enter i required data: e-mail address or telephone number and password and press on Forward.
Clash Royale from Android to iOS or vice versa
A similar procedure can also be done for iOS devices. Here are the steps to follow:
Open the Clash Royale App on yours Android device and click on the icon with the three horizontal bars.
Select Settings and press on Disconnected in the Supercell ID option.
Then press on Log in and enter the e-mail associated with your account, go ahead and enter the verification code.
Transfer Clash Royale from iOS to iOS
The same type of transfer can be done from an iPad to the phone and vice versa. That's how:
Grab your iPhone or iPad and click on the gear wheel to start the Settings and then click on Game Center.
In the screen that opens, move the lever from OFF a ON.
If you have already created an account, you will see it on the screen.
If you don't already have an account click on Continue to create your own Apple ID or tap on Aren't you [Name]?
Create your own Nickname and then click on end.
Clash Royale account: everything you need to know
Be curious about Clash Royale, but you don't know anything about it and would like to better understand how it works? You are a enthusiast who has decided to stop playing and have any questions about data loss? You have decided to stop playing and want to know how to delete the profile? You are in the right place!
Do I lose my data if I uninstall Clash Royale?
If you do not delete the account, the data remains saved and through the account recovery procedure you can play using your old profile on any device.
How to delete Clash Royale account?
Do you want to completely delete your account? Follow these simple steps:
Open the Clash Royale App and click on the icon with the three bars.
Click on Settings and then Help and Support.
Select Account, scroll and click on Do you need help? Contact us! and click on
A chat will open, write Delete account, a message will appear stating that the process is irreversible, click on
In a couple of hours you will receive a confirmation reply deleting your account.
How to delete saved data from Clash Royale on Google Play?
The game also saves data on Google Play, which you can simply delete.
Go in the Settings of your device and write Google, please click your Linked apps.
Select the game for which you want to delete the data and click on Disconetti.
Here click on the option that allows you to delete data from Google and click again on Disconetti.
Is it possible to recover Clash Royale accounts with Facebook?
To recover your Clash Royal Facebook account, simply log into the game again via the Facebook app. However, you will have to use the same account you have always used to play via the well-known social network.
Other tutorials that may interest you:
Recuperare account Clash of Clans
How to recover deleted Android apps
Recover deleted iPhone app
How to download Play Store
How to recover a TikTok account without a password