What is a Wi-Fi camera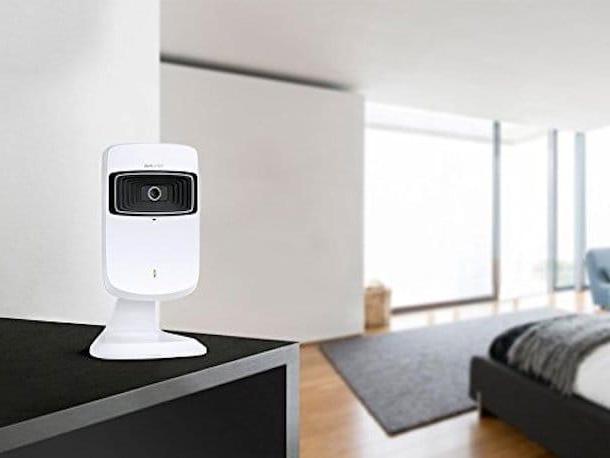 First of all, let's try to understand what a Wi-Fi camera is, clearly in case you don't already know it or in any case if you want to get more details about it. This is essentially cameras for the surveillance, mostly designed for home use, which can be connected to the Internet via Wi-Fi (therefore in an almost analogous way to what is possible, for example, with smartphones and tablets) and allow you to remotely control the environments in which they are placed.
Unlike the classic cameras, so to speak, such as those that allow access to video and images only from an internal location in the place to be controlled, the Wi-Fi cameras allow you to view the footage from practically anywhere, as long as there is an Internet connection active and functioning on the network used to connect the camera itself as well as on the one (if different) used on the device (such as a computer, for example) for remote management.
Most of the Wi-Fi cameras currently on the market then allow you to record what has been shot and save it on external disks, memory cards, on NAS, NVR or, again, on the cloud or on smartphones, tablets and computers. In some cases, they also integrate a sensor to detect movements and a night vision system. They are easily managed through special software for computers and / or apps for smartphones and tablets, both official and third-party, which are also quite simple to use.
As for the form factor, these are devices that have the classic appearance of the normal cameras for video surveillance, even if they usually have smaller dimensions and weight. They can have a light indicator that indicates their operation, they can be rotatable and can also integrate a microphone to pick up the audio. They are built with various materials adaptable to different environments, mostly plastics and metals, in such a way as to be congenial for use indoors, outdoors or for both cases.
The sales package usually includes everything you need to immediately install your home surveillance system, then one or more cameras with any mounting brackets and connection cables. Depending on the brand, the model chosen and the technical characteristics, there may then be a power supply and special control devices.
Technical features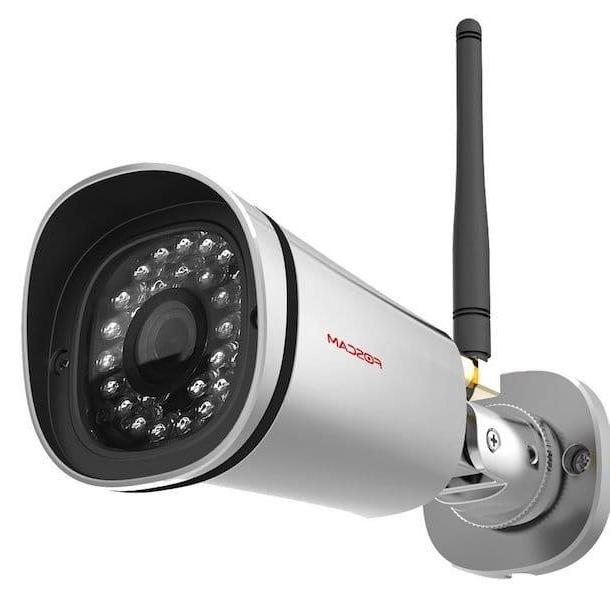 Now that you understand what a Wi-Fi camera is, I would say that we can review the main technical characteristics of the devices belonging to the category in question. You will find them indicated and explained below.
Quality
On the market there are several Wi-Fi cameras that offer the possibility of shooting and recording more or less quality. Those with resolution HD (1280×720 pixel) offer greater clarity but if the speed of the connection in use is not exactly the best it may not prove to be an excellent purchase as the viewing of videos and images will most likely not be smooth. In these cases, paradoxically, it is therefore good to move towards something less performing in terms of resolution and which therefore requires less bandwidth for transmission.
Format of the shots and images
The format of the footage is also part of the technical sheet of a Wi-Fi camera. Usually devices of this type support video and image formats such as H.264, MPEG4, MJPEG e JPEG. We must also take care of the frames per second of the shots (the higher the number, the smoother the images will be) andoptics (a lower value corresponds to a larger aperture) which also allows you to determine if a Wi-Fi camera is capable of shooting and capturing images when lighting is poor or absent.
Sensors
Not all Wi-Fi cameras are equipped with sensors. However, many models are equipped with motion detection, that "thing" that detects movements in the video surveillance area and offers alerts relating to what is happening. Some models of the Wi-Fi rooms also feature a passive infrared PIR sensor, through which it is possible to detect intrusions even when the environment is not illuminated or it is but in a very poor environment.
Framing and range of action
The Wi-Fi cameras are also distinguished by their ability to "move". There are in fact cameras static, that is to say with fixed framing, and cameras robotic, which can be moved remotely. There are also cameras PTZ (Pan-Tilt-Zoom), which allow slight movements only horizontally and vertically and / or which allow you to zoom in on the framed area, and those Fisheye, which offer a 360 ° view.
Sound sector
To complete the technical data sheet of a Wi-Fi camera there is also the sound sector. There are models on the market that can offer monodirectional audio (in this case the audio is acquired through a microphone) or two-way audio (which allow audio transmitted through a microphone on another device to be communicated through speakers).
Registration
Many of the Wi-Fi cameras on the market then allow you to acquire and record images through software suitable for computers or Whatsapp for Devi mobile. Some of them instead carry out automatic registrations and can therefore be equipped with microSD slot and / or a direct interface with one cloud space in which to always upload the recordings independently. To make simultaneous recordings on multiple cameras and in general for more elaborate configurations, it is still worthwhile to rely on systems such as DVR (digital video recorder), NVR (network video recorder), or using a NAS.
How to use it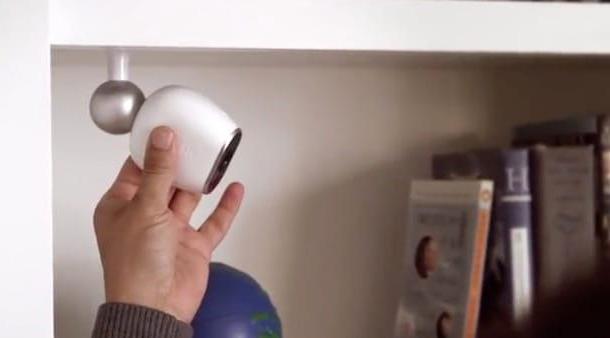 As regards the configuration procedure and the operation in the strict sense of the Wi-Fi camera, the first fundamental step you must take is, as easily understood, to extract the device from its sales package and identify the right position to place it. . If it is not a powered car camera, you will also have to worry about placing the latter near an electrical outlet so that you can connect the relative one. cable and any power pack following.
Another thing you need to make sure is to make sure that the camera is at the door of the wireless router in such a way that it connects with the latter and that it is also assigned a IP address.
Once this is done, turn on the Wi-Fi camera, turn on the computer too, insert the installation disk of the Wi-Fi camera (or download the ad hoc program from the reference manufacturer's website) and follow the simple one configuration procedure that is proposed to you on the screen. During this phase you can, for example, change the password to access the footage, the IP address obtained, the technical characteristics of the images, the warnings and so on.
In addition to using a computer, many models of Wi-Fi cameras can be configured from a smartphone or tablet, just carry out the same steps above, taking care to replace the use of the software on PC and Mac with the companion app for Android, iOS or Windows Mobile.
Apart from the software side configuration, you will also need to set up the router in your possession correctly to make sure that your Wi-Fi camera is possibly also accessible from the outside and that the transmission of images takes place smoothly. To do this, you need to log into the management panel of your router and you need todoor opening for the reference IP address. If you don't know how to do this, you can refer to my tutorial on how to get into the router and my article on how to open router ports.
Then you can then connect to your Wi-Fi camera, manage it and view its footage using official software and apps or, if you prefer, alternative resources, such as those I reported to you in my article on programs to view cameras remotely and in my post. on video surveillance programs. As for the control only, if the camera in your possession is also equipped with a special one remote control you can also do everything directly from there.
Clearly, not being aware of the exact model of Wi-Fi camera in your possession or that in any case you intend to buy, I could not provide you with even more precise information on the use of the device. However, if any of the above steps are not clear to you or if you wish to receive more details about them regardless, you can refer to the User Manual attached to the sales border of the camera, to the section dedicated toassistance of the manufacturer's website or, why not, also a YouTube, looking for keywords of the type how to configure [Wi-Fi camera name] or how to use [Wi-Fi camera name], maybe someone else has already bought the wireless camera in question, mounted and configured it, and is ready to explain to the entire Internet people how to do the same.
Where to buy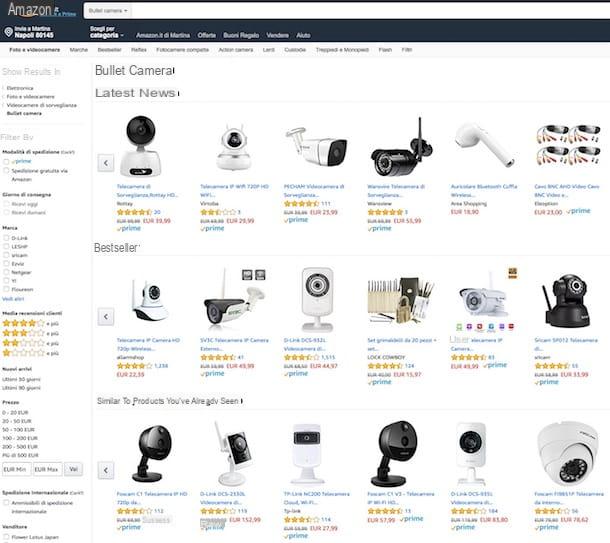 Have you finally figured out how a Wi-Fi camera works? Yup? I am very happy with it, really! To close on a good note, as they say, then I would like to report having to be able to make the purchase of one or more devices of this type, an info that I am sure will be very useful if you have not yet done so.
Wi-Fi cameras are marketed in the very common electronic and computer shops, both the smallest ones and those part of the large distribution chains but also (and above all) on the net, on e-commerce sites such as Amazon, on which there is plenty of choice between the various brands and models.
As regards the prices, it starts from a minimum of about 20 euros to a maximum of 200-300 euros. It all depends on the technical characteristics of the chosen device. Usually, then, the price "rises" when you opt for a kit, so when the sales package is made up of more than one Wi-Fi camera.
Among the most "popular" brands are names such as Netgear, D-Link, foscam e Logitech but there are also many others. Each company, then, produces a great variety of models that differ from each other due to the presence of this or that other characteristic shown in the technical data sheet and easily identifiable also on the relative sales package.
In this regard, if you wish to receive some advice on which product to buy, I strongly suggest you read my buying guide dedicated to the devices in question through which, in fact, I have proceeded to report a bunch of interesting articles part of the category.
Wi-Fi camera: how it works